Everton the perfect fit for Leighton Baines
Leighton Baines was always going to feature in January transfer speculation, and his incredible 35-yard free-kick against Newcastle on Wednesday night will merely attract more attention - if not from rival clubs, certainly from writers of transfer gossip columns.

Few football fans wouldn't want Baines at their club. The Everton left-back stands out as an unusually popular player - he's an old-fashioned, quiet, unassuming professional. He doesn't talk back to referees, he doesn't enjoy the media spotlight, he doesn't tweet. His only online presence is a sporadic music blog for Everton's official website - his picks of 2012 included Dr John, Arctic Monkeys, Tame Impala and Mark Lanegan. He's the shy kid no-one really noticed at school, not the loudmouth who got all the girls.

There's simply no reason to dislike Baines - which might sound a remarkably negative way of explaining why a footballer is likeable, but in comparison with some of Baines' England team-mates, it's a decent start. Playing for Everton helps, the Toffees are a popular club with a well-respected manager, and even fans of their great rivals, Liverpool, know that Baines fondly remembers watching Robbie Fowler from the Kop as a youngster, and played his football at Liverpool's Centre of Excellence until he was released as a teenager.

He was linked with a return to Liverpool a couple of years ago, when Damien Comolli was in charge of player recruitment. Baines insists he would never cross the divide, but the interest was genuine. Arsenal, Chelsea, Manchester United and Bayern Munich have also been linked in recent years. But while other Everton players have jumped at the chance to move higher up the league table, Baines might be best off staying put. Both in sporting and personal terms, Everton suits him perfectly.

First, there's the football angle: Baines is a naturally attacking left-back, having started, like many modern full-backs, as a left-winger. His game is about scampering forward and crossing the ball, because he possesses one of the finest left-footed deliveries in the modern game. He strikes the ball superbly and with great variety. He can caress the ball gently or drill it with power, he can curl the ball delicately or swerve it dramatically the opposite way. If you were forced to pick a single set-piece taker from the Premier League, for outswinging and inswinging corners, plus crossed free-kicks and direct attempts on goal, Baines would be your man.

This season, he's crossed the ball on 189 occasions in the Premier League, over 30 times more frequently than any other player. His energy and ability to dig out crosses from tight situations is a huge factor, but equally crucial is Everton's style of play. David Moyes likes his side to work the flanks, encouraging quick switches of play from one wing to the other. Everton's central midfielders are patient, methodical and reliable in possession, waiting for an opportunity to get Baines into a crossing position. A more direct side, or one based around a central attacking play, wouldn't allow him such a prominent role.

Then, there's Baines' relationship with team-mates; Everton are ideally structured for him to overlap. Steven Pienaar drifts inside, taking the opposition right-back into narrow positions, opening up space near the touchline. One of the holding midfielders moves across and covers Baines' position, while Sylvain Distin is left-footed, and happy to move out to the left-back zone if needed.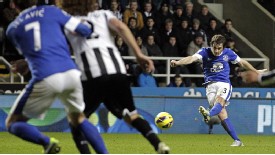 GettyImagesLeighton Baines possesses one of the finest left-footed deliveries in the game
When Baines gets into crossing positions, he can aim for two dangerous aerial targets: Nikica Jelavic and Marouane Fellaini. Which other Premier League side offers that? Not even Sam Allardyce and Tony Pulis, the league's most famous long-ball advocates, play two big men upfront, while the top clubs feature nippier, more technical forwards. Put Baines at Arsenal, for example, and Lukas Podolski would occupy the space ahead of him, Theo Walcott wouldn't be an ideal target for crosses, the midfield would provide less cover. Much has been made of Baines' chance creation this season - 69, the most in the league, but he'd be unable to replicate that record elsewhere.

Another issue is Baines' mental state. At each stage of his career he's been hit by crippling shyness, particularly with Wigan. "We won promotion to the Premier League and, straight away, I was thinking, 'Where am I going to go now?'", he told The Guardian in 2007. "I should have been celebrating but I spent a large part of that summer worrying about what it would be like spending the next year on the bench and in the reserves."

It was the same situation when joining Everton. "I was worried about what the established players would think of me. I thought they would look at me and wonder what the hell some lad from Wigan Athletic was doing there," Baines recalls.

The same happened for England. Ahead of the 2010 World Cup, he was set to be Ashley Cole's understudy at left-back, but fluffed his lines in a pre-tournament warm-up against Mexico. "Did I enjoy the evening? Not really, no," he admitted. "Everyone wants to be a part of England, to come away and play, but I have always found it really hard, even when I was teenager, being away from home, I have always struggled with it."

Fabio Capello took the inferior Steven Warnock instead, because of Baines' concerns about homesickness. Six months later, he turned down a move to Bayern Munich. "We cannot force him to join us," said Karl-Heinz Rummenigge. "He would rather live in Liverpool than Munich, and that's that."

Would he rather live on Merseyside than anywhere else? Baines chose Wigan - a 40-minute journey from his hometown - rather than Wolverhampton when released from Liverpool, then turned down Sunderland to wait for a move to Everton. Such obstacles haven't prevented Baines from becoming a top-class footballer, and he has overcome his homesickness to become a regular part of the England squad. But for England, it was no financial risk to take a gamble - when £10 million or more is involved, it's a different situation.

Baines has the technical ability to play for any English club, but Everton is his perfect match - nowhere else would he be, statistically, the most creative player in the league.