Bale's versatility vexes Villa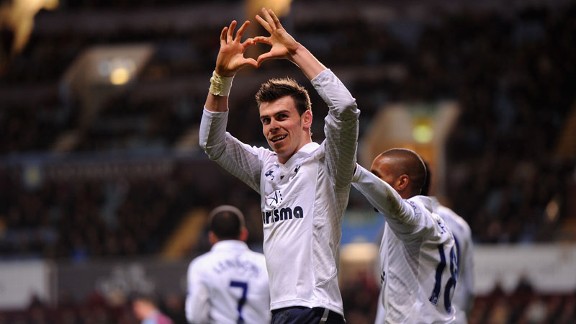 GettyImagesGareth Bale celebrates his first Premier League hat-trick for Tottenham as they won 4-0 away at Aston Villa
It isn't often you can say this about a 4-0 defeat but this was 200% better. In the scoreline, anyway: having lost 8-0 on Sunday, Aston Villa's Boxing Day defeat was only half as bad.

- Blog: Spurs could be special in 2013

But if the first half performance and attitude were a reaction to their historic hammering at Stamford Bridge, the illogical aspect of defeat to Tottenham was that, while a game of two halves was also one of two formations for Villa, their defence was breached when they adopted a system that threatened to suit them better. Instead, they conceded four goals in 45 minutes with four at the back following Chelsea's octet against a trio.

But initially they encountered the principal disadvantage of deploying a back three: they were outflanked. The contradiction of Gareth Bale's hat-trick was that each goal came when Villa had more cover on the wings but the consequence was that when they reinforced the sides of their team, he attacked through the middle. Yet while the first half was drawn 0-0, the platform for the thrashing was provided before the break.

Before kick-off, Paul Lambert had a problem many managers never face: what do you do to a team beaten 8-0? The Scot's answer was to leave the three-man defence unchanged, although because of injuries Lambert had few options anyway, but he made more of a switch in midfield, introducing Karim El Ahmadi and Fabian Delph in a bid to erect a shield in front of the central defenders.

Lambert is never a slave to the norm tactically and playing with a back three in a league where virtually everyone else prefers a four-man defence - Wigan are the only other side who regularly start with three central defenders - creates different angles. That had suited Villa in previous matches, though definitely not against Chelsea: because Rafa Benitez's side only play with one striker, the two wider centre-backs either had no one to mark or were bypassed and beaten by midfield runners while the Chelsea wingers, especially on the right, stayed high up the field to get behind the Villa wing-backs.

Lambert's response was predictable, this time they stayed deeper - as indeed did the whole side. Sunday's 3-5-2 became 5-3-1-1. Yet where Spurs found space down either side was when they counter-attacked and, because Villa had given the ball away, the usually cautious wing-backs were further forward than usual. It looked like a concerted plan when first Aaron Lennon went on the outside of the left-sided centre-back and then Jermain Defoe did likewise to the right of the trio within the space of a couple of minutes.

Yet even when wing-backs Joe Bennett and Matthew Lowton stayed back, they were left one-on-one with wingers who represent one of their side's strengths, and that is before the overlapping right-back Kyle Walker was factored in. The fact Tottenham got 15 first-half corners was a sign of their prowess, but also that, with the wing-backs exposed, they had a reason to make the game wide. Over the entire game, Bale put in 17 crosses and Walker a dozen. In comparison, Villa's starting 11, shorn of wingers, sent in five between them.

Villa kept a clean sheet playing with three at the back - they were forced to change shape when Nathan Baker departed injured in the 45th minute - but were dominated in every other respect. The tentativeness of Ashley Westwood, El Ahmadi and Delph, positioned just in front of the centre-backs allowed Tottenham's two –-Moussa Dembele and Sandro - to control the midfield against Villa's three.

It made the half-time reorganisation to play 4-2-3-1 understandable. It was a change of approach as well as of shape. Villa played at a greater tempo and higher up the field, with the lone striker Christian Benteke less isolated. It shaped up to be their best period of the game until Spurs broke through.

But when Villa were undone, it was partly attributable to the new tactics and the different dynamics, partly the result of spaces appearing in the defence and partly traceable to the converted midfielder Chris Herd's unfamiliarity with his duties at the back.

For the opener, the central defenders had switched, with Ciaran Clark, then the left of the two, tracking Defoe to the right. As he moved back to his proper position, however, Herd did not do likewise, creating a gap the striker ran into. For the second, Tottenham counter-attacked with too great a distance appearing between Bennett and Herd because Clark was caught out in midfield. While Bennett got a foot to a pass intended for Defoe, because Herd was so far away, Bale was able to accelerate inside him, meet it and score his first.

His second was notable, too. Whereas Bale and Lennon had tended to stay on the flanks, then each only patrolled by one Villan, in the first half, they came infield more often in the second. When Villa had to push forward, the game became more stretched, too, and the break that brought the third was significant. Lennon and Bale were around 10-yards apart when the Englishman found the Welshman to score.

His third came from a cut-back with Bale making a classic third man's run to a position that Villa's defensive midfielders had manned in the first half but, trying to get back into the game, had left vacant in the final few minutes.

It showed that, while Villa had adapted because of Tottenham's tactics, Spurs had produced an intelligent reaction themselves as a winger became the central figure.