Winger Downing answer to Rodgers' prayers after all?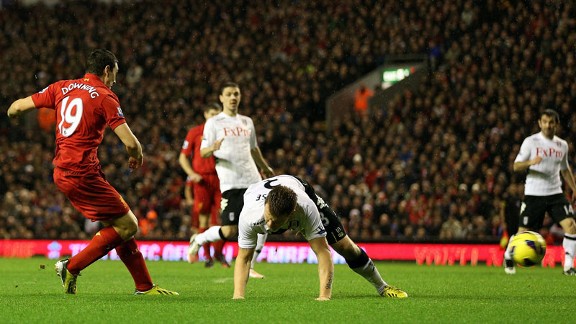 GettyImagesStewart Downing fires home his first Premier League goal for Liverpool
LIVERPOOL 4-0 FULHAM
It only took 82 shots, 16 months and a £20 million fee. Stewart Downing has scored a Premier League goal for Liverpool. Beyond the unflattering facts and the mocking comments, however, lies the reality that Brendan Rodgers has been searching for solutions on the flanks and looking for his wide players to offer incision.

- Blog: Fulham embarrassed at Anfield
- Downing inspires Reds victory
- Rodgers: I want Downing to stay

As Fulham floundered, Downing, long criticised for his lack of productivity, did that in the biggest win of Rodgers' reign. But at other stages this season the full-backs have offered greater penetration - as they did against Southampton, for instance - while Rodgers has often made early changes on the flanks, a sign that none of the many men to play as wingers have ticked all of his boxes.

Indeed, the season-long focus on Liverpool's striker shortage has rather obscured their lack of natural wingers. So far, the players deployed on the flanks fall into four categories: men who prefer the No.10 position (Joe Cole, though he has been used wider for much of his career, Jonjo Shelvey and Suso), full-backs pushed further forward (Jose Enrique and Glen Johnson), strikers used out wide (Fabio Borini and, briefly, Luis Suarez) and actual wingers (Raheem Sterling, Oussama Assaidi and Downing).

Against Fulham, Rodgers opted for inward-looking wingers - the left-footed Downing on the right and Suso, who would prefer a central role, on the left. What it meant, however, was that when Suso wandered into the middle, he freed up space for the overlapping Enrique. In particular, Steven Gerrard directed diagonal passes towards the left-back.

Downing's positioning was different. He often adopted a wider starting station - indeed, the corner that led to Martin Skrtel's opening goal was the result of a Downing cross from a conventional right winger's spot - but was then able to come infield on his left foot. He, too, had an attacking full-back behind him, in the shape of Johnson but whereas Enrique was usually wider than Suso on the opposite side, they were able to alternate.

Indeed, for Downing's first Premier League assist since his Aston Villa days, both ended up in the inside-right channel: Johnson finding Downing who slid in Steven Gerrard. The other significance was that one of Liverpool's two deeper central midfielders had run beyond the opposing defence, which had a rarity value for them this season.

There was a role reversal for Downing's goal; Gerrard finding Downing. It was a moment that offered a microcosm of his movement: initially he was nearer the touchline, but he ended up in a more central position. The other factor was that Fulham's former Liverpool left-back John Arne Riise backed off into the penalty box, allowing Downing to accelerate inside. When Kenny Dalglish kept referring to the winger's pace last season, his speed seemed exaggerated. What this highlighted is that, though not explosive from a standing start, he is quicker in full flight. It showed the importance of closing him down quickly, something Fulham failed to do.

Where Riise was hindered was by his supposed helper. Alexander Kacaniklic, another ex-Red, was replaced at half-time after offering him little protection. The effectiveness of Johnson and Downing had the side effect of keeping Riise, usually the more progressive of Fulham's full-backs, pegged back.

In theory, width was all the more important as Fulham, who often only play two central midfielders, added a third to prevent themselves being outnumbered by Rodgers' side. In reality, because of their reluctance to press, they still allowed Lucas Leiva and Gerrard the ball for much of the game and yet, rather than sitting off and erecting a barrier in front of the defence, they still permitted Liverpool space between the lines in an abject first-half display.

With their initial gameplan having failed, Fulham changed back to 4-4-2 after Downing scored Liverpool's third goal. Perhaps it highlighted the risks of tailoring tactics for the opposition, rather than playing your own game.

Liverpool, apart from a switch to 3-5-2 mid-game at Everton and from the start at Chelsea, have remained consistent in their shape. There was a significant personnel change, however: this was the first league game Joe Allen hadn't started since his summer move from Swansea. Minus their most prolific passer, Liverpool's approach only altered in one respect: they played more long passes. Allen invariably goes short, whereas Gerrard, playing deeper before the Welshman's introduction, aims cross-field balls, from right to left, more often.

If the blueprint remains largely unchanged, however, a more significant alteration may come in January. Rodgers has hinted that when his forward line is bolstered in the transfer market, he may use Suarez as a roving winger, the role he briefly had at in the draw at Sunderland, while Blackpool's Thomas Ince could also alter the equation. While a bona fide winger delivered his most decisive display, a team with 10 genuine or pseudo wide men could yet have an 11th soon.