How 2012's flops can turn things around in 2013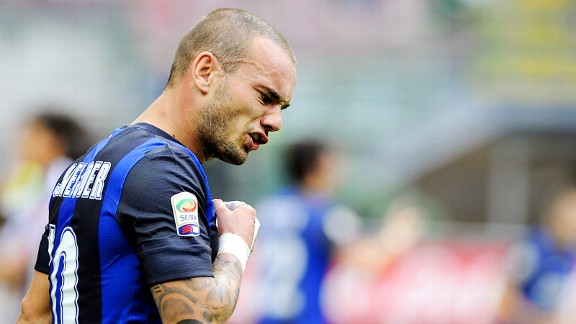 Claudio Villa/Getty ImagesA change of scenery would greatly benefit Wesley Sneijder who had a nightmare 2012.
From astonishing last-gasp title victories to historic international success stories, 2012 has been a fascinating year of football -- but not everyone has enjoyed it. Lionel Messi and Cristiano Ronaldo have taken their performances to another level, but others will be pleased to see the back of this year. Here are 10 players who have underperformed in 2012 -- and how they might turn their form around for 2013.

Wesley Sneijder, Inter
Plenty of players have experienced a dip in form after the departure of Jose Mourinho as their coach, but Sneijder's decline has now lasted for more than two years. The Dutchman was utterly superb throughout Inter's fantastic treble-winning campaign in 2009-10, and contributed crucial goals in Holland's run to the World Cup final that summer -- but since, his form has oscillated between mediocre and terrible, as his role has been confused and he's had five coaches in that time. He's currently one of Italy's highest-paid players, and Inter justifiably believe they're not getting value for their money.

The obvious solution? A new club -- but it's difficult to see how Sneijder will stay in a major league. A move to a club like Paris Saint-Germain or Anzhi seems more likely. They'll be getting one of Europe's most talented creators, but Sneijder's wages will be huge, and there's no guarantee he'll return to form.

Nuri Sahin, Liverpool
It's easy to forget how wonderful Sahin was at Borussia Dortmind -- he was the instigator of their quick attacks, was voted the Bundesliga's player of the season as they won the title in 2010-11 and earned a move to Real Madrid. Yet after his return from injury, Mourinho didn't take to him -- and Sahin has left the Bundesliga and La Liga champions to sit on the bench for a side currently 12th in the Premier League.

It's difficult to see how Sahin will get back into Liverpool's side -- Brendan Rodgers loves Joe Allen, Lucas Leiva has returned to the holding role, while the most advanced midfield position better suits Steven Gerrard and Jonjo Shelvey. Sahin's best hope is that Rodgers decides Allen and Lucas don't offer enough verticality, and he's given a chance to inspire quick transitions.

Eduardo Vargas, Napoli
Dec. 14, 2011: Universidad de Chile have just won the Copa Sudamericana with a 4-0 aggregate victory over LDU Quito -- Vargas scores three to win the competition's golden boot award and is also voted the best player of the tournament. He's one of the hottest properties in world football, and Napoli look to have made an inspired signing.

Since then? Twenty-one substitute appearances and not a single Serie A start. Walter Mazzarri doesn't seem to rate him at all, and the form of Lorenzo Insigne is an obvious barrier to Vargas' development. Vargas needs a move -- a transfer to South America seems like something of a backward step, therefore a loan to a mid-table Serie A or La Liga club makes more sense.

Aaron Ramsey, Arsenal
It's sad that Ramsey has become a target of abuse for many Arsenal fans -- he's a talented midfielder and a very likeable man. Just more than a year ago, Ramsey was performing superbly in the centre of Arsenal's midfield -- in the 5-3 win over Chelsea, for example, he played some outrageous passes. But Ramsey was overplayed on his return from serious injury and became physically exhausted, unable to produce consistent performances and lost confidence dramatically. "I played 44 times and that was quite a shock to the system at the time, having been out for so long," he admitted this week. "It definitely took its toll towards the end."

But Arsenal still have faith in Ramsey -- he signed a new contract this week. What the Welshman needs is a break from the pressure of first-team football -- in bursts, he can still make a contribution to Arsenal this season.

Ganso, Sao Paulo
Ganso was supposed to be Brazil's next great playmaker. Neymar was a more obvious talent, but there was something more romantic about Ganso -- he wore the No. 10 shirt, his play was delightfully languid and he was constantly involved in his side's attacking moves. When Mano Menezes took over Brazil, Ganso was a good bet to be the true hero of 2014.

In truth, ever since mid-2010, it's been a difficult time for Ganso. At least this year was free of serious injury, but his performances were unremarkable. There was an astoundingly messy divorce with Santos and then a delayed debut for Sao Paulo because of a thigh injury. A new start is certainly a positive, but this was supposed to be the year Ganso re-established himself as a potential world-class talent -- for 2013, staying injury-free is a must.

Bojan Krkic, Milan
The problem with Bojan's exile from Barcelona was that he was, in every sense, a La Masia product. In terms of natural ability, he was far from the most talented player at the club, but he understood when to press, what movements to make off the ball and how to combine with Messi. His move to Roma, under former Barcelona B coach Luis Enrique, made perfect sense.

But Bojan struggled to adapt to life in Rome, and Enrique's replacement, Zdenak Zeman, didn't want him at the club. He was loaned to Milan, which seemed a disastrous move in the first couple of months of the season -- but Max Allegri's switch to a fluid 4-3-3, with Kevin-Prince Boateng as a false nine, suits his style. He can make clever runs from outside to in, and he finally looks at home. Bojan's new-year wish? That Milan continue to play in this manner, and that he makes a big contribution in the Champions League second round at the Nou Camp.

Fernando Torres, Chelsea
Can you win the European Cup and the European Championship -- not to mention the FA Cup and the golden boot at the Euros -- and have endured a disappointing year? Yes. Torres didn't start any of those finals and still hasn't rediscovered the form of old.

Rafael Benitez's arrival at Chelsea is the best thing that could have happened to Torres. There's been no huge transformation in the way Chelsea have played -- in the Club World Cup final they resorted to hitting long balls his way, negating suggestions they'd shifted tactically to make the most of his talent -- but his confidence has clearly improved under his old boss. Six goals in five games (admittedly, one took a huge deflection and should have been credited as an own goal) is his best run for years. Now, he just needs Falcao to stay at Atletico Madrid -- or else he'll be benched.

Diego Forlan, Internacional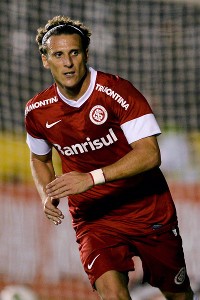 Buda Mendes/LatinContent/Getty ImagesBringing some joy back into his game could only help Diego Forlan in 2013.
The best player of World Cup 2010 is a shadow of his former self -- to the point where his performances have been close to his dreadful form at Manchester United. To put it in simple terms, Forlan has appeared in 43 matches in 2012, for Inter Milan, Internacional and Uruguay, and scored in just four of them. He looks physically exhausted, unable to keep up with games played at an unspectacular tempo.

Frustratingly, he appears undroppable in the eyes of Uruguay coach Oscar Tabarez. His dreadful performances in the 3-0 defeat to Argentina and the 4-1 loss in Bolivia were made all the more frustrating because Edinson Cavani -- a clearly superior player these days -- was first played out of position on the left wing, then dropped completely. Forlan looks tired and lackadaisical; for a brighter 2013, the first step is to enjoy football once again.

Daniel Alves, Barcelona
For the first three years of Pep Guardiola's Barcelona, Alves was unstoppable. His relationship with Messi worked wonderfully, and he provided the sheer energy and physicality in a side overwhelmingly based around technical quality. Opposition left wingers couldn't run as fast as Alves, nor as far as him, so how could they stop him?

Maybe it's a cynical view, but Alves' form dipped almost immediately after he signed a lucrative new contract in March 2011. His attacking runs became less dynamic, and before Guardiola resigned last summer, he allegedly wanted Alves to be sold. This season, he's played only 40 percent of Barcelona's league campaign, with Adriano doing an excellent job at right back and Jordi Alba providing a new attacking threat from the other side. Alves doesn't need a transfer, he simply needs to refocus, concentrate and put the hard work in to discover the form of old.

Javier Pastore, PSG
Pastore hasn't been a complete flop at PSG, but he's hardly justified his 40 million euro transfer fee. It all started so well -- six goals and two assists in his first nine matches in Ligue 1 -- but the arrival of Carlo Ancelotti as coach seemed to prompt a downturn in form, a surprise given Ancelotti's love of creative midfielders. Pastore's contributions in the final third have been minimal; Zlatan Ibrahimovic has become the side's focal point, and Pastore started only three of PSG's Champions League group games.

The solution to Pastore's problems? He's planning a move to Milan. "Sooner or later, I will play for the Rossoneri," he said this week. "I have a wonderful relationship with Adriano Galliani, we will have lunch together away from prying eyes when we next meet up in Milan. Milan is a magical club."

That's decided, then.