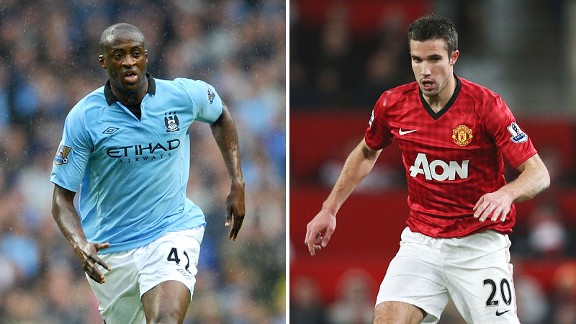 Getty ImagesThe best football sides have quality players, but also a clear strategy. You can't say that about City and United.
On Sunday, Manchester United will make the short trip to Etihad Stadium for the Premier League's most eagerly anticipated fixture. A local derby, 1st versus 2nd last season and 2nd versus 1st so far in 2012/13. How could this meeting be any better?

Well, it would be improved if either were a good team – in the true sense of the word 'team'. Not simply a collection of outstanding individuals but instead an XI comprised of like-minded players with mutual understanding, featuring reliable partnerships across the pitch. For a clash between the top two, the lack of identity, cohesion, framework and strategy from City and United is incredible.

There is no question about the quality of the squads. City have spent outrageous sums assembling assorted Champions League and World Cup winners – David Silva and Sergio Aguero are among the most talented technicians English football has seen. Yet their incredible success last season was hardly a result of fantastic teamwork. What are City? What type of football do they play?

Previous champions had a distinct identity: the Arsenal Invincibles were about speed on the counter-attack combined with clever passing and movement, featured Thierry Henry's relationship with Robert Pires on the left and Dennis Bergkamp's through-balls to Freddie Ljungberg. Jose Mourinho's Chelsea conjures up memories of a resilient defence, sheer strength in midfield and pace down the flanks. Manchester United, in the Cristiano Ronaldo era, featured a brilliant centre-back partnership, patient distribution from midfield and no fixed striker.

Think of City's title success, and it's about individuals: Joe Hart's saves, Vincent Kompany's aerial dominance, Yaya Toure's driving runs, Silva's creativity and Aguero's instant impact. There were no key relationships and no definitive philosophy behind Roberto Mancini's selections. The Italian hasn't done a disastrous job, but it's difficult to pinpoint precisely what he's brought to City – to the extent that, last spring, he expected to be dismissed in the summer. The confusion has continued in 2012/13: the lack of significant new arrivals should have resulted in greater unity between existing squad members, but Mancini's largely unsuccessful experiments with 3-5-2 have made this difficult.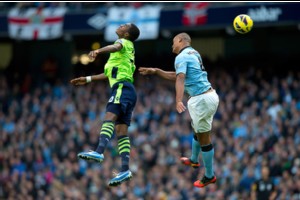 Neville Williams/Aston Villa FC/Getty ImagesCity is known for the exploits of their players – like Vincent Kompany's aerial ability – but as a team they lack cohesion.
In terms of cohesion, United aren't much better. The signing of Robin van Persie was an indulgence that, strategically, United didn't need considering their lack of defensive-minded midfielders. That's not to say it's been a dreadful move – the Dutchman has inevitably scored for fun, and Sir Alex Ferguson is now fielding last season's top two Premier League goal-scorers together.

But what has happened to United's shape? Van Persie's arrival, along with that of Shinji Kagawa, has resulted in a clumsy, confused approach. In Ferguson's desperation to include as many attackers as possible, he attempted to use a diamond midfield, contradicting United's traditional focus upon width. Players are constantly fielded out of position and there has rarely been a match where United's forwards wide midfielders and central midfielders have all looked comfortable. Their sloppy starts to matches are also concerning – 15 times in 23 games, they've conceded the first goal. Although frequently they've stormed back into the game, United supporters appear unconvinced by this side. Again, what is their gameplan?

Strangely, look further down the Premier League table, and identities are easier to spot. Arsenal are continuing the attacking strategy Arsene Wenger has favoured for years, Liverpool have become a short passing side under Brendan Rodgers and Andre Villas-Boas is starting to get Tottenham passing and moving at speed in the manner of his excellent Porto side. Rafael Benitez is emphasising caution and structure at Chelsea, David Moyes' Everton focus on quick switches of play and a fine left-sided combination and Steve Clarke's West Brom side defend deep before breaking into the channels.

None of them are close to the level of the Manchester clubs – they simply don't have the individuals. But it's become an either/or situation: Premier League clubs either have the best players in the league, or they have tactics that maximise abilities.

The obvious question, then: How do United and City get away with it? To which the obvious answer involves looking at tables of transfer spending and wage bills. Those two, along with Chelsea (only four points off the top when Roberto Di Matteo was sacked) are simply able to sign world class footballers, and there comes a point where that compensates for a lack of strategy.




Team harmony has become forgotten when star players are involved – at least in England. Abroad, it's a different situation with the likes of Real, Barca, Bayern and Juve.




Frankly, the Premier League has declined sharply over the past two years – many have become entranced by the excitement of high-scoring big domestic games, but the lack of structure has had a disastrous impact upon overall quality. The two Manchester clubs will dominate the English league almost by default, but their poor European record over the past 18 months, when regularly facing decent sides, shows the lack of clarity in their approaches. The Premier League's record in the Champions League this season is dreadful – only three clean sheets from 24 combined matches, and for the second season running, only two of four sides have advanced to the knockout phase.

Team harmony has become forgotten when star players are involved – at least in England. Abroad, it's a different situation, and Real Madrid, Barcelona, Dortmund, Bayern, Juventus and even outsiders like Porto and Shakhtar are more cohesive than anything England has to offer. As mentioned, the picture was similarly bleak last year, and England's Champions League record was rescued only when Di Matteo concentrated upon a defensive-minded shape. Roman Abramovich then insisted he abandon that template and try to include as many playmakers within one side as physically possible, typical of the Premier League's current celebrity culture – where great individuals are included at the expense of creating a great team.

Is this simply modern football? The wealth gap between the richest and the rest has increased dramatically, making it increasingly easy for the big clubs to snap up the best footballers, throw them together and overpower the opposition. Can elite teams now simply depend upon expensive recruitments at the risk of shape and tactics?

Again, a look around Europe disproves this theory. In other major leagues, the tactical battles are clearer. In Spain, Real Madrid are devastating on the counter-attack, while Barcelona play tiki-taka. In Germany it's a similar picture – Dortmund excel at transitions, while Bayern's 64% possession is 8% higher than any other team. In Italy, a more complex title battle, the top four are easily identifiable – Juventus have creativity from deep and powerful running higher up, Napoli boast devastating counter-attacks, Inter are based around passing football and technique, while Fiorentina are pure possession. The sides have defined characteristics.

The best football sides have quality players, but also a clear strategy, making them greater than the sum of their parts. Neither United nor City have achieved this in 2012/13, and although Sunday's game will be packed with excellent footballers and probably plenty of goals, it won't be a contest between two great teams – the Premier League currently doesn't have any.

Michael Cox is a freelance writer for ESPN.com. He runs zonalmarking.net.