How does RvP fit into United's plans?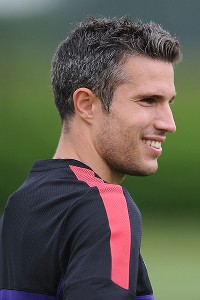 no_source / Stuart MacFarlane/Getty ImagesWill Alex Ferguson deploy Robin van Persie in a 4-3-3? Ferguson used the system to devastating effect in 2007-08 with Wayne Rooney, Cristiano Ronaldo and Carlos Tevez.


Signing the captain of a rival side and the league's reigning top goal scorer is quite a statement, but on paper, it's difficult to see where Robin van Persie fits in at Manchester United.

It was already hard to understand what Sir Alex Ferguson was planning this season. The partnership of Wayne Rooney behind Danny Welbeck functioned impressively last season -- Rooney didn't have a superb campaign but contributed plenty of goals, while Welbeck impressed in his opening season as a first-teamer. Toward the end of the campaign, particularly in the 4-4 home draw with Everton, the combination looked wonderful, linking swiftly down the right of the pitch to produce a goal that had "Yorke and Cole" trending on Twitter within minutes, in reference to Dwight Yorke and Andy Cole combining for a famous goal at Camp Nou in 1999.

The signing of Shinji Kagawa indicated that Ferguson was looking for something different. The Japanese playmaker is versatile, capable of playing on the flank, but he attracted United's attention playing behind the central striker at Borussia Dortmund. No sooner had he arrived did he declare his preference for being deployed centrally.

"I feel like that's where I play my best football," he said. "I plan on working hard so I can win my place at that position."

That's where Rooney played last season, but Kagawa is a different type of player. Rooney is a withdrawn forward, someone who thrives on space between the lines but also concerns himself with getting into goal-scoring positions. Kagawa is a more graceful, more subtle player, who will drift unnoticed into pockets of space and will move laterally to pick up the ball under little pressure. He is more of a creator, someone who instigates the play.

If United continued with its 4-4-1-1 system, Kagawa's presence as a number 10 would mean pushing Rooney further forward to compete with Welbeck and Javier Hernandez and become a pure goal scorer, as he was in 2009-10, when he won the Football Writers' Association and Professional Footballers' Association Player of the Year.

Rooney, Kagawa and Welbeck could all be pushed wide, although this makes little sense considering the presence of Antonio Valencia, Nani and Ashley Young. Besides, it's rare that Ferguson has consistently his team played forward in a wide position with a four-man midfield, with the exception of Ole Gunnar Solskjaer's surprise run on the right in 2002-03.

The addition of van Persie throws a spanner in the works and creates a huge number of questions. Van Persie is a positionally complex player himself, a number 10 who evolved into a false nine for a brief period before excelling last season as a penalty-box poacher. In a partnership with Rooney, who would move into the deeper role? Ferguson is on record as saying he seldom plays with a 4-4-2.

"If you do that, you only have one point of attack," he said. "Whereas if you have one guy dropping off, you have two points of attack."

But what if Ferguson wants three points of attack? After all, his traditional preference for a system featuring two banks of four was shelved a few years ago, and his greatest success this century came in 2007-08, when he deployed a rotating cast of three players -- Rooney, Cristiano Ronaldo and Carlos Tevez -- upfront in a 4-3-3. United won the European Cup and returned to the final the next year, winning the league both seasons.

The summer of 2009 meant an unplanned change. Tevez and Ronaldo left the club, and United's only major signing was Antonio Valencia. The Ecuador international has proved a fine signing, but he is a different player to Tevez and Ronaldo, a linear, old-fashioned winger who hugs the touchline. The flexibility of the previous season was no longer possible, and almost by accident, United reverted to a more reserved 4-5-1, or a 4-4-1-1 when Dimitar Berbatov was deployed with Rooney.

Berbatov's tale is the strangest in this story. He was essentially signed in the summer of 2008 when United's flexible trio was at its peak. United needed him as a Plan B only, as a static central striker when Rooney, Ronaldo and Tevez weren't on form. Even when he finished as the Premier League's top goal scorer, in 2010-11, Ferguson rarely trusted him for the big games.

His scoring record remains excellent, but Ferguson doesn't have a use for Berbatov, who may leave United. He can't play wide, and he needs to be part of a striking duo. Berbatov essentially represents a system Ferguson doesn't want but has often been forced to play.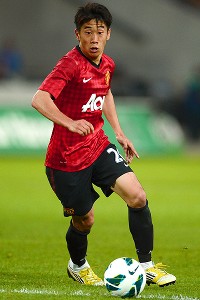 Shinji Kagawa said he prefers to be deployed centrally.

Therefore, if Ferguson wants to move back to the system of three fluid forwards used in 2007-08, the signing of van Persie could work brilliantly, as he, Rooney and Welbeck are all highly mobile forwards who can play wide or through the middle. Hernandez is an alternative, a pure poacher, while Nani and Young are options in wide positions. Ferguson has continued to experiment with Valencia at right back. Kagawa could play in the front three, but his signing would make more sense if Ferguson wants a classic playmaker at the head of a midfield triangle.

It would be the most attacking United side Ferguson has ever assembled, but it could work. Jose Mourinho won the treble with Inter Milan in 2009-10 by using three forwards -- Diego Milito flanked by Samuel Eto'o and Goran Pandev -- in conjunction with a classic number 10, Wesley Sneijder. Maybe it's no coincidence that United looked at Sneijder for so long before eventually turning to Kagawa to play that role.

If not, and van Persie and Kagawa will be competing for positions in a 4-4-1-1, it seems a strange misuse of resources. If Ferguson does have a grand plan, van Persie could be a stunning signing.


Michael Cox is a freelance writer for ESPN.com. He runs zonalmarking.net.