Cork and Tettey among Prem's best midfielders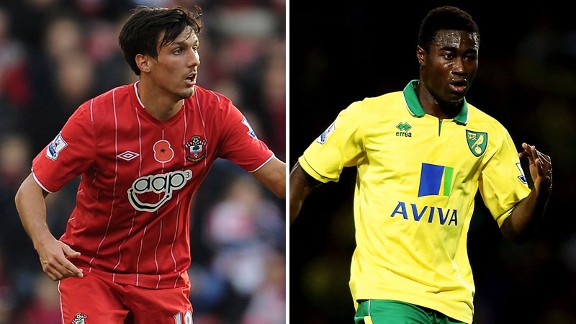 Getty Images, AP PhotoSouthampton Jack Cork and Norwich's Alexander Tettey are two midfielders to keep your eye on.
In many pundits' preseason relegation predictions, Southampton and Norwich figured prominently. The Saints were expected to struggle because of their lack of Premier League experience and doubts about their defensive ability, while the Canaries were set to suffer without Paul Lambert's tactical acumen. A long, difficult season seemed certain for both.

Yet after overcoming trying starts, they are now among the form sides in the league. Southampton lost eight of their first 10 matches but are unbeaten in four straight. Norwich didn't win in their first seven games, and now they're unbeaten in seven. Such momentum is rare for bottom-half clubs, and the determination to extend those unbeaten runs was probably a factor in the 1-1 draw between the sides Wednesday evening, when neither pushed for the victory.

Attacking players deserve some credit for the success -- Nigel Adkins and Chris Hughton favour similar systems -- two wingers on either side and a creative talent located behind an old-fashioned English centre-forward, Ricky Lambert and Grant Holt, who, incidentally, were once teammates at Rochdale.

But the work of unheralded, underrated central midfielders has been equally important. Although it may sum up the lack of goalmouth action in a 1-1 draw where both goals came from set plays, the two standout players Wednesday were central midfielders, Jack Cork and Alexander Tettey.

Chelsea youth product Cork is an unspectacular player, the sort of neat-and-tidy midfielder you'd struggle to explain to a casual football fan. He is not overly creative or particularly strong in the tackle, and his calm distribution hardly makes him a tempo-setter like Xavi Hernandez.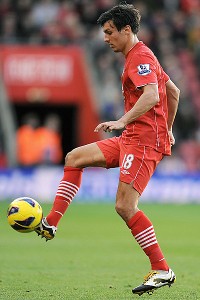 Tom Dulat/Getty ImagesChelsea youth product Cork is calm and tidy in his distribution.
But quietly, Cork has become crucial to the Southampton midfield. At the start of the season, Adkins struggled to find his best shape, partly because of the late purchase of Ramirez and the Uruguayan's injury layoff. Various experiments were unsuccessful; Adam Lallana was used in the centre of the pitch but is more suited to the left, while youngster James Ward-Prowse provided energy but doesn't have Cork's positional discipline. Often, holding midfielder Morgan Schneiderlin was simply given too much defensive work, forced on a one-man mission to stop the opposition, battling in front of the defence.

Cork's first appearance of the campaign coincided with the starts of Southampton's unbeaten run. It's no coincidence, for he provides discipline and balance, meaning that Ramirez is given freedom to find space, while Schneiderlin can play a simple pass to someone more forward-thinking.

Increasingly, Southampton are looking like a cohesive unit. After chopping and changing every week in August, September and October, Adkins has selected an unchanged side since Cork has come into the side.

"There has been a benefit of selecting the same team for the previous three games," Adkins said before the Norwich game. "A consistency of team selection has aided a growing understanding of partnerships and units within the team, to allow us to play as a team."

Against Norwich, with Tettey and Bradley Johnson sitting deep to minimise the space between the lines but Wes Hoolahan staying much higher up in support of Holt, Cork has space to get moves going. By a distance, he completed the most passes in the game and was Southampton's best player.

His closest opponent was Tettey, a Ghanaian-born Norwegian international signed from Rennes in the summer. He's a different character entirely -- an unmistakable physical presence in the Norwich City midfield. Despite his raw power, he always wins the ball cleanly. Against Southampton, he attempted six tackles, and none resulted in fouls and none were unsuccessful. He also won the most aerial duels, positioning himself so Norwich had a player both in front of and behind Lambert.

That deep positioning was a feature of Tettey's performance. Under Hughton, Norwich always stay compact and deny space between the lines, but against Southampton it was particularly obvious. Ramirez was rightly perceived as the greatest creative threat, while both Lallana and Jason Puncheon drifted inside from the flanks. As Adkins later admitted, Southampton didn't offer enough width, which played into Norwich's -- and Tettey's -- hands.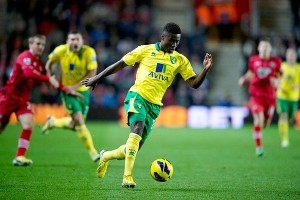 ADRIAN DENNIS/AFP/Getty ImagesTettey, a Ghanaian-born Norwegian international, has plenty of power but is also technically sound when tackling.
But Tettey gave Norwich something more than pure defensive commitment: sheer determination to burst forward from midfield, both with and without the ball, reminiscent of Yaya Toure, Ramires or a younger Steven Gerrard. It offered another attacking threat, connecting the defensive unit with the attacking quartet. He offers a burst of pace and the stamina to do it consistently, which troubled Southampton, which were comfortable defending against four attacking players but were surprised when forced to track another runner.

Last month that ambition surprised Arsenal too. They failed to close Tettey down, and his long-range strike was spilled by Vito Mannone into the path of Holt for a goal that already appears the turning point in Norwich's season.

Or maybe the turning point was Tettey's inclusion in the side in the first place. His debut was away at Stamford Bridge in a 4-1 defeat, but since then he has been ever-present in Norwich's seven unbeaten games. If there's one thing he shares with Cork, it's that his side has performed significantly better since his introduction.

Both have certainly improved in other areas. Southampton are no longer vulnerable to crosses because they defend wide areas better, while Norwich's overall shape has improved significantly since the thrashings against Liverpool and Fulham. But Cork and Tettey have been among the best midfielders in the league throughout November, and their midfield battle Wednesday night -- even in an uninspiring game -- was fascinating to watch.