Predictable Arsenal lose midfield battle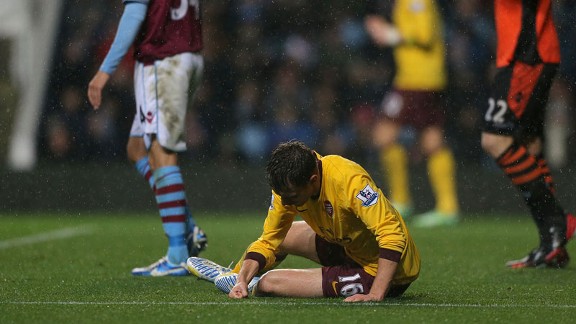 PA PhotosAaron Ramsey has underperformed since returning from injury, according to many Arsenal fans
ASTON VILLA 0-0 ARSENAL

Recent Arsenal teams are damned by comparisons with their predecessors. Arguably Arsene Wenger's greatest side were endearingly revolutionary in their movement. As Villa halted the modern-day outfit, perhaps they were too predictable in their shape.

Wenger's finest front four contained Thierry Henry, a striker who drifted to the left wing; Dennis Bergkamp, the No. 10 who would wander deeper into midfield; and ostensible wide men in Robert Pires and Freddie Ljungberg who avoided the touchline to veer infield. As neither was a winger, they can't be called inverted wingers, but Pires was a right-footed left-sided player who headed for the penalty box. Even last season, Robin van Persie called himself a nine-and-a-half; neither a No. 9 nor a No. 10, but a hybrid, who could lead the line and drop off.

The current striker, Olivier Giroud, is more of a traditional target man: a No. 9. In his only real hint of the unusual, he actually fashioned Arsenal's best chance in a rare moment of two players producing the unanticipated. Vacating the middle, he broke clear on the left wing and Laurent Koscielny ran the length of the pitch to get in the penalty area. As a centre-back, a position where the Gunners had a spare man against Villa's one striker, he was unchecked.

Flanking Giroud and in the comparison of the four players to start the game as wingers, Villa's were much the less conventional: partly because Andreas Weimann and Gabriel Agbonlahor began on the flanks the other normally occupies but also because they are strikers by trade and spent more of the match in the middle than their Arsenal counterparts. Arsenal's Lukas Podolski has also spent much of his career as a centre-forward but he is still more of an orthodox outside left; likewise the positionally disciplined right winger Alex Oxlade-Chamberlain.

In short, Arsenal have got more mainstream. They ran in straight lines and arrived in areas Villa expected. So the one wild card in the attack is Gervinho, whose movement means he has a unique take on the duties of either a striker or a winger, but who is also more erratic than the trustworthy trio that started the game. At Villa Park, he came on for Podolski, who has been taken off in each of his 13 league appearances. It was an understandable swap: the conventional had not brought the breakthrough, so Wenger went for the non-conformist.

The Ivorian did not have a huge impact. Neither, however, did too many others. It may have aided Villa's Paul Lambert that Wenger is rarely a manager who tailors his tactics according to the opposition. Rather Arsenal's approach varies more depending upon who is fit and at the forefront of the Frenchman's plans.

But in any Wenger side, given the emphasis on passing, the midfield area is pivotal. When Mikel Arteta, Jack Wilshere and Santi Cazorla are united, it can also be the strongest department of the team. With the Englishman rested and Aaron Ramsey deputising, it altered the slant of the side in two ways.

Firstly, while Wenger's formation is often described as 4-2-3-1, it depends upon the individuals. At the start of the season, for instance, Arteta often played behind Abou Diaby who, in turn, was behind Cazorla. At Villa Park, it was not 4-2-3-1 but 4-1-4-1. The midfield triangle often has its tip at the top, in Cazorla; on this occasion, it was Arteta alone at the base.

It created three individual battles in midfield - Arteta against Barry Bannan, Cazorla versus Ashley Westwood and Ramsey's clash with Karim El Ahmadi - and made Arsenal weighted towards the right. Whereas Cazorla played more centrally, Ramsey spent time in the inside-right position. In addition, right-back Carl Jenkinson attacked more than left-back Kieran Gibbs.

That, in turn, may have been a result of a Villa tactic. Change is a constant under Lambert. Here the switches were less personnel than positional: Agbonlahor, who has often played on the left and sometimes as a second striker in the Scot's reign, moved to the right with Weimann swapping wings. One consequence meant that Weimann was on the left and, as Christian Benteke often drifts there, Westwood aimed diagonal passes towards both. A reason why Westwood, who was excellent, exerted such an influence may be that his immediate opponent was the weakest defensively of Arsenal's midfield trio. He was the provider when Brett Holman hit the bar and was also Villa's most prolific passer.

While Agbonlahor and Weimann were back in their more familiar roles in second half, the original intention seemed to be to try and exploit Podolski's reluctance to track back and isolate Agbonlahor against Gibbs. It was an interesting idea, albeit one that did not really work.

Where they led the way, however, was in their work ethic. Villa's plan involved pressing Arsenal and limiting the time and space open to them. It required collective commitment and they led from the front. Weimann made the most tackles of any Villa player; Agbonlahor committed the most fouls. Neither is a Wenger winger - either old or new-style, but they played their part.