Ibrahimovic can be anything he wants to be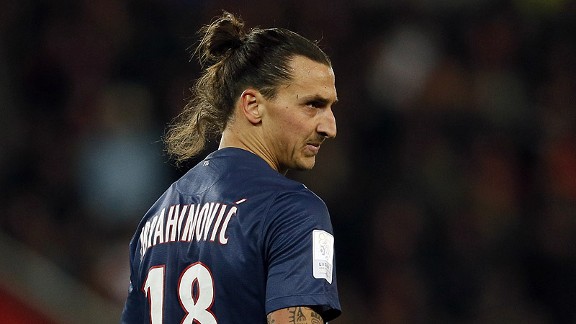 Kenzo Tribouillard/AFP/Getty ImagesZlatan Ibrahimovic isn't just about scoring goals, he's become a prolific provider for his teammates, too.
Ruthless goalscorer, serial trickster and now prolific provider. Quite what role does Zlatan Ibrahimovic perform, aside from being at the centre of everything? "I need to be free as a bird on the pitch," he says. "I'm the guy who wants to make a difference."

That freedom is serving him well. In the previous Champions League round two weeks ago, Paris Saint-Germain defeated Dinamo Zagreb, 4-0. Look at the scoresheet, and you'd be shocked Ibrahimovic wasn't on it. Alex, Blaise Matuidi, Jeremy Menez and Guillaume Hoarau did.

-Lavezzi returns to form in PSG win

But Ibrahimovic assisted the first goal. And the second. And the next – and then, just when you thought things were getting too silly, he set up Hoarau with a pass while on his backside. Four goals, four Ibrahimovic assists.

The Swede often faces criticism for being selfish. In a way, he is – he almost demands sides are built around him. He becomes such a focal point, such a key player, that when his sides are without him, they look extremely average. Inter depended on him too much; so did Milan. Even at Barcelona, when cast aside by Pep Guardiola, he was still the main talking point when Barcelona lost to Inter at the semifinal stage.

PSG, forced to play their previous two matches without Ibrahimovic after his foolish sending-off against Saint Etienne, are experiencing the same thing – they didn't win either game. "Being dependent on Ibrahimovic is a good thing," manager Carlo Ancelotti claimed. "It is normal that his partners have great confidence in him – he is a leader who has the character to score and make others play."

In Wednesday night's 2-0 victory at Dynamo Kiev, he picked up another assist. Ezequiel Lavezzi got the ball on the run, and found Ibrahimovic by the right-hand touchline, drifting away into uncharted waters, drawing a centre-back out of position, widening the gaps in the Dynamo Kiev defence. Lavezzi – an average player on the ball but a brilliant direct runner – knew what was coming. Ibrahimovic took one touch to control the ball, steadied himself, then perfectly bisected the centre-backs through the gap his movement had created, and Lavezzi sped onto the ball and chipped the goalkeeper for a superb opening goal.

The understanding between PSG's attackers has improved significantly from their opening two Champions League games. Away at Porto in Matchday Two, for example, Ibrahimovic kept drifting into deep positions, but neither Nene nor Jeremy Menez made a reverse run into the resulting space. Ibrahimovic was the sole threat, making runs in behind an aggressive Porto defensive line.

Now, with more time together on the training ground and pitch, it seems to have clicked. Ibrahimovic's role is crucial in matches such as this, when Ancelotti plays without Javier Pastore, so therefore no link between the three deep midfielders and the three attackers. It works well because PSG's other key attackers are all very direct, vertical players.

"Ibrahimovic is a player who can make us win games alone," says Italian midfielder Marco Verratti. "Players like Menez, Pastore and Lavezzi can provide the depth – Ibra has the technical quality to find a precise pass."

This role is ironic considering the manner he departed from Barcelona. The tactical reason he didn't fit – obviously, personality clashes were a much bigger factor – was because Lionel Messi wanted to move inside from the right and play a more permanent central role. Or, as Ibrahimovic explains himself in his autobiography: "After I arrived I was scoring more goals than [Messi] had. So Messi went to Guardiola and said 'I don't want to play on the wing any more, I want to play in the middle of the attack'.

"Guardiola became pathetic, and he switched to something more like a 4-5-1 formation with me just ahead of Messi. That's when I began to move into the shadows – he did it for Messi and it meant I didn't get to play my natural game."

Take whichever side you want – Messi has become the world's most prolific forward since his move inside, so you won't find too many disagreeing with Guardiola's preference -- but it's nevertheless fascinating that Ibrahimovic is now playing a role akin to the one Messi helped popularise at his expense.

It's not a new role this season, either – last year in Serie A, Ibrahimovic created the fourth-most chances of any player, behind more established playmakers such as Andrea Pirlo, Francesco Totti and Andrea Cossu. "Without Cassano we are different, and I also have to do different things," he said at the time. "In any case, I like helping out the squad, and sacrifice myself to do the things that I can't do as well."

Now he's the leading assistor in the Champions League, five in five games – he's become the perfect false nine.

And yet he remains a proper nine, too. In Ligue 1, his role is entirely different – in 10 matches, he's collected just one assist . . . .but scored 10 goals. He's a target man, a penalty box operator. Admittedly, because of suspension he hasn't played since his quadruple assist against Dinamo Zagreb, and this result in a different method of attacking in domestic football, too.

For now, he varies his game according to the standard of opposition. In Ligue 1, sides sit deep and he's confident his teammates will create opportunities for him to convert. In the Champions League against more organised defences, more movement and fluidity is needed.

Like when Ibrahimovic spoke about Cassano at Milan, the difference is Pastore – a starter for the majority of Ligue 1 games, a substitute for most in the Champions League. If the defined playmaker isn't there, Ibrahimovic has to become it.

But it's not a problem. Because of his mentality, as well as his all-round technical skill set, Zlatan keeps on proving that he can be anything he wants to be.

Michael Cox is a freelance writer for ESPN.com. He runs zonalmarking.net.