Risk management with ten men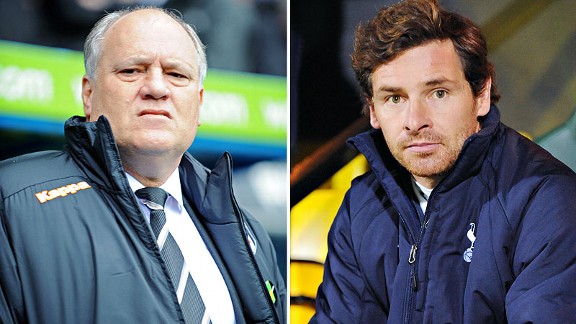 Getty ImagesManagers Martin Jol and Andre Villas-Boas put traditional thinking aside and stayed aggressive playing with ten men in their last fixtures.
There are various ways to summarise the Premier League's current obsession with attack. You can inspect the goals per game ratio, for example, currently at record levels. You can examine the type of football played in meetings between the biggest clubs -- which, over the past 18 months, have produced some absurdly high-scoring contests. You can consider that small clubs actually try to play football -- Wigan and Swansea are among the finest passers in the league, despite the most modest budgets.

It is a staggering contrast from a few years ago. In the mid-late 2000s, in the wake of Greece's shock Euro 2004 win, Jose Mourinho's success with Porto and his subsequent triumphs in English football, the Premier League became extremely conservative. The goals per game ratio was under 2.5 (now, it's close to 2.9), big matches were slow, defensive and scrappy, the smaller clubs played 4-5-1 and tried to pinch a goal from set-pieces. The change in emphasis, within a relatively short space of time, is remarkable.

This weekend provided another example of clubs' commitment to entertain, courtesy of a couple of red cards. Two players were dismissed this weekend, both for unnecessary two-footed tackles close to the halfway line. Emmanuel Adebayor's reckless challenge on Arsenal's Santi Cazorla in the North London derby was a clear red card ("not a yellow card, not a rose card, but a red card", as Arsene Wenger put it). Brede Hangeland's foul on Sunderland's Lee Cattermole prompted more discussion, but under modern refereeing interpretations, it was always likely to result in a dismissal for the Fulham captain.

The two incidents were evidently game-changing moments. Tottenham were 1-0 ahead and playing the better football, and ended up losing 5-2. Fulham's match with Sunderland was a tame 0-0 with 22 players on the pitch at the time of Hangeland's dismissal, but finished with the Mackems winning 3-1. Yet the most interesting thing about the dismissals was not the incidents themselves, but how the manager reacted to losing a key player. Traditionally, a side defends with two banks of four, then hits long balls towards a lone striker -- but there was a very different approach from Tottenham and Fulham this weekend.

The strategies of Andre Villas-Boas and Martin Jol were, in specific terms, very different. Villas-Boas waited until half-time, when his side were slightly unfortunate to find themselves 3-1 behind, and switched to a 3-4-1-1 system. Both full-backs were sacrificed, with Michael Dawson on as a sweeper, and Clint Dempsey roaming between the lines, connecting the midfield with Jermain Defoe.

Jol needed a replacement centre-back, but removed midfielder Giorgos Karagounis, rather than an attacker. Creative forward Bryan Ruiz was instructed to help Steve Sidwell in midfield -- and when Ruiz was forced to depart through injury, it was Dimitar Berbatov that became a temporary central midfielder.

But broadly speaking, their approach was similar -- they continued to play with four attackers. Villas-Boas had Defoe and Dempsey in the centre, then Gareth Bale and Aaron Lennon on the flanks. Jol used Petric and Berbatov, with Damien Duff and Hugo Rodallega either side. Once, using four attacking players with only nine men would be viewed as suicidal. Now, it is perfectly acceptable.

Both coaches' experiments were broadly unsuccessful if you purely look at the scorelines -- neither collected any points. But with first-half dismissals, it's extremely tough to get anything out of the game -- and on one level, both strategies worked. Tottenham passed the ball nicely in the second half, and pressed Arsenal effectively. Fulham created plenty goal-scoring chances, with substitute Mladen Petric grabbing an equaliser.

Villas-Boas and Jol emphasised their pride in their players at full-time. "We took on the challenge, we risked it and that's why we are proud of each other," said the Tottenham boss. "We felt we had a go."

Jol's message was similar. "I took a big risk, because it was so open," he admitted. "We had only one midfielder left on the pitch with ten men -- that was Sidwell." The use of the word 'risk' is notable in both pronouncements -- it's partly justification for the concession of goals, certainly, but it underlines the attitude.

Both managers went as far as suggesting they were the superior side, too. "We were very, very good from the first minute to the last, with eleven men and with ten men," Villas-Boas ventured. Jol put it more simply -- "I thought we were the better team," he said, although he was keen to point out that "it was still a fantastic game of football", despite the numerical disparity.

This is a results-based business, and maybe they are foolish to expect praise for their style of play, but both assumed credit for their bravery. Villas-Boas admitted that his side conceded goals because he tried to play three-against-three at the back, but as he did so, he smiled and looked around the press conference room at the Emirates, as if he was expecting sympathy for his own tactical decision that backfired.

That won't be forthcoming -- criticism of Portuguese manager reached a new low this week, when he was bizarrely derided for flicking through a notebook midway through the North London derby -- but there must be a recognition that the collective positivity across the Premier League makes for an exciting spectacle.

The dismissals changed the games, but they certainly didn't ruin them. The sight of a red card no longer needs to prompt pessimism, from either the affected coach, or the entertainment-seeking neutral.