Why is this the season of poor defending?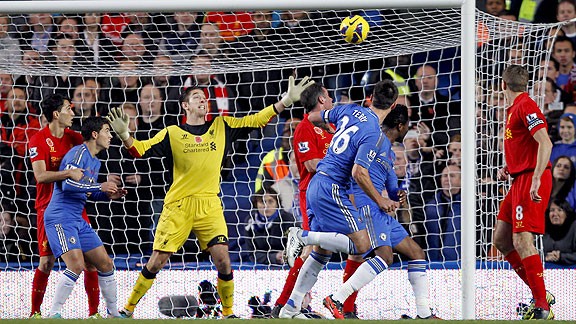 Ian Kington/AFP/Getty ImagesJohn Terry's goal against Liverpool at the weekend was yet another high-profile example of poor defending on set pieces.
This is quickly becoming the season of poor set-piece defending. Arsenal and Manchester City have consistently suffered from it, while Chelsea's weekend draw against Liverpool was a match featuring limited technical quality, with goals arriving exclusively from corners.

It has been a pattern throughout 2012-13 -- 14.7 percent of goals have been scored from corners, and while we must consider the limited sample size with only one-quarter of the season played, it's a higher proportion than in any of the previous nine campaigns. Sides are increasingly defending set pieces poorly. Or, alternatively, they're becoming more efficient at scoring from them. But football at this level is an inherently defensive sport -- focus is always upon poor defending, rather than positive attacking. Postmatch analysis invariably focuses upon poor marking, positional errors or "ball watching."

There is no simple explanation for the trend -- each side has individual problems, and there's no immediate link between Daniel Agger's inability to stick tight to John Terry on Sunday, for example, and other sides' struggles with defending zonally. In fact, it's extremely rare to see anything close to a full-zonal system, or a side exclusively marking man-for-man. Almost every system is, in some way, a hybrid of the two.

The two clubs with the clearest problems are Manchester City and Arsenal -- both have conceded cheap goals when primarily marking zonally. Again, there is a big caveat to this -- when Ajax went 2-0 up in the Champions League match at the Etihad Stadium, the real problem was Yaya Toure failing to track Siem de Jong, who scored both goals (although the second concession was also poor from a zonal perspective).

It's interesting to hear why Roberto Mancini prefers to defend zonally at set pieces. "We are not strong enough to mark man-to-man," he admits. "Every time we do mark man-to-man there is a risk of conceding a penalty. If we work, we can improve the system." He essentially uses that system to compensate for the lack of physicality throughout his side. The lack of aerial power is the reason for his using the zonal system and the reason for City's weakness at set plays, rather than the weakness stemming from the system.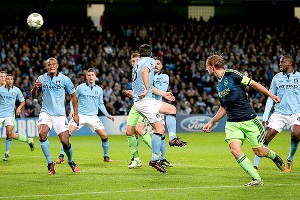 Alex Livesey/Getty ImagesCity's defending was also poor in the Champions League, as Ajax's Siem de Jong scored both goals. But Roberto Mancini says he doesn't trust his side to exclusively man-to-man mark.
City's squad rotation is an obscure, but realistic, reason for Mancini's preference for defending zonally. On a good day, City's lineup would feature Vincent Kompany, Yaya Toure, Gareth Barry, Javi Garcia, Micah Richards, Aleksander Kolarov, Mario Balotelli and Edin Dzeko – that's eight fine headers of the ball, and they'd be confident of going man-for-man against any side in the league. Yet of them, only Kompany and Toure are guaranteed starters for City. It's equally possible that Mancini could use a front four of Sergio Aguero, Carlos Tevez, David Silva and Samir Nasri -- average height 5-foot-8 – plus 5-9 pairing Pablo Zabaleta and Gael Clichy in the fullback positions. Suddenly, City would be completely unsuited to defending man-for-man. Zonal is the better option -- and in the interests of consistency, that's the system Mancini must use each week.

This is a small example of a larger problem. Top-level sides are increasingly based around quick, tricky attackers and elegant passing midfielders. Target men are generally used as a Plan B; powerful box-to-box midfielders are rarely seen. This generation belongs to short players, summed up by Barcelona's recent success. They've defended zonally since Pep Guardiola took charge -- and again, while the system was often blamed for the set-piece vulnerability, in reality it was the natural option considering the height of Guardiola's players.

Arsenal are another fine example. They started last season defending zonally, then switched to man-for-man marking after a couple of poor concessions from set-pieces. After a couple of games of 2012-13, they appeared to have their defence sorted -- but in their opening two fixtures against Sunderland and Stoke, didn't have to face a single corner. When they were tested in that respect, they looked vulnerable.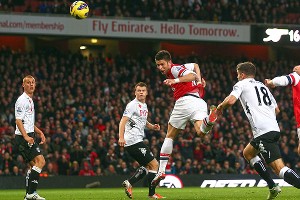 Clive Rose/Getty ImagesAgainst Fulham, Olivier Giroud demonstrated that his height -- something Arsenal generally lacks -- was invaluable on set plays.
Again, the issue of height is worth considering. The regular 10 outfielders throughout the 2003-04 Invincibles season had an average height of 1.85 metres, while the expected 10 for the weekend derby with Tottenham have an average of 1.80. Five centimetres might sound a marginal difference, but averaged out across every position in the side, it's a significant drop. Being tall doesn't necessarily result in being a good header of the ball, of course, but it certainly helps, and it was notable that Arsenal's best clearer of corners against Fulham was Olivier Giroud -- without his height, they're even weaker at set plays.

Maybe elite sides don't practice defending set pieces enough. Even among high-level coaches, there's a tendency to focus upon the positive of one's own side, rather than look at the strengths of the opposition and react accordingly. That means, for a technical side like Arsenal or Manchester City, plenty of training routines involve one-touch passing and movement, but there's little emphasis on set plays. In stark contrast, what does a minnow work on ahead of a game against one of the Champions League contenders? A bit of counterattacking, and getting dead ball routines sorted. It's no wonder they're more prepared.

But, of course, the best way to score from set pieces is to win them in the first place. The three most prolific sides from set pieces this season are Manchester United with eight goals, Manchester City with seven, and Chelsea with six -- the top three in the league table. The more you attack, the more chances you have to score from dead ball situations. The best clubs profit from set pieces most frequently -- it's simply more noticeable when they concede.

Michael Cox is a freelance writer for ESPN.com. He runs zonalmarking.net.