The doubts still linger for City, Mancini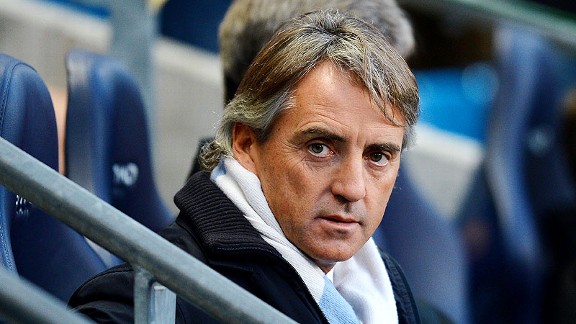 ANDREW YATES/AFP/Getty ImagesGiven City's struggles away from home, Roberto Mancini should be mightily concerned about the Sky Blues' trip to West Ham on Saturday.
With Manchester City struggling in Europe, Txiki Begiristain's arrival prompting questions about managerial structure and Roberto Mancini under fire for his experimentation with a three-man defence, you could be forgiven for forgetting that the reigning champions remain unbeaten in the league.

Granted, it hasn't been the most inspiring run. Only once have City looked impressive throughout a match, in the comfortable 3-0 win over Sunderland. Are their narrow victories a cause for concern, or are they impressively grinding out results?

The reality is somewhere in between, but it is important to differentiate between City's performances at home and their displays on the road. At the Etihad Stadium they're almost unstoppable -- since the start of last season, they've recorded 22 wins from 24 matches. Only Sunderland, who snatched a point in a crazy 3-3 draw last season, and Arsenal -- who equalised late through Laurent Koscielny in September -- have collected a point at Eastlands.

On their travels, it's a completely different story. City have collected eight points from four matches in 2012/13, hardly a disastrous total. But when you assess the games in greater depth, problems become clear. In each of the four matches -- at Liverpool, Stoke, Fulham and West Brom -- they've fallen behind, and have been forced to chase the match. They've always equalised, and twice gone on to win the game, which demonstrates their mental strength, but continually fighting until the final whistle is having an obvious, cumulative impact upon their fitness levels.

"Our performance in the first half was so-so because I think we were so tired," Mancini said after the underwhelming 1-0 victory over Swansea last weekend. "When you are in a difficult moment, after a defeat in the Champions League, it is important we start to win quickly … we now have one week when we can recover."

En route to their first Premier League title, City secured games early. In October last year, for example, in three of their four league matches, they had a two-goal lead after an hour. Last year the substitutes got a nice run-out; now they are required to snatch the win.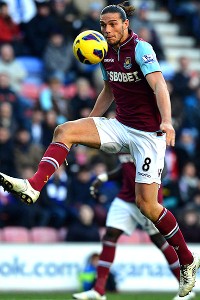 Paul Ellis/AFP/Getty ImagesWe can expect West Ham to play long balls toward Andy Carroll in an attempt to break down City's defence.
With such a large squad, fitness shouldn't be a concern for City, but injuries are wreaking havoc. Micah Richards, Aleksandar Kolarov, Pablo Zabaleta, Maicon, Jack Rodwell, Javi Garcia and David Silva have all missed training this week, and any players lacking 100 percent fitness are unlikely to be risked this weekend against West Ham, who will offer a big physical test.

Indeed, this weekend is a perfect chance to assess City's fighting qualities. Sam Allardyce's side have made a fine start to the season, currently sitting in eighth position. While they've been defeated in their sole match against a big side, going down 3-1 at home to Arsenal, they actually performed very impressively. Andy Carroll gave the centre backs a difficult physical test, and although the Liverpool loanee started upfront in a 4-5-1 formation, he received plenty of support from midfield runners. Mohamed Diame put West Ham ahead, and had Kevin Nolan not missed a fine chance at 1-1, it could have been a very different story.

Allardyce has a habit of frustrating bigger sides -- in his final complete season at Blackburn Rovers, he beat Arsenal and held both Chelsea and Manchester United at Ewood Park -- but he insists his task at West Ham is very different. "It's a different scenario, a different team," he says. "You set your stall out tactically against these teams to stop the major threats they have. They have talented players and that is the key reason why you have to focus on trying to nullify that talent if you can -- and maximise your possession. If you are limited in possession you have to make sure you have the quality to maximise that and expose one or two of their weaknesses."

Despite Allardyce's talk of possession, it's highly doubtful that West Ham will attempt to compete with City in midfield. Mancini's side would outplay them, and Allardyce must have noted that his three defeats so far this season -- to Arsenal, Wigan and Swansea -- have all been against sides who play short passing football, like City.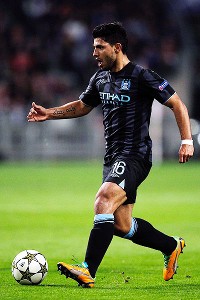 Dean Mouhtaropoulos/Getty ImagesWill Mancini combat the physical play of West Ham with the likes of nimble, fast players such as Sergio Aguero?
Instead, West Ham will play direct to Carroll. He hasn't scored yet for his new club, but opened his Liverpool account with two fine goals in a 3-0 victory over City in April 2011, including a trademark thumping header after a cross to the far post -- demonstrating that this weekend's opponents can be vulnerable to his aerial threat.

The clash of styles gives Mancini a tactical dilemma -- does he fight fire with fire, and go for physical forwards like Dzeko and Mario Balotelli, or concentrate on City's strengths with smaller, trickier players like Sergio Aguero and Carlos Tevez? Against Carroll, is it worth moving to the three-man defence again, to get more height into the side? And are tactical concerns the problem on the road, or does it come down to mental factors? In many ways, this is a very intriguing contest.

For West Ham, the pressure is off. "Our season is determined on what we do against the bottom eight not the top five or six," Allardyce said. "The top five or six is an ultimate bonus if you get a result against them." For City, it's a crucial match -- a first league defeat would be a huge blow ahead of the must-win Champions League match against Ajax. For various reasons, this would be a perfect time for City to start winning comfortably again.