Wilshere and Cleverley give England hope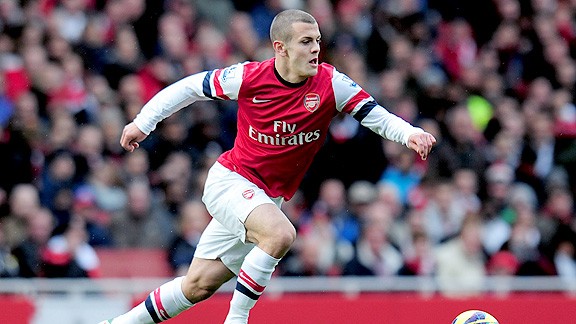 Shaun Botterill/Getty ImagesNow that Jack Wilshere has returned to action, could he and Tom Cleverley fix England's broken midfield?
This time last year, it seemed that either Tom Cleverley or Jack Wilshere would have a part to play in England's Euro 2012 campaign. Fabio Capello was adopting a defensive-minded, counterattacking approach that required a bright young midfielder to be the "transition player," the man to turn defence into attack with a swift forward pass or sudden burst of acceleration. Cleverley and Wilshere were both options.

As it happens, the former didn't start a league game after October, the latter didn't play all season and Capello wasn't the Three Lions' coach for Euro 2012 anyway.

With Michael Carrick and Roy Hodgson suffering from some form of communication breakdown, Paul Scholes not tempted out of international retirement and both Gareth Barry and Frank Lampard injured, England's midfield options at Euro 2012 were pitiful. Steven Gerrard and Scott Parker are both fine footballers, yet Gerrard tired in the second half of matches and Parker hadn't looked fully fit in months.

Hodgson's tactical inflexibility means that a 4-4-2 (or some subtle variety therein) was always likely to be England's default strategy, but even those who favour an alternative would have struggled to create a three-man midfield from England's squad. Fresh from an underwhelming debut campaign with Liverpool and thus low of confidence, Jordan Henderson was the only other proper central midfielder, with utility players Phil Jones or James Milner also in the mix.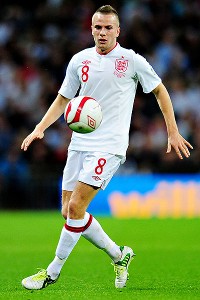 Shaun Botterill/Getty ImagesTom Cleverley may have struggled to cement his place in the Man United first team, but he's acquitted himself well in recent action for England.

In England's first post-Euros friendly, a 2-1 win over Italy at a neutral venue, Hodgson was criticised for calling up Tottenham's Jake Livermore. The 22-year-old isn't a particularly promising player and rarely impresses for his club -- but who else did Hodgson have to pick?

Thankfully, this dilemma should soon disappear as both Cleverley and Wilshere are back. For the first time, both started for their parent club in the same Premier League weekend; the last time Wilshere played for Arsenal, Cleverley was still on loan at Wigan. This offers England hope in the engine room of midfield, the zone where successive managers have failed to get the balance right given an over-eagerness to include star individuals at the expense of structure and discipline.

This past weekend, their matches were very different. Wilshere was one of Arsenal's better players in the narrow 1-0 win over QPR, slotting seamlessly into a side completely unfamiliar to him -- Mikel Arteta, Lukas Podolski, Santi Cazorla and Olivier Giroud were all playing elsewhere during Wilshere's lone season as a Gunners first-teamer. He passed the ball quickly and scampered into the final third, providing another creative threat alongside Cazorla and clearly suiting his new No. 10 shirt.

Cleverley, on the other hand, had a disappointing game. Forced back toward his own goal by the boundless energy of Ramires, he conceded possession too cheaply and looked overawed by Chelsea's creative talents. He was the first Manchester United player substituted, replaced by Javier Hernandez, who eventually scored the winner. He would have wished for a game like Wilshere's -- playing with his side on the front foot and dominating possession.

Yet Hodgson clearly admires both players. Cleverley started both of England's World Cup qualifiers earlier this month, albeit in unfamiliar roles. Hodgson is keen to use Wilshere in next month's friendly against Sweden, although Arsene Wenger is likely to block this move given that he's just returning from a lengthy injury lay-off. "It is a friendly," he said. "Jack should skip that -- what is important now is that he gets back to full fitness for this team. Once he is back he will play for England again."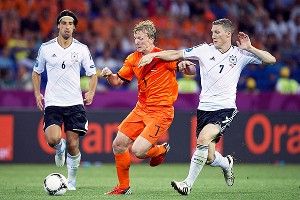 VI Images/Getty ImagesEngland should look to Germany's example for how to balance its midfield: Sami Khedira (L) and Bastian Schweinsteiger (R) communicate well on attacking and defensive duties.

The question is this: can they play together? On paper they are similar -- certainly not holding midfielders and not quite outright attacking midfielders, yet both more flashy than simple "box to box" players. Both are technical and creative but are used deep in midfield for their clubs alongside a calmer, more secure player. They are also alike in terms of personality -- naturally combative and aggressive, each determined to have a big influence upon every game.

Using them together might throw up a new "Lampard or Gerrard" style debate, but there's a slight difference: Gerrard and Lampard both found their peak as the highest player in a midfield three (whether the format was 4-2-3-1 or 4-3-3) while these two are currently most at home as the "second" midfielder in a trio. But the point remains -- ideally Wilshere or Cleverely would have a holding mid behind, but given Hodgson's preference for a 4-4-2, that's very unlikely.

However, Hodgson can look to Germany's relative success with Sami Khedira and Bastian Schweinsteiger's flexible partnership at the heart of the side. Both Cleverley and Wilshere are, in a sense, very German in style. The majority of top Bundesliga sides are based around 4-2-3-1 formations with the midfield duo generally featuring at least one direct, vertical player who can slide forward from deep. Nuri Sahin, Sven Bender or Toni Kroos (when fielded in that role) are fine examples of recent players produced in the German system.

The key to Khedira and Schweinsteiger's relationship is understanding and communication, which works well in combination with a counterattacking approach; when one goes, the other sits. That might work well for Hodgson's England as he is a reactive manager, not one concerned with possession. His goal should be to incorporate more technical players into a side that uses the ball efficiently, meaning that Germany (and not Spain) should be the template.

Wilshere and Cleverley might be on the same pitch this weekend as the two teams meet on Saturday morning. With great respect to Paul Scholes -- the man most likely to start in place of Cleverley -- a match featuring both players in similar roles would be a fascinating comparison. Hodgson should be at Old Trafford on Saturday to see if either -- or both -- can be pivotal in his England side ahead of the 2014 World Cup.