Old school at Villa Park as opponents embrace 4-4-2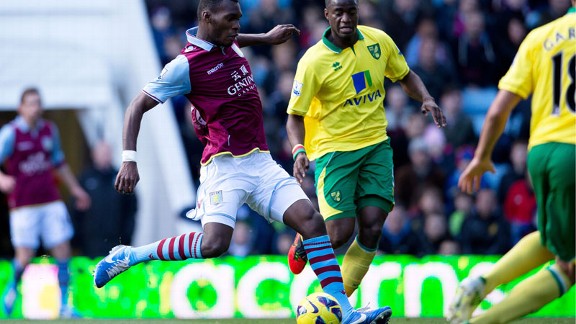 GettyImagesChristian Benteke opened the scoring for Aston Villa against Norwich
ASTON VILLA 1-1 NORWICH

It was the unexpected against the expected. Not in the scoreline - as these two teams have one win apiece, a draw was not unsurprising - but in the shape of the sides. Norwich manager Chris Hughton followed the old maxim to never change a winning team. His Villa counterpart Paul Lambert often ignored that footballing truism in his time at Carrow Road and has used unpredictability as an asset in the past.

In a reunion, he surprised before the start. Darren Bent was the headline exclusion but tactically Lambert was unusually conventional by playing 4-4-2. The Scot has favoured either a diamond midfield or 4-2-3-1 in recent weeks. As Lambert revisited his past, he reverted to an age-old tactic. After beating Arsenal, it was unsurprising Norwich stayed with the 4-4-1-1 formation that served them so well last week.

- Blog: Battle of Norwich old and new
- Canaries leave Lambert frustrated
- Lambert bemoans red card

Tactically, it gave the game something of a retro feel. When 4-4-2 plays 4-4-2, as was the case in the majority of English games for years, it basically gives 10 individual match-ups among the outfield players. Therefore, it should suit the side with the superior players or the one that wins more of the one-on-one battles. Lambert's choice hinted that he believed his new charges had the beating of his former players when in direct combat. When they had a full complement of players, they were ahead, albeit due to Norwich's defensive failings but Villa lost their lead when one individual battle resulted in a knockout victory for the visitors: Villa's Joe Bennett was sent off for collecting two cautions, both for fouls on City's Elliott Bennett.

There was one exception to the uniformity of 4-4-2: Wes Hoolahan, who played between midfield and attack for Norwich. That Villa only had two central midfielders meant that, when Hoolahan dropped deeper, Norwich could have an advantage in that department and, when the Irishman was more advanced, he found pockets of space. It was a reason why Norwich had more possession in the first third of the game; Hoolahan, with his roving brief, was the spare man.

It also meant sole striker Grant Holt was the only player with two immediate opponents, something he used to his side's advantage when fashioning the first clear-cut chance: both central defenders, Chris Herd and Ron Vlaar, were drawn to Holt and he released Hoolahan - perhaps with a mis-hit attempt at goal - for a shot Brad Guzan saved.

Otherwise, the Norwich captain sometimes tried to isolate himself against Chris Herd. As the Australian is not really a centre-back, that was understandable. Rather than one of Lambert's leftfield decisions, however, his selection was simply the result of injuries to Richard Dunne and Ciaran Clark.

Arguably, however, he had two players operating out of position. Villa's was a typical 4-4-2 in all bar one factor: rather than playing as a traditional winger, Brett Holman cut in from left to appear behind the strikers, in effect taking up the position that he filled when he was at the tip of a midfield diamond. It meant that when left-back Joe Bennett came forward he was allowed to overlap outside Holman.

Nevertheless, it was from the left flank that Holman set up Villa's goal, picking out Benteke. It was a strike that owed less to tactics than individual error - both Norwich centre-backs left the Belgian unmarked; indeed Michael Turner and Sebastian Bassong were pictured blaming each other. The argument appeared to be a question if, in that passage of play, they were defending zonally - in which case Turner was responsible - or man-to-man, when Bassong would have been at fault.

What it did highlight, however, was Benteke's movement. Like Holt at the other end, he looked to lined up against a shorter opponent: left-back Javier Garrido, so Villa could aim diagonal balls at the target man. Like Holt, too, he played some of the game alone in attack.

That was the result of managerial decision, too, but also of necessity after Villa were reduced to 10 men. When Eric Lichaj came on at left-back, it meant 4-4-1 played 4-4-1-1. It made one outcome inevitable - that Norwich had more of the ball - and put another, the result in doubt. As Villa retreated, Hughton removed his holding midfielder, Bradley Johnson, and brought on a second striker, Steve Morison. Then they were the team playing 4-4-2.

It pushed Villa back and the leveller came from weight of pressure as well as a lapse in concentration at the back, allowing Turner to head in from Hoolahan's cross after a quickly taken corner.

The other factor, however, was that Villa no longer had an outlet in attack. Benteke was substituted for Bent and, while the Belgian had been a presence, the Englishman was anonymous. Indeed, on the pitch for a quarter of the game, he failed to complete a single pass. While ending with 10 men, in one respect they were only playing with nine.