Zenit learning that money doesn't always buy success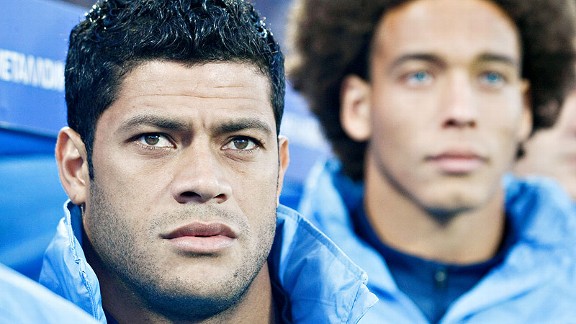 Mike Kireev/Getty ImagesZenit's harmony -- on and off the pitch -- has been ruined by the signings of two players, Hulk and Axel Witsel, who are supposed to take the club to the next level.
After a couple of seasons mixing domestic success with continental disappointment, 2012-13 should have been Zenit St Petersburg's time to shine in the Champions League under highly rated coach Luciano Spalletti.

There were various reasons for optimism. After an 18-month transition season to shift the Russian Premier League from a summer to a winter calendar, in keeping with the rest of Europe, Zenit could have no complaints about fitness levels at certain stages of the campaign -- a common complaint for many Russian clubs over the years.

The Russian champions were also handed a favourable draw. Milan were the poorest side in the first pot, and have been even worse than expected, while Anderlecht offered the least intimidating away trip of the sides in pot three. Then there was Malaga, European Cup debutants and crippled by sudden financial problems. Zenit couldn't have hoped for any better.

Then there was the third, most crucial factor: new signings. After years of relative financial caution considering their Gazprom connections, Zenit splashed out on two sensational purchases: Hulk from Porto and Axel Witsel from Benfica, for a combined 64 million pounds. The signings were more notable for financial reasons than footballing factors -- both are fine players, but the price tags were highly inflated. Still, if Zenit could afford it, what was the problem?

Well, problems soon became clear. The new arrivals prompted a huge public squabble among the players, predictably led by defensive midfielder Igor Denisov, a Zenit veteran of a decade, scorer in their 2008 UEFA Cup final victory, and never far from trouble. He'd previously asked the club for a new contrast, a request rejected because of a lack of money, but the arrivals of Hulk and Witsel for such staggering sums highlighted either Zenit's hypocrisy or dishonesty, and the dressing room went into meltdown.

"Do you think [Hulk and Witsel] are so much better than us that they should make three times as much?" asked Denisov. There were also cultural and racial undertones in his message. He spoke about the club undermining the respect of the Russian players, insisting he wasn't against foreigners but speaking about the need for "St Petersburg natives, who have always made up the core of a team like Zenit." Along with Denisov, Vyacheslav Malafeev, Vladimir Bystrov and Aleksandr Kerzhakov have Zenit connections going back a decade or more.

There's no doubt that Zenit is a club with a special atmosphere, and the same can be said of St Petersburg as a city. "When I came back to St Petersburg, I realised how much I missed my town," said Andrei Arshavin, who returned on loan from Arsenal in the second half of last season. "It was a very good time for me, perhaps the best four months of my life … I was playing every week, but I appreciated everything outside football too."

The harmony, both off and on the pitch, has been ruined by the two men supposed to take Zenit to the next level. Previously their greatest quality was their collective strength, their unity and cohesion. Zenit had few top-class players, but the understanding between them was fantastic -- witness the superb midfield play of Denisov, Konstantin Zyryanov and Roman Shirokov over the past couple of seasons for a perfect example. The three would rotate, change position, always free to move where they pleased -- but were never caught square. The dissatisfaction with Witsel's introduction has been mirrored in the lack of fluency in Zenit's midfield, with the Belgian effectively replacing Denisov, but often leaving huge gaps for opponents to exploit.


Mike Kireev/Epsilon/Getty ImagesHulk has dominated Zenit's Champions League so far, in both a positive and a negative sense.
The same goes for Hulk. Even ignoring the financial concerns, and the language barrier which he admits has been difficult, introducing a pure individualist like him was always going to be a difficult process. Brilliant on his day, the Brazilian's favoured move is simple -- get the ball into feet in wide position, then cut inside and thump it towards goal with little regard for distance or angle. Compared to the neat interplay of his new teammates, it's a vast contrast.

Hulk has dominated Zenit's Champions League so far, in both a positive and a negative sense. In the opening day 3-0 defeat in Malaga, he hit the crossbar in the opening stages with a trademark thunderbolt from distance, but his advanced positioning, almost level with centre forward Kerzhakov, meant Malaga continually attacked in behind him.

Zenit also started slowly in the 3-2 home defeat to Milan. Max Allegri's side dominated the first 20 minutes because of constant pressure down Hulk's flank and went 2-0 up. Then Hulk got a goal back with a typically powerful strike -- it was notable that the only man to congratulate him with a high-five was Witsel. The Brazilian then assisted the equaliser from a corner, before an unfortunate late own goal handed Milan the win.

Hulk, by his very nature, has become Zenit's key player -- which, given the discontent about his arrival, is a huge issue. The hopefully imminent return of fabulous Portuguese playmaker Danny, out for most of 2012 with a serious knee injury, would provide another exciting attacker that demands the ball -- and someone his teammates are happy to pass to. He will combine well with Hulk, and as a fellow Portuguese speaker might be able to link players in the dressing room as seamlessly as he does on the pitch.

Wednesday's home match against Anderlecht has taken on huge importance for Zenit. A win would put them back in the fight for the knockout stages, but a defeat could leave them up to seven points away from qualification, a near-impossible task.

Zenit should have topped this group -- they brought in star players, while Milan and Malaga lost theirs. As this example has shown, cohesion is more important than star quality, and money doesn't always buy success.

Michael Cox is a freelance writer for ESPN.com. He runs zonalmarking.net.