Serie A's new title rivalry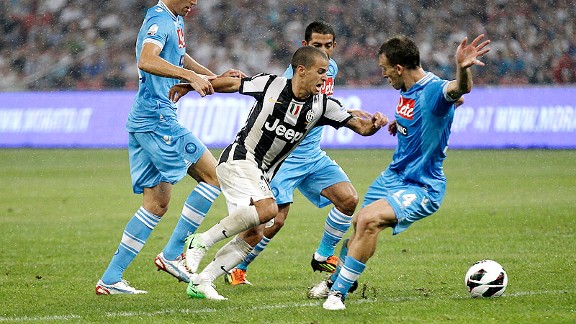 Lintao Zhang/Getty ImagesJuventus and Napoli have enjoyed an aggressive rivalry in recent seasons, but the title chase has added an additional layer of intrigue.
Europe's title battles this season will be somewhat familiar -- Real Madrid versus Barcelona, Manchester City versus Manchester United, Borussia Dortmund versus Bayern Munich. Though we're only in October and there's still time for outsiders to spoil the party, the lack of variety can be frustrating.

Serie A is different. This weekend Juventus takes on Napoli: it's first versus second with both teams having picked up 19 points from a possible 21 so far -- but more intriguingly, it's a genuinely new title rivalry.

There have been recent tensions, of course. Napoli beat Juventus in last season's Coppa Italia final, which (incredibly) remains Antonio Conte's only competitive defeat as coach of the Bianconeri. That game set up a repeat meeting in August's Supercoppa, a tempestuous contest that ended with Napoli boycotting Juve's trophy ceremony at Club President Aurelio De Laurentiis' request, in protest at unfavourable refereeing decisions. Italy being Italy, it's not a proper rivalry until either President has accused the other of profiting from scandalous officiating.

"Juve-Napoli has become the league's classic," confirmed Juventus defender Giorgio Chiellini. The rivalry has historical precedent but it's a genuine title battle for the first time in decades -- when Juventus triumphed last season, Napoli only managed fourth. When Napoli was in the hunt for the 2010/11 Scudetto, Juve finished down in seventh. The previous season, they finished sixth and seventh respectively and haven't finished in the top two positions in Serie A since Michel Platini was facing Diego Maradona: 1986/87.

This weekend is special, although players from either side insist this won't be decisive in the title race with 30 matches still to play.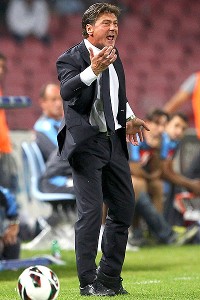 Marco Luzzani/Getty ImagesNapoli coach Walter Mazzarri clearly has the tactical nous to unsettle Antonio Conte and Juventus, but his spirit doesn't feel like that of a ruthless, title-seeking coach.

Nevertheless, psychologically this contest is worth considerably more than three points. Juventus has an unbeaten record to protect, meaning that an away victory would be significant -- never before has Conte been forced to motivate his side after a league defeat and the not-so-distant Coppa Italia loss proved that Napoli coach Walter Mazzarri can outthink Juve.

But this is a bigger test of Napoli. For the last couple of seasons it's been considered a genuine title contender yet its record in away matches against big sides is embarrassing. In eight matches against other top five clubs, Napoli has collected just two points and conceded 19 goals.

That record isn't a surprise to anyone who has witnessed any of those poor performances, but it doesn't make sense considering Napoli's footballing style. Mazzari runs a primarily counter-attacking side -- they sit deep, with two wing-backs dropping back to form a solid back five, and then break quickly with direct, purposeful attacks, catching the opposition out of position. Traditionally (and excuse the slight generalisation), sides like this prosper when the opposition sets the tempo of the game, takes the initiative and dominates possession. So why has Napoli struggled so badly against sides, albeit good sides, that play into their hands?

It seems to be something of a mental barrier. Napoli, for all its talents and Mazzarri's tactical nous, still feels like an outsider. The Coppa Italia win might serve as something of a turning point as it's the first triumph most of this squad has experienced. Federico Fernandez, Edinson Cavani and Eduardo Vargas won continental titles in South America but as far as European success is concerned, only Goran Pandev, who joined Inter midway through their treble-winning season of 2009/10, has something to shout about. Has something changed now they are playing with the coccarda on their chest to symbolize the cup victory? Has Napoli now become a winner?

For his part, Mazzarri still doesn't convince as the coach of a title challenger. His job at Napoli in the past three years has been superb -- he's taken the club from upper-half hopefuls to a Champions League club -- yet he still exudes a slight lack of confidence.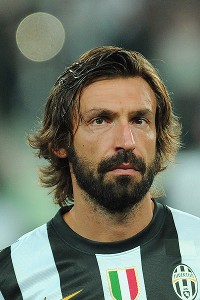 Valerio Pennicino/Getty ImagesAndrea Pirlo will, as he usually is, be key for Juventus in midfield. Can Napoli's Marek Hamsik contain him once again?

"Occasionally, I see and hear things that make me want to quit the game, I had a real desire to say farewell to football after the Supercoppa defeat to Juve," Mazzarri told La Repubblica this week. He sometimes feels like a quitter. "There is a chance that I will retire at the end of this season."

Clearly a fine coach and a likeable man, Mazzarri hasn't yet proven that he's got the mental determination to achieve something historic with Napoli. Does he even want to? "It's not all about winning trophies," he says. "Saving Reggina from relegation with so many deducted points meant more to me than winning something." It's rather pleasant he feels that way about a relatively unheralded achievement, but it's not the attitude of a born winner.

On the pitch, the key battle will be Andrea Pirlo against Marek Hamsik. Last season, Mazzarri instructed the Slovakian to track Pirlo when Juventus had possession and although Napoli defended poorly in other areas, Pirlo's influence was negligible. However, so was Hamsik's -- and, as if to summarize Napoli's feebleness against big clubs, their attacking midfielder's main task was defensive. It's vital to stop Pirlo, of course, but just as we need to see more ambition from Juventus, we need to see more positive running from Hamsik -- when he did just that in the Coppa Italia final, he put the finishing touch on a classic Napoli counter-attack for the clinching goal in a 2-0 win.

This game is about Napoli's -- and Mazzarri's -- belief. "Would I be happy with a draw? Absolutely not," he insists. "I want to infuse the squad with a winning mentality."

Now is the time to prove he can.