Toure de force, Arsenal back five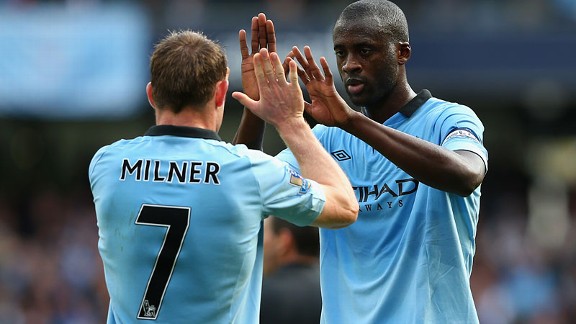 GettyImagesYaya Toure is key to Mancini's tactical reshuffles
MANCHESTER CITY 3-0 SUNDERLAND

Roberto Mancini is a man of many formations, sometimes within the space of the same game and many of them revolving around Yaya Toure. But as Manchester City kept a belated first clean sheet of the season, their manager went back to basics.

As is often the case in his tactics, Toure was crucial. In both personnel and shape, City provided reminders of the 2010-11 season when Mancini was often accused of being overly defensive. This was the 4-2-3-1 approach they adopted then, but less frequently last year because of Mancini's preference for two out-and-out forwards in attack. Indeed, it was the same front four that started the 2011 FA Cup final, before the arrivals of Sergio Aguero and Samir Nasri.

Toure then became one of two central midfielders but since then, when chasing a game, Mancini's signature substitution is a seemingly defensive switch that moves Toure into a more attacking role. On this occasion, pushing the Ivorian further forward reaped a benefit further back. And, unlike his mid-match moves, the change came before kick-off. A side that could have lined up in a 4-4-2 system, with James Milner on the right, was actually 4-2-3-1, with Toure flanked by David Silva and Mario Balotelli among the attacking midfielders. Albeit in a more advanced role, Toure was a third central midfielder, offering added protection to a porous back four.

The benefits of the system are twofold: the extra man in the middle, in Toure, enabling them to match Sunderland's 4-2-3-1, and, because of Balotelli, the ability to fit two strikers into a one-striker system. Mancini rarely selects or signs conventional wingers but Balotelli drifted in from the left to the six-yard box. One opportunity, like Aguero's goal, stemmed from a left-wing break - but from the left-back Aleksandar Kolarov, who aimed for the Italian in the middle. In both case, the supposed left winger was in a central striker's position.

As with all of Mancini's tactics, whether 4-4-2, 4-2-2-2, 3-4-1-2, the width came from the full-backs. Both were goalscoring threats, albeit from set-pieces in Kolarov's case. The Serb's freekick was his 10th goal in 57 City starts, a reason to try and get the Serb into the side. Meanwhile, Pablo Zabaleta, charged with covering ground from one goal-line to the other, illustrated his duties when he emerged outside and ahead of Silva to take the Spaniard's pass.

That Silva rarely stays in a position is a reason why City have a fluid front four. Another was that Edin Dzeko, who started against Borussia Dortmund, was omitted. Tevez led the line, but was more of an attacking pivot. When Aguero was introduced, he replaced Balotelli: ostensibly on the left, but actually cutting in.

If Aguero's duties changed in the reshuffle, the broader benefit was that, with two holding midfielders plus Toure, City actually had a platform to play higher up the pitch. Silva made the most passes with Toure third on the list. They were separated by James Milner, the additional anchorman in the change of tack and the scorer of the third goal. As ever in Mancini's teams, the seemingly defensive can be attacking.

WEST HAM 1-3 ARSENAL

Back fours were famous at Arsenal long before Arsene Wenger arrived but, however he has configured his side further forward, the Frenchman has been consistent in his preference for a quartet at the back. The one season to provide an exception was his first when Wenger inherited a back five from Bruce Rioch and opted for continuity before removing a central defender the following season.

In the subsequent 15 years, it is not a tactic Wenger has used often so there was a rarity when Laurent Koscielny replaced Lukas Podolski in the 85th minute at Upton Park to make a back five. It was a way of trying to shut up shop, but interesting for several reasons.

Firstly, because Wenger rarely looks to preserve a lead that way; indeed it was the first time since Johan Djourou came on for Tomas Rosicky at Goodison Park in March that a central defender replaced a midfielder or attacker. Often his system stays the same as he simply makes like-for-like switches.

Secondly, because it suggested he was tailoring his tactics to West Ham. Sam Allardyce starts with a 4-3-3 formation but, when chasing a game, Kevin Nolan tends to push up to become a second centre forward so by putting Koscielny alongside Thomas Vermaelen and Per Mertesacker, Arsenal retained a numerical advantage in that part of the pitch.

Thirdly, with Abou Diaby out injured, Wenger lacked a sizeable defensive midfielder and did not have an experienced option on the bench. The more pragmatic decision therefore was to introduce a centre-back.

And fourthly, with seven other outfield players more focused on defending and West Ham committing men forward, Arsenal's remaining three players threatened to score a fourth. Arsenal's eventual formation could be called 3-4-2-1 or 5-4-1 but, with Podolski gone, Santi Cazorla dropped into the left of midfield - more inside left than outside left - and angled diagonal passes for striker Olivier Giroud and his right-sided counterpart Theo Walcott to run on to.

But as much of Arsenal's defensive work this season has been attributed to assistant manager Steve Bould, it is worth remembering that one of George Graham's famous back four also operated in a back five: not just in 1996-97 but also in the title-winning team of 1988-89.