Players who could be key in the UCL this week
This week's Champions League fixtures aren't anywhere near as appetising as the clashes we enjoyed last week -- hopefully there will be some decent performances from the home sides this time around or else an amazing number of the ties could be decided before the second leg.

Here are the key battles to watch for in each of the four matches ...

Zenit vs. Dortmund: Hulk vs. Marco Reus

The week's opening tie could be the most fascinating, and should see a battle between two exciting, direct wide forwards. In recent years, Zenit have been consistently promising without actually developing into a top-class European side, while Dortmund reached the European Cup final last year but have declined, with injury problems causing huge problems this season.

This time last year Dortmund brushed aside Shakhtar Donetsk, and this is a similar contest for Juergen Klopp's side: an Eastern European powerhouse coming off their winter break, who play primarily on the counterattack in a 4-2-3-1 system. Dortmund will hope that, again, they're simply too quick and dynamic for their opponents.

Both sides' key counterattack is located down the same flank: Zenit's Hulk starts wide on the right before cutting inside and shooting powerfully, whereas Dortmund's Marco Reus does something similar from Dortmund's left.

They're both very "diagonal," charging toward goal rather than going down the line, although stylistically they are different. Reus picks up the ball in deeper positions and is selfless with his play and his decision-making in the final third is consistently excellent. Hulk is a pure shooter, often ignoring better options.

- Palmer: This week's UCL storylines
- Five Aside: Previewing the Round of 16

Both are teetering on the edge of being considered genuinely world-class. Reus is superb but hasn't yet influenced major games in the European Cup or at international level for Germany, while Hulk has acquired the reputation of a slightly basic flat-track bully.

This game kicks off early, to account for the time difference in Russia, so might receive more attention than usual. Both players should be centre stage, ready to prove their worth.

Olympiakos vs. Man United: Joel Campbell vs. Patrice Evra

Patrice Evra has been one of United's most prominent players this season. David Moyes was accustomed to playing with a rampaging left-back at Everton, with Leighton Baines, and the Frenchman has been handed a similar role, encouraged to scamper forward whenever possible.

Moyes has rarely been sure of his best left-sided midfielder but United generally play with a "drifter" on that side, someone who will come inside and crowd the centre of the pitch -- whereas Antonio Valencia stays wider on the right. This means Evra constantly has space ahead of him and is United's second most-common chance creator this season, behind Wayne Rooney.

United finally managed a breakthrough against Crystal Palace on Saturday evening from a Robin van Persie penalty, one that was won by Evra charging forward into the box to draw a foul from Marouane Chamakh.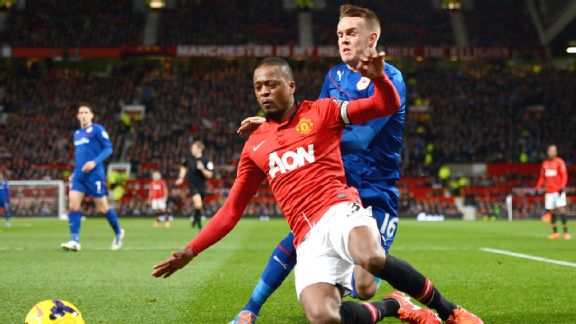 Michael Regan/Getty ImagesPatrice Evra's defensive skills will be tested in full by Joel Campbell.

Yet questions have been asked about Evra's defensive ability, and to a certain extent this is two sides of the same coin -- he can't be so attacking without compromising his defensive positioning, and United seem particularly vulnerable to pacey wingers breaking in behind him.

That situation might suit Olympiakos. They've lost Konstantinos Mitroglou to Fulham and will be without Javier Saviola through injury; therefore one of their major attacking threats will be Costa Rican Joel Campbell, on loan from Arsenal.

Campbell's defensive discipline can be dodgy but he's unquestionably quick and while he isn't prolific, he's become a more selfless player in Greece, racking up assists rather than goals. If Evra scampers forward his crossing will be dangerous, but Olympiakos will try to counterattack into the space he leaves behind.

Galatasaray vs. Chelsea: Didier Drogba vs. John Terry

It could hardly be anything else. Two of Chelsea's most important players over the past decade -- and therefore two of their greatest all-time footballers -- come face-to-face for the first time on opposing sides.

This is Mourinho's favourite striker against his favourite centre-back, the man whose penalty sealed Chelsea's first European Cup victory in 2012 against the man who should have done it four years earlier. Both players' mobility has declined in recent years and as such, this should be a good, old-fashioned penalty box scrap between two formidable aerial competitors.

Galatasaray will dominate possession at home against a side that tries to play on the counterattack. Roberto Mancini even used a system featuring wing-backs at the weekend in a typically scrappy 1-0 derby victory over Besiktas.

Therefore, the Turkish side will look to play down the flanks rather than through Wesley Sneijder -- another old Mourinho favourite, and someone who was responsible for knocking Chelsea out of the Champions League in 2010 when he combined excellently with Samuel Eto'o -- and Drogba remains a terrifyingly powerful striker in the air.

However, Terry has been in excellent form this season and is a more intelligent defender than often believed. He'll understand Drogba's movement better than anyone else and will be furious if he manages to allow his old teammate to score.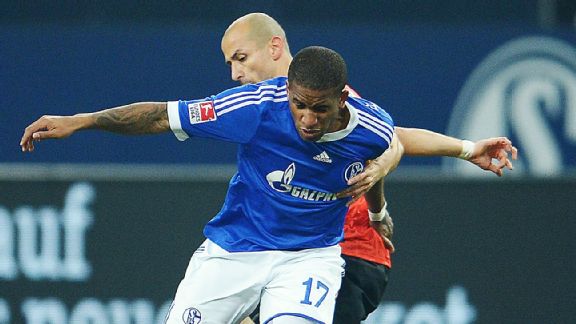 Dennis Grombkowski/Bongarts/Getty ImagesSchalke winger Jefferson Farfan is speedy and unpredictable enough to cause Real Madrid real problems.
Schalke vs. Real Madrid: Jefferson Farfan vs. Real's left-back

Jefferson Farfan is one of Europe's most underrated footballers. Maybe it's because he's Peruvian and therefore unlikely to shine at a major international tournament; or, it could be because Schalke are generally challenging for the Champions League places rather than the title and he remains in the shadows as a result.

Quite simply, Farfan is a devastatingly effective attacker. He's something of a throwback, a proper winger who remains high up the pitch and attacks down the outside rather than cutting in, one of a few players in modern football who could accurately be termed an "outside-right."

At times, he simply runs the game -- in the recent 3-0 win over struggling Hamburg, he created two goals and scored the other. In the crucial win over Basel on the final day of the group stage, he created both goals. Farfan is a more consistent version of Antonio Valencia -- he gets the ball, beats the full-back and crosses low into the box.

Farfan will be particularly dangerous this week because the identity of Real Madrid's left-back is unclear. Marcelo missed the weekend victory over Elche, more as a precaution than because of a proper injury, but he might not be fit to return.

Interestingly, Carlo Ancelotti favoured Alvaro Arbeloa at the weekend, with Fabio Coentrao an unused substitute -- maybe through personal preference, maybe to keep Coentrao fresh for Schalke.

Cristiano Ronaldo rarely offers his left-back much support, so whether it's Marcelo, Arbeloa or Coentrao in that position, Real will have a tough task keeping Farfan quiet. One of the competition's most dangerous dribblers needs to drive Schalke forward on home soil if the German side are to have any chance of progression.