Tactics Board: Henderson works hard for Liverpool
LIVERPOOL 4-3 SWANSEA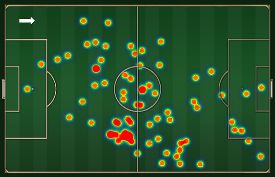 Other / ESPNFC.comJordan Henderson has a very different role to that of Steven Gerrard
Jordan Henderson began the game against Swansea with one league goal for the season and ended it with three. His touch map indicates why: his winner came from around five yards out -- Brendan Rodgers subsequently said he had been urging the England international to get into the six-yard box -- and was the rebound from his initial shot, from nearer the penalty box.

His first goal was struck from just outside the 18-yard area. He had one further effort at goal and three more touches in the penalty box, showing how attacking his remit is and how progressive Liverpool are as a team.

Henderson's stamina allows him to get forward and permits Liverpool to play a pressing game. He won two tackles, both deep in the Swansea half. He is also a reason why Rodgers' midfield is so unique and why their games tend to be so stretched: the distances between back and front can be big as Steven Gerrard drops in between the centre-backs to play in the quarterback role and Henderson and Coutinho push on.

For instance, while Gerrard completed 21 passes in the third of the pitch nearest Simon Mignolet's goal, Henderson attempted just six. Some central midfielders spend much of the match next to each other: Liverpool's play in very different areas.

ARSENAL 4-1 SUNDERLAND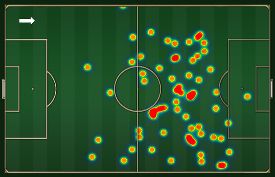 Other / ESPNFC.comTomas Rosicky made an impact in central areas.
Without Mesut Ozil, Arsene Wenger selected three men who can play as a No. 10 in his starting line-up against Sunderland. With Jack Wilshere operating in the middle of midfield and Santi Cazorla deployed on the right; Tomas Rosicky deputised for Arsenal's record signing. He did something the German hasn't managed in his last 14 outings -- score -- although as it was Rosicky's first league goal at the Emirates Stadium for almost two years, it is hard to use one game to suggest he represents an improvement on Ozil in that respect.

What is significant, however, is that whereas Ozil makes lateral runs and can be found on either touchline (as his touch maps show when both influential at Sunderland) and when an ineffective against Manchester United, Rosicky spent more time actually in the No. 10 position. His touch map indicates how integral he was in a central role. The Czech collected passes from Mikel Arteta (14 times) and Wilshere (12) and linked up more with Cazorla than the left winger, Lukas Podolski. Indeed, Rosicky's touch map proves how he was willing to interchange with the Spaniard, who wants to wander infield, while, with Podolski operating as more of an orthodox left winger, he stayed out of his sphere of influence. Rosicky's goal was emblematic of Arsenal's close combination play and passing ethos. The lesson for the absent Ozil, perhaps, was that his deputy was able to score in part because he occupied a position in the middle of the pitch more often.

CRYSTAL PALACE 0-2 MANCHESTER UNITED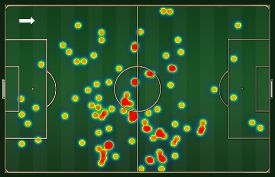 Other / ESPNFC.comMarouane Fellaini comes from deep to help out the strikers.
As Marouane Fellaini made his first appearance of 2014, he looked something of a different player -- positionally, anyway. During the Belgian's first few outings for Manchester United it was notable how deep he operated, sitting in front of the back four. He renewed his partnership with Michael Carrick at Selhurst Park, but he combined his defensive duties with a more attacking remit. In short, he played as more of a box-to-box midfielder whereas a theme of David Moyes' management at United has been the way he has preferred to use two holding players, or a double pivot.

As Fellaini's touch map shows, he was on the ball four times inside the Palace box. He also had three shots, without opening his United account. There was a clear division of responsibilities with Carrick, who was more involved -- he had a Premier League record of 155 touches -- but who rarely entered the final third. The same was true of Fellaini in some of his earlier outings for United but, with the Englishman anchoring the midfield, he was granted more licence to link up with the two strikers against Crystal Palace. The former Evertonian does not run beyond Robin van Persie, but he can form the second line of the attack, coming in behind them to meet passes from the wings, and that helped United be a bit more fluent and flexible when they went forward.

CHELSEA 1-0 EVERTON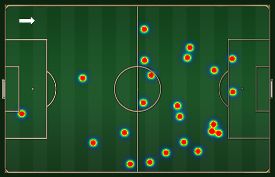 Other / ESPNFC.comOscar did not have much of an impact for the Blues.
Chelsea won with Oscar on the bench at Manchester City and they triumphed without him against Everton. A minor injury resulted in his half-time withdrawal on Saturday. Before Jose Mourinho decided to spare him another 45 minutes, the playmaker turned in an unusually ineffective display.

As his touch map highlights, he wasn't really involved against an Everton team who, in Gareth Barry and James McCarthy, have two defensive midfielders patrolling the area where a No. 10 likes to operate. He had one shot, which was way off target, and only completed 13 passes -- none to colleagues in the 18-yard box -- before Mourinho reshaped his side to accommodate the more energetic Ramires as his initial 4-2-3-1 gave way to 4-3-3.