Relying on over-the-hill defenders: An explanation
When Manuel Pellegrini announced his team sheet for Tuesday night's match with Barcelona, there seemed one obvious weak link -- Martin Demichelis.

It wasn't just that the Argentine was in the side at centre-back, a position he's struggled in throughout his short Manchester City career; it was also that Pellegrini wasn't playing an extra holding midfielder. Some suggested Javi Garcia might start deep in midfield, in an attempt to minimise the space afforded to Lionel Messi, Barcelona's main threat.

Instead, however, Demichelis and Vincent Kompany were forced to deal with him themselves -- and with Messi always drifting to the right flank, that meant Demichelis had the greatest responsibility for stopping his opponent.

We all know the outcome -- Demichelis fouled Messi, resulting in a penalty, a red card and Barcelona taking the lead and seemingly winning the tie. The sad thing, from Demichelis' point of view, is that he'd performed extremely well until that point, and his skill in the centre of midfield meant he was comfortable stepping forward to intercept balls played into Messi's feet, defending against him proactively and positively. His distribution was nervous, certainly, but his defending had been fine.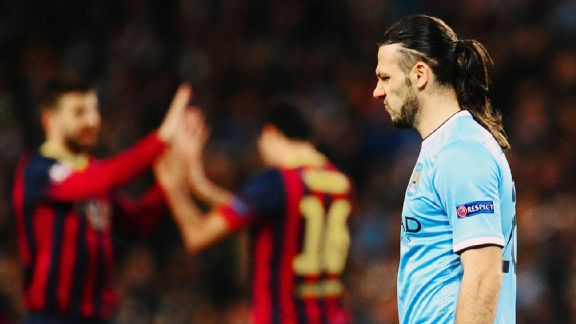 AP PhotoMartin Demichelis' tough time in England continued on Tuesday when he surrendered a penalty and received a red card in Manchester City's loss to Barcelona.
His one mistake came in the one situation where he was forced to turn and sprint, rather than move higher up the pitch and close down. Even at his peak, Demichelis wasn't particularly fast, and he was fighting a losing battle. His halfhearted slide tackle marked the beginning of the end for Manchester City's European Cup dram. And therefore, slightly unfairly, Demichelis is the victim.

But fear not, Manchester City fans, because the questionable signing of a 30-something foreign centre-back experiencing Premier League football for the first time is a rite of passage for top Premier League clubs.

Perhaps the best example is Laurent Blanc at Manchester United. Although Sir Alex Ferguson never came close to a decline as sharp as the one the club is experiencing this season, the start of the 2001-02 campaign was probably the closest thing.

Following the surprise decision to sell Jaap Stam to Lazio, Ferguson recruited Inter's centre-back Blanc as replacement. United had been after Blanc -- a highly experienced, intelligent centre-back who had dropped back from midfield -- for years, and they finally had their man.

The problem, however, was that Blanc was now 35. He struggled to cope with the pace of matches, made a couple of high-profile errors and seemed a disastrous signing. Somewhat amusingly, United's first five losses that season were to Bolton, Liverpool, Arsenal, Newcastle and Chelsea: Spell out the first letter of those teams, and you found the problem.

By mid-December, United were ninth in the league table -- although they battled back to finish third. Blanc had the last laugh, winning the Premier League the following season and ending his career on a high. However, this was after the arrival of Rio Ferdinand, and Blanc's final start of the season, on Boxing Day, was Manchester United's fifth and final defeat of the campaign. Sadly, they were better without him.

See Also:
-Jolly: Prem clubs get more red cards in UCL

Chelsea had a similar experience a couple of seasons beforehand, with the Danish defender Jes Hogh. Like Blanc, Hogh was once an attacking midfielder who had been converted to centre-back, and was a regular at international level. Hogh was 32, however, and while he had the difficult task of trying to displace World Cup winners Marcel Desailly and Frank Leboeuf from the Chelsea side, he rarely impressed when handed an opportunity.

His debut came in an embarrassing 1-0 defeat at Watford, with Hogh losing the goal scorer Allan Smart for the only goal. He played in the 5-0 thrashing of Manchester United but was made to look foolish for a Deon Burton goal away at Derby, a match where he went off injured. He also played in the 4-1 thrashing at Sunderland, where he couldn't cope with Kevin Phillips' pace or Niall Quinn's height; both grabbed two goals. He retired after two seasons due to injury.

Liverpool's equivalent was Mauricio Pellegrino, signed in January 2005 by his former Valencia boss Rafael Benitez. Pellegrino was 33, and was the classic veteran centre-back: He remained commanding in the air but simply couldn't turn and run, and he struggled against quick defenders -- obvious from his terrible debut against Southampton.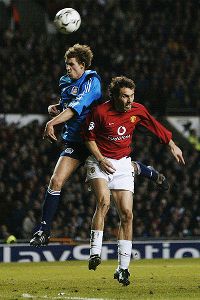 Alex Livesey/Getty ImagesLaurent Blanc joins a growing list of aging center backs who struggled when joining a Premier League side.
Amazingly, Pellegrino lost his first four games with Liverpool, and six of 12 overall. Quite an achievement, considering Liverpool were about to be crowned the best side in Europe. He returned to Spain with Alaves and looked much more comfortable once again.

For Arsenal, there was Sebastian Squillaci, signed shortly after World Cup 2010 as cover for for Thomas Vermaelen and fellow newcomer Laurent Koscielny. Vermaelen quickly picked up an injury that ruled him out for the majority of the season, however, and despite an assured debut from Squillaci, never entirely settled.

It seemed a particularly atypical Arsene Wenger signing, although Squillaci blames his lack of fitness for the problems. "When I joined Arsenal in summer 2010, I just came from the World Cup in South Africa and I didn't have any preseason preparation," Squillaci recently told L'Equipe. "I had a good first two months, but in December it was very difficult. I was exhausted physically and I was not good." The Frenchman bowed out losing five of his six final games -- and yet has looked much more assured back home with Bastia.

There are, of course, other examples. Noureddine Naybet won La Liga with Deportivo La Coruna and was capped 115 times for Morocco, but after moving to Spurs at 34 in 2004, he seemed immobile and vulnerable to pace.

Sunderland had a brief experiment with German legend Thomas Helmer, back in 1999. "I just felt his legs had gone, and it doesn't give me any pleasure to say that," Peter Reid said after buying out the sweeper's contract following just two league matches. Amazingly, while on loan back in Germany, Helmer played in the Champions League with Hertha Berlin.

Reid also complimented Helmer's professionalism. "Thomas is an excellent pro," he said. "When he played for us he was a credit, and it has been great to have him here, even though he didn't play that many games."

It's a familiar tale. Sir Alex Ferguson reiterated in his autobiography that "we needed a player who would talk to and organise the younger players," with John O'Shea and Wes Brown among the beneficiaries. Squillaci might have been a reserve at Arsenal but insisted he wanted to continue to set an example. "I could not go to training sessions without any enthusiasm," he said. "Your teammates need strong opposition."

Naybet, too, saw his role as about bringing experience and leadership to the side. "Having experience in the team is important, and players such as myself can tell the younger ones things," he said. "[They] should look up to the experienced guys and see what they have achieved ... it is good being an experienced player but it is a big responsibility as well, that is a challenge in itself." Pellegrino, meanwhile, has gone on to become a highly rated coach and was doubtless an asset to Benitez during training sessions.

Demichelis seems like a cross between many of these players. He's a converted midfielder, like Blanc and Hogh, which often suggests experience and guile on the ball. He has worked with his current manager before, similar to Benitez's signing of Pellegrino.

Frankly, it's difficult to find many examples of 30-something centre-backs who have signed from abroad and been a success on the pitch. It's as if learning a new league is too difficult at that stage of a career, for players who play a naturally reactive role on the pitch. At a club that has often appeared to lack leadership, however, Demichelis' main impact might be in the dressing room.