Champions League Team of the Week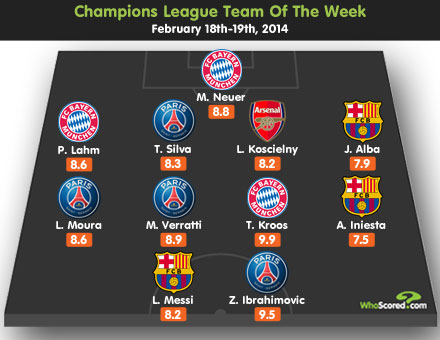 GettyImagesFour members of the PSG side made their mark this week.
The first set of Champions League fixtures this week all went according to script as far as the results were concerned, with all four away sides taking large strides toward the quarterfinals with wins. Not only that, but none of the home teams were even able to register on the score sheet, and three of them had men sent off to make their improbable tasks near impossible.

Atletico proving possession isn't everything

Milan, despite being the second-most successful team in the tournament's history, were still underdogs at the San Siro against Atletico Madrid -- who last reached the final in 1974 -- and arguably put up the best fight in what looked likely to be the tightest of the ties. The Italians' recent plight has left the success of their season hanging on their already faint hopes of Champions League glory, with those hopes becoming all the more outlandish following a 1-0 defeat to Atleti, courtesy of a late winner from Diego Costa.

Diego Simeone's side are somewhat of a curious case, moulded in their manager's image. Since the Argentine took charge, Atletico have put far less weight on a possession-based game and have managed to catch up with the previous "big two" in La Liga in doing so. If Atletico were going to compete at the top of their league, and in Europe, Simeone identified that his side would not necessarily be able to play the likes of Barcelona at their own game.

Against a Milan side that had only averaged more possession in the group stages than Austria Wien and Celtic (39.3 percent) they felt no pressure to go and control the game. It isn't how they play. Although they are level on points at La Liga's summit, Atletico rank 10th in the league in terms of possession but second in terms of the fewest shots conceded per game (nine). It was a similar story at the San Siro, averaging a reasonable 48 percent possession but conceding just two shots on target. If Atletico are to go the distance, their defensive banks of four will be crucial and the organisation of Simeone's side is undoubtedly their greatest strength.

Wenger's reluctance to rest Ozil

Arsenal fans will point to the first half-hour, when the playing field was level and how they arguably had the better of things against Bayern. It's true that the game could have been very different if the numbers had remained even and, indeed, if Mesut Ozil had netted from the spot early on. The Gunners failed to deal with Pep Guardiola's side when reduced to 10 men and, while it's an unenviable task, the fact that all of their players weren't showing the same commitment made it an impossible one.

Bayern ended the game with 79 percent possession and a 95 percent pass accuracy. Those figures are shocking but not entirely unpredictable, and it was the way in which they carved out chances in the second period that will have irked Wenger. His decision not to replace Ozil, whose lazy-looking spot-kick was a sign of things to come, bewildered most. The German is almost the definition of a luxury player; he wasn't signed to defend and his stamina has always been called into question.

Jose Mourinho recognised as much and rested the playmaker as and when he could, with Ozil playing just 63.1 percent of Real Madrid's minutes in the league and Champions League last season. It seems though, that having smashed Arsenal's transfer ethos to bring him in, Wenger seems desperate to get his money's worth for want of a better term. Ozil's form has dipped in turn and he isn't helping his side. Guardiola was quick to spot that, encouraging the overlap on the right side, with 41 percent of Bayern's attacking touches coming down Arjen Robben's flank compared to just 26 percent on the left.

The same Barca, not the worst

Manchester City went into their home clash with Barcelona in more of an optimistic mood than they may have in recent years, with some claiming that they would be up against the worst Barca side for some time.

Manuel Pellegrini was never likely to be so naive and picked his team in the knowledge that the game would likely follow the usual pattern. He picked Aleksandar Kolarov as well as Gael Clichy on the left to nullify the attacking threat of Dani Alves and, while the Brazilian still had a key impact on the game, the Chilean's tactics worked in the most part.

His decision, however, to field Martin Demichelis was panned by many, with the Argentine having landed a number of critics in his short spell at Eastlands. He's a player that Pellegrini is extremely loyal toward, having brought the defender with him from Malaga, but the experienced centre-back has been caught out in some big matches this season and saw red for a last-man foul on Lionel Messi. Up to that point, however, it's worth remembering that Demichelis had really impressed.

His dismissal was unquestionably the turning point, though, with City having coped well with Barcelona until then, but that's not necessarily down to any demise from the visitors. The Spaniards have simply played the same way for years now, and coaches, be it in Spain or Europe, have made it their work to find a way to cope. It's inevitable that progress will be made in that regard but Barcelona are the same side as last season, with the addition of Neymar, and carry the same threat. They held 68 percent possession against City and boasted a 92 percent pass accuracy. It's no coincidence that Barca are accused of being boring in matches that their opposition field nine men behind the ball, but which team is truly boring in that sense?

Can PSG win the Champions League?

Yes. Yes, they can. Here is a side that ended the group stages having averaged just 11.3 shots per game (22nd of the 32 sides) but tied for the fourth-most goals (16). Zlatan Ibrahimovic was key to such clinical figures, and their game in Leverkusen followed suit. PSG had a modest 12 attempts at goal but hit the target with 10 of those and netted with four, including an Ibrahimovic brace that took his tally to a competition high of 10 goals.

Of all teams to have played in the Champions League this season, the Parisians boast the best chance conversion rate (25 percent) and the best shot accuracy (60 percent), with the latter a full 14 percent ahead of nearest rivals Manchester City. They've taken the chances that have fallen to them in such an unerring fashion and conceded just five goals in the competition at the other end; two of which came in defeat at Benfica with an unfamiliar starting XI.

It's true that PSG have yet to come up against a real challenger for the crown, with the draw against a struggling Bayer Leverkusen outfit proving profitable. They play in a league where the competition is regarded as inferior to the "big four" leagues in Europe, but in turn they're not used to losing, having done so just three times all season. There's quality and, perhaps more importantly, variety, running through the team and WhoScored's Champions League team of the week speaks for itself in that regard.

All statistics courtesy of WhoScored.com, where you can find yet more stats, including live in-game data and unique player and team ratings.