Key matchups in this week's Champions League fixtures
This week sees the return of the Champions League after its winter break, with an extremely impressive list of fixtures. In fact, it's arguable that the four most exciting ties of the round are all being played this week. Next week's schedule looks rather more underwhelming.

Here's a look at four individual clashes that may define this week's matches:

Manchester City vs. Barcelona: Yaya Toure vs. Sergio Busquets

At the time, few supported Pep Guardiola when he favoured La Masia product Sergio Busquets in the holding role ahead of Yaya Toure, who had been excellent throughout Guardiola's debut, treble-winning campaign with Barcelona in 2008-09. Toure was more powerful, more commanding and allowed Barcelona to play both Xavi Hernandez and Andres Iniesta without being overrun.

Yet Busquets soon proved his quality, bringing more positional discipline and intelligent distribution to that role. Today, there's no question that Guardiola was correct to have faith in his protégé. Toure, however, will be desperate to prove his ability in his first meeting with Barca since his departure in 2010.

Toure's precise role in the Manchester City side is undetermined. While Manuel Pellegrini has generally favoured a 4-4-2 system this season, he'll probably switch to 4-2-3-1 for this tie, an approach he favoured against Barca in his Villarreal days. That could mean Toure continuing in a standard midfield role, or Pellegrini could push him forward, as Roberto Mancini often did, into the role behind main striker Alvaro Negredo.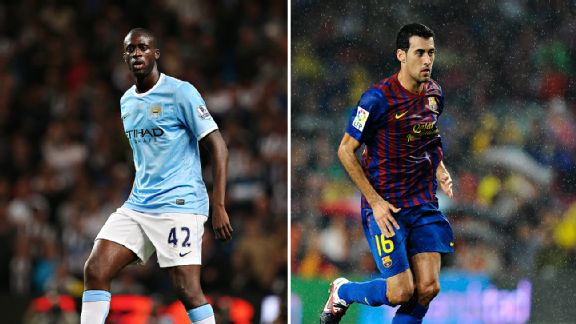 Getty ImagesYaya Toure gets a chance to prove that Barcelona were wrong in replacing him with Sergio Busquets when Manchester City hosts the Catalan side.
That is arguably Toure's most effective position -- but it's simply difficult to accommodate him there when Sergio Aguero is fit, and it's worth remembering that Pellegrini hasn't yet used Toure in that role. Instead, he'll probably start deep in midfield but drive forward powerfully, one of the few areas where he's superior to Busquets. The Ivorian must make a decisive attacking contribution to justify this freedom, however -- his defensive lapses are becoming increasingly noticeable, and will be particularly dangerous if Fernandinho isn't fit to start.

Leverkusen vs. PSG: Son Heung-Min vs. Gregory van der Wiel

Despite PSG's constant investment the past couple of seasons, they've never entirely solved the problem at right-back, where the rather limited Christophe Jallet has made way for Dutchman Gregory van der Wiel.

Van der Wiel is primarily an attacking threat, and has been particularly effective in European competition this season, recording four assists (only Real Madrid's Angel Di Maria has more) generally when overlapping powerfully before playing low crosses to Zlatan Ibrahimovic.

Defensively, however, van der Wiel is capable of errors, especially in a positional sense. Both he and fellow full-back Maxwell must be extremely careful against a Leverkusen side that specialises in quick counter-attacking down the flanks -- and, in particular, van der Wiel's battle against Son could be crucial.

The South Korean is an intelligent, quick, two-footed player who has often performed excellently in big matches this season. In Leverkusen's 1-0 victory over Dortmund in December, for example, he was the key player throughout -- continually sprinting in behind the opposition defence, and scoring the crucial goal from an inside-left position.

Son's form has dipped recently, but his winner against Borussia Monchengladbach last weekend demonstrates his habit of scoring important goals. The South Korean will hope PSG dominate possession and van der Wiel is lured forward, leaving space to attack into.

Arsenal vs. Bayern Munich: Mesut Ozil vs. Philipp Lahm

While the decline in Mesut Ozil's form has been overstated, he needs a strong performance in this European Cup tie against Bayern Munich for his reputation to recover -- especially against so many of his international teammates.

Ozil's lack of defensive work in the weekend victory over Liverpool caused Arsenal problems, with Steven Gerrard given freedom to spray passes out to the flanks. Although Lahm won't thump such searching diagonal balls, he's Pep Guardiola's key player in his surprise holding midfield position, always available for a pass and using the ball quickly and efficiently. Arsene Wenger must decide whether he wants Ozil to nullify Lahm, or remain in a position to counter-attack.

The latter seems more likely. Ozil's spatial awareness and intelligent movement is his greatest attribute, but while others -- Gerrard, for example -- look uncomfortable when dragged out towards the flanks, it's difficult to imagine that Lahm, a full-back by trade, will have similar problems. Arsenal will need to overload Lahm with an extra midfielder like Santi Cazorla, taking advantage of the fact Bayern no longer play with a double pivot.

In a rare match against a side from his homeland, Ozil's performance will be inspected closely by Jogi Low and the rest of Germany. He has been an undisputed regular for Germany the past four years, but with such a wealth of options in the attacking midfield role, Low is looking for excuses to omit players from his starting XI. Any underperformance from Ozil in this tie, and his position within the national side becomes less secure.

AC Milan v Atletico Madrid: Kaka v Gabi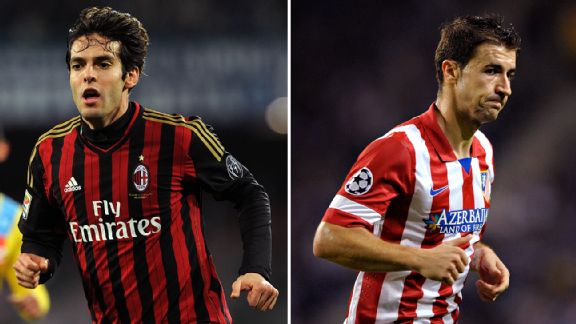 Getty ImagesKaka is looking to get back to his best in AC Milan's tie vs. Atletico but will have to get past a determined Gabi.
Milan were the European Cup's most dominant side during the middle of the past decade, and in an attempt to revive those glory days, they've brought back two of that side's key figures: Kaka as playmaker, and former midfielder Clarence Seedorf as coach.

Kaka is yet to thrive under his old teammate, however. He has started three of Seedorf's four matches (and appeared as a halftime substitute in the other) but is yet to provide a decisive attacking contribution, or dictate the flow of a game -- something he's never really specialised in, but must do more considering he doesn't have the acceleration and power of his youth.

The Brazilian will start against Atletico this week, though, and will be up against Gabi, Atletico's tough-tackling central midfielder. Amongst a string of goals from Diego Costa and some wonderful assists from Koke, Gabi's quality has gone rather unappreciated in the engine room.

He can appear scrappy at first, but the more you watch the Spanish midfielder, the more you realise he's responsible for so much of Atletico's good defensive work -- positioning himself intelligently, closing down opponents immediately, and reading the play excellently to sweep up behind teammates.

Kaka needs to roll back the years to inspire Milan, but it's difficult to see him getting the better of the energetic Gabi, and therefore tough to imagine Seedorf's side progressing to the quarterfinals.