Tactics Board: Flamini influences Arsenal triumph
ARSENAL 2-1 LIVERPOOL

Arsenal were four goals behind after 20 minutes the previous time they played Liverpool. They needed another approach and they found inspiration in an old formula: it was more reminiscent of George Graham's Arsenal and Arsene Wenger's earlier teams than his more recent sides as, eschewing their usual 4-2-3-1 for 4-4-1-1, they defended in two banks of four. The difference with Graham's regimented outfit, who pushed up, was that this Arsenal dropped deeper: they did not want to allow Liverpool's speedy trio of Luis Suarez, Daniel Sturridge and Raheem Sterling room behind them. While there was still some and Brendan Rodgers' side did get Sturridge, in particular, in on goal, it was not the acres of space Sterling exploited at Anfield eight days earlier.

- Palmer: Webb's big mistake

Then Arsenal tried to get their midfield close to the defence to reduce the size of the area between the lines. It helped that they had Mathieu Flamini, who was suspended for their 5-1 thrashing, available: partly because the Frenchman offers more tactical discipline than Jack Wilshere, but partly, too, because he was forever pointing for teammates to get into position. Alex Oxlade-Chamberlain, on the right, slotted in naturally alongside the central midfielders. Flamini's instructions were more necessary on Arsenal's left, where he often brought Lukas Podolski back (though sometimes Mesut Ozil covered for his fellow German). That backfired when Podolski conceded a penalty -- and Oxlade-Chamberlain was fortunate not to give away another -- but it showed the defensive duties Arsenal's wide men had and where they had to perform them.

A key battleground was on Arsenal's left. Suarez started on Liverpool's right and his performance showed his ability to evade a well-drilled defence and a team working in a tight, compact formation. It was unusual how the duel on that side finished, too: Rodgers, looking for an equaliser, made winger Sterling an ersatz right-back while Wenger double-teamed with his left-backs, bringing on Kieran Gibbs to operate in front of Nacho Monreal. On that wing, it became an attack-versus-defence exercise.

The statistics showed how the victors in both recent meetings operated on the counter-attack. Indeed, they are a mirror image: Arsenal had 58 percent of possession at Anfield, Liverpool the same amount at Emirates Stadium.

EVERTON 3-1 SWANSEA

The merits of a forward running the channels were illustrated clearly by Steven Naismith. The Everton substitute isn't a specialist striker and has spent much of his Goodison Park career on the flanks. He operated to great effect in the half-way positions, between centre-back and full-back, in his cameo against Swansea.

His goal came when he was lurking in the inside-right channel to read left-back Neil Taylor's poor back pass. Everton's third goal, and the second where Naismith played a pivotal part, came when he was in the inside-left channel and was fouled by right-back Jazz Richards, who was caught outside him. In each occasion, he was in a place where he could capitalise on the full-backs' failings and showed a striker doesn't have to play against the central defenders.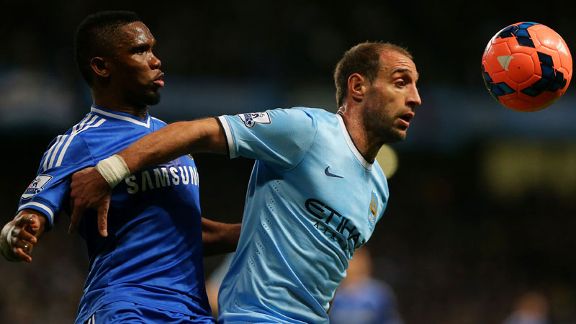 PA PhotosPablo Zabaleta was disciplined as City saw off Chelsea 2-0.
MANCHESTER CITY 2-0 CHELSEA

There is often a focus on what Pablo Zabaleta does do: the number of tackles he makes, the number of lung-busting runs he puts in, the number of crosses he delivers. This was a game to focus on what he didn't do. For once, the Argentine did not surge forward. He rarely tried to supplement the attack or create goals.

When City lost 1-0 at home to Chelsea 12 days earlier, Zabaleta put in three crosses. He also left space behind him that Eden Hazard, in particular, exploited, as Chelsea looked to use the room either side of the full-backs. The Belgian dribbled with the ball 11 times in the league meeting.

Come the FA Cup rematch, there was a very different dynamic in their duel. Zabaleta did not stray as far from the side of the right-sided centre-back, Vincent Kompany. He did not put in a single cross and, with James Milner shielding him, Hazard was far quieter. The Chelsea man only dribbled on three occasions and did not have a shot. Whereas he roamed with great effect from the left flank a dozen days earlier, here City's tactics worked so well that he was moved: first into the No. 10 position and then to operate as a striker.

City were both more compact and more athletic than in their defeat. Left-back Gael Clichy was more attacking than Zabaleta but less adventurous than Aleksandar Kolarov had been in the previous game against Chelsea. Javi Garcia operated as the holding midfielder, the role Martin Demichelis had played in the league match, and offered the defence more protection. Yaya Toure was not quite as advanced and there were fewer gaps for Chelsea to break into.

SUNDERLAND 1-0 SOUTHAMPTON

A modern tactic when the goalkeeper gets the ball is for the centre-backs to split, allowing for different angles as the ball is passed out from the back. It cost Sunderland seven days earlier when right-back Phil Bardsley misplaced a pass back, central defender Wes Brown was not in his normal position and, in his attempts to make amends, fouled Hull's Shane Long and was sent off.

The commitment to the passing game remains, however. It was notable that goalkeeper Oscar Ustari would look for holding midfielder Lee Cattermole, who retreated towards his own goal, while centre-backs John O'Shea and Santiago Vergini moved into wider positions. Southampton's response illustrated that opponents are quick to counter Gus Poyet's tactics: Adam Lallana was detailed to mark Cattermole in such situations and it sometimes resulted in Ustari kicking the ball, preventing Sunderland's efforts to build moves from the back.

While one Sunderland central midfielder dropped deeper, another went in the opposite direction. It was no coincidence that Craig Gardner got the winner. He was directed to run past striker Ignacio Scocco to get in the opponents' box. While Gardner is not a regular in Sunderland's league team, it was also a sign of how Poyet was playing to his strengths: of all the central midfielders in the Black Cats' squad, he is the most shot-happy and the best equipped to run past the main forward.