Carlo Ancelotti should sharpen his tactics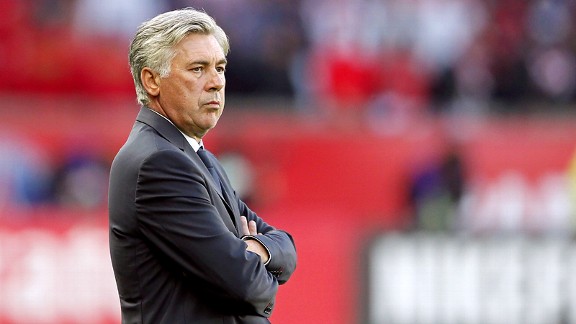 Kenzo Tribouillard/AFP/Getty ImagesCarlo Ancelotti has always favoured narrow formations, but it might be time for the PSG manager to have a rethink.
For a double European Cup winner, a title winner in two major leagues, and one of the most celebrated coaches of his era, it's surprisingly difficult to work out whether Carlo Ancelotti has any tactical nous.

Wednesday night was a great example. Ancelotti's Paris Saint-Germain club traveled to Porto and produced a poor performance completely lacking in creativity, width or ambition. PSG lost 1-0 after a late James Rodriguez goal, but the score line could have been 3-0 or 4-0 and not flattered the Portuguese champions, who had 20 shots to PSG's eight, six on target to PSG's two. It was a 1-0 thrashing.

There's no shame in losing to Porto, but the nature of the performance was a concern. PSG don't travel well in Europe – that was apparent in last season's Europa League when they picked up three wins in three home matches, yet lost away to Athletic Bilbao and Red Bull Salzburg, and drew at Slovan Bratislava, failing to score in any of their three matches away from the Parc des Princes. Only about 40 PSG fans made the trip to Portugal for this match – it's almost like away European matches aren't a proper event for the Parisian club.

Ancelotti often sets his PSG side out in a basic, predictable fashion and shows no inclination to change the system. He has always favoured narrow formations – four defenders, three central midfielders and then three central attackers, arranged in either a 4-3-2-1 or a 4-3-1-2. He had great success with the latter at Milan and started well with it at Chelsea, but always had a tendency to play a second trequartista at the expense of a striker – much to the annoyance of Silvio Berlusconi and Roman Abramovich.

On Wednesday, Ancelotti picked a front three of Jeremy Menez, Nene and Zlatan Ibrahimovic. They all played in central positions – Ibrahimovic as the lone striker coming deep, Menez slightly deeper to his left, and Nene more withdrawn in an inside-right position. The system simply didn't offer enough variety – Menez and Nene were trying to do the same job, while Ibrahimovic's movement toward the ball wasn't always met with a reverse run from one of the playmakers. Emphasizing PSG's need for more depth, their best chances came when Menez or Nene dropped deeper and Ibrahimovic made a run in behind the defence. The Swede's clearest chance, his audacious backheeled volley, tipped over by Helton, came from such a move.

When choosing a 4-3-2-1, Ancelotti is sacrificing width for dominance of the centre. In these situations, PSG must stretch the opposition vertically if they're not going to do so laterally. With the front three working in such a congested area and the full backs remaining deep, some technical quality from the three central midfielders was needed.

Marco Verratti was told to sit deep and play simple passes, while both Blaise Matuidi and Chantome are unspectacular workhorses who played conservatively. With one second-half run, Matuidi showed he can dribble at the opposition and provide a Ramires-esque threat, helping to connect the midfield and attack, but for most of the game he did nothing. Ibrahimovic, Menez and Nene were the only dangerous players, and occupied the same zone throughout.

This much was apparent by halftime. So what did Ancelotti do to change things? Absolutely nothing – PSG continued to play poorly, and their problem with width was highlighted by the fact that Porto's wingers were the key players. Silvestre Varela was dangerous down the left and Rodriguez scored the winner after going close with a couple of previous chances.

It's not as if Ancelotti didn't have options, even before he turned to his bench. Nene can play left and Menez can play right – a 4-3-3 would have given PSG more angles for attacks and might have stopped Porto's dominating down the wings. Menez will recall a game from the Champions League two years ago, when his Roma side were outclassed by Bayern Munich on the flanks at the Stadio Olimpico, trailing 2-0 at the break. Claudio Ranieri switched from 4-3-1-2 to 4-3-3, pushing Menez to the right and striker Mirko Vucinic to the left. It was a complete turnaround, and Roma won 3-2.

There was no similar roll of the dice from Ancelotti. His first change saw Ezequiel Lavezzi replacing Menez, but no change in system. Lavezzi is not a great player, overhyped because of his transfer fee, his boundless energy and his fantastic name. But he does serve a purpose. At Napoli, Walter Mazzarri's system got the best out of him because Lavezzi's role was very specific – he stayed wide and high, and stretched the play both laterally and vertically.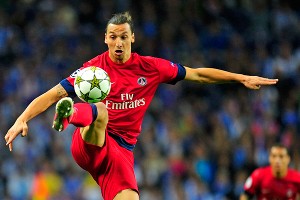 Francisco Leong/AFP/Getty ImagesZlatan Ibrahimovic started up top against Porto, a losing effort that exposed Ancelotti's tactical shortcomings.
It made him look a better footballer than he was; played in different roles he's much less effective, but few are better as an outside-left. During Argentina's Copa America campaign in 2011, for example, Sergio Batista was trying to replicate Barcelona's false nine system to allow Lionel Messi to shine. The wide forward players had to stretch the play before making direct runs toward goal, a la Pedro Rodriguez. It was a specific system – Carlos Tevez didn't get it, Gonzalo Higuain didn't get it, Sergio Aguero didn't get it. But Lavezzi did, because that's his game.

The Argentine came on to play as a second striker, however, rather than a wide forward. He lasted only five minutes because of a groin strain and was replaced by Javier Pastore for the final 10 minutes. It's difficult to see the wisdom in leaving Pastore out from the start – he made his name in a counterattacking 4-3-2-1 at Palermo. If Ancelotti wants to play Ibrahimovic, Nene and Menez, he should play with some width. If he wants to play narrow, he should use Pastore instead of Nene or Menez.

This is one match in a career of hundreds, but it does sum up Ancelotti. At Milan he created a wonderful side packed with playmakers in a narrow system, but struggled to find his best formation at Chelsea – despite winning the title. At PSG, he has yet to find any attacking cohesion. The sheer quality of PSG's individuals means this won't be a barrier to winning Ligue 1, but in the Champions League he'll need something more astute.

Michael Cox is a freelance writer for ESPN.com. He runs zonalmarking.net.