Caution came first for Arsenal and Manchester United
It's somewhat amusing that, just four days after Manchester United were criticised for crossing the ball too frequently, Arsenal were criticised for the exact opposite: playing too narrow.

On Wednesday night against United, Tomas Rosicky, Santi Cazorla and Mesut Ozil all converged in the centre of the pitch, with Jack Wilshere wanting to storm forward into that zone, too.

At times, you could have thrown a blanket -- or maybe an oversized sleeping bag masquerading as a coat, with a problematic zip -- over that quartet.

There is no doubt that Arsenal miss Theo Walcott, but that's been the case for the majority of the campaign. Without any directness from the flanks, which has also been provided at various points by Lukas Podolski, Alex Oxlade-Chamberlain and Serge Gnabry (plus Aaron Ramsey in a different manner) their play was often no less predictable than was United's against Fulham.

It was simply the opposite: Last Sunday, United always went wide, so Fulham knew how to defend. When they mixed it up in the second half and attempted a couple of through-balls and long shots, the crossing became slightly more dangerous because their opponents weren't set.

Miguel Delaney:
- Three Things from Arsenal vs. Man United
- Managers miss their chance

In the first half at the Emirates, Arsenal didn't go wide often enough. One move, on 44 minutes, summed it up: Ozil received the ball on the run in the inside-right channel and Arsenal were briefly breaking two-on-two, with Patrice Evra charging back to become United's third defender.

The German, intelligently, cut inside away from the zone where United had cover, and switched the play to a third Arsenal attacker, Rosicky, wide on the left.

But Rosicky received the ball, checked back inside, and laid the ball back to Cazorla, who shot from a central position 25 yards out, with five United players between the ball and David De Gea. Arsenal had surrendered their promising attacking situation and worked the ball back into the same central zone yet again.

It's worth underlining that Arsenal did struggle in that area, despite so much creative potential. For that, Manchester United's two central midfielders must take great credit.

Michael Carrick and Tom Cleverley aren't the most popular of United's current squad, and it's fair to say that they're not exactly the players you want to emerge from a match with most credit, considering their understated nature.

In a defensive sense, though, both stood firm. Carrick remains the master of quietly efficient holding midfield play, positioning himself intelligently, intercepting the ball coolly and playing good forward passes into attack.

Cleverley, too, was sound defensively. He covered for Carrick when necessary and closed down the player in possession well. He intercepted the ball high up the pitch, tackled in deeper positions, and constantly recovered the ball.

His distribution could have been better, certainly, but in a game of this nature his main task was defending, with United's front four having great responsibility to attack quickly and directly, in the manner Liverpool did against Arsenal at the weekend.

That largely failed, however, and while Antonio Valencia is clearly the least-heralded of the front four, he was also arguably the most underwhelming.

As Jose Mourinho would tell you, Juan Mata isn't a counter-attacking specialist, while Wayne Rooney and Robin van Persie were, to a certain extent, entitled to wait upfront for service.

Valencia, then, had the responsibility to turn defence into attack. While the Ecuadorian clearly isn't in great form and, as a confidence player, it was difficult to expect he'd be man-of-the-match, it's difficult to remember many occasions on which he troubled Arsenal.

Considering how often Arsene Wenger's side were opened up in the left-back zone at Anfield on Sunday, it was a huge opportunity missed.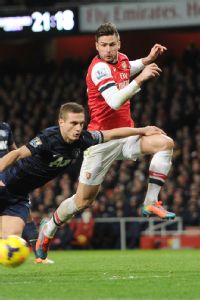 David Price/Arsenal FC/Getty ImagesVidic struggled to contain Giroud, but the French striker was unable to take his chances.
United's worst performer, however, was Nemanja Vidic. On the back of an extremely poor performance against Fulham, when he was responsible for both goals, the centre-back needed a fine display to justify his place in the side.

Instead, he looked uncomfortable. From the opening moments, he was troubled by Olivier Giroud, repeatedly fouling the Frenchman, and leaving him free for two headers from set-pieces, of which the Arsenal striker didn't take full advantage.

Vidic improved after half-time but still let Giroud go free for a near post chance he couldn't completely connect with, and also pushed the striker when defending a left-wing cross. It probably wasn't enough to be a penalty but it was rather desperate defending.

It's particularly underwhelming that Giroud would surely be Vidic's favoured opponent, among the centre-forwards of the major teams in the league. He's an aerial battler rather than a pacey runner, which seems Vidic's type of contest. If he gets outbattled in matches like this, you wonder when he will excel.

It is becoming difficult to understand Vidic's place in the United side. He's playing poorly at the moment, and has announced he won't be at the club next season.

The Serbian is not contributing significantly to United's unlikely bid to finish in the Champions League places, nor is he a part of their future. His leadership qualities might be missed, but he's hardly inspiring the team to great performances at the moment.

This season, the matches between the traditional big boys seem to either be relentless end-to-end thrillers, or utterly abject borefests.

This was comfortably in the latter category and featured a forgettable performance from both sides, each of which was seemingly still shell-shocked from weekend setbacks and afraid to lose.