Criticism unwarranted for struggling Mesut Ozil
In football, the problem with appearing nonchalant is that you're at the mercy of your team's collective performance. When Dimitar Berbatov was challenging for the title, he was relaxed. When battling relegation with Fulham, he was merely lazy. When Swansea were winning the Capital One Cup under Michael Laudrup, he seemed effortlessly cool. Once they started to struggle, he looked like he didn't give a toss.

Mesut Ozil is another prime example, although the German is a contradiction. He is laid-back, unhurried and casual but also depends upon bursts of movement, often on the counterattack. He is not an archetypal No. 10 who slows the tempo; he's a modern, dynamic and versatile attacking midfielder capable of striking quickly and efficiently.

It's open season on criticising Ozil this week, following a poor performance against Liverpool in Arsenal's crushing weekend defeat. It's unusual for a playmaker to be the major culprit when a side has conceded five goals, but it was an amazingly disappointing afternoon for the German, who was responsible for conceding possession for Liverpool's third and fourth goals and also for the move that resulted in a glorious Daniel Sturridge chance at 2-0. After that, Ozil's confidence vanished.

It's not first time he's disappointed in a big match either. He hasn't been Arsenal's best player against genuine top-class opponents, with the exception of the 2-0 victory over Napoli in the Champions League, where Arsenal produced their finest 20 minutes of the season. That suggests Ozil is the catalyst for Arsenal's best performances, so their underperformance in matches against Manchester United, Everton, Chelsea, Liverpool and Manchester City can all, to a certain extent, be blamed on Ozil.

"He was like everybody on Saturday. He was not in a good day," said Arsene Wenger this week. "There's nobody to ostracise. ... He didn't have the best of games, but that can happen. He works very hard to adapt to the physical level of the Premier League, and for me, he is an exceptional player."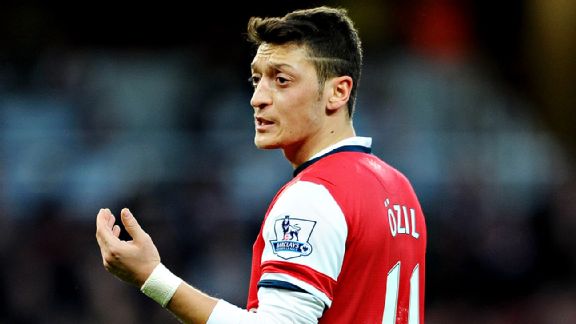 David Price/Getty ImagesMesut Ozil has struggled of late, but how much of his recent form has to do with the drastic change in leagues between La Liga and the Premier League?
It's worth remembering how desperate a situation Arsenal appeared to be in at the start of the campaign, when the 3-1 defeat to Aston Villa appeared to mark the start of another frustrating season. The arrival of Mathieu Flamini, though positive in itself, disappointed Arsenal fans because it was so familiar, so unadventurous. Ozil was the only true difference between the Arsenal that stumbled through the first three games of the campaign and the Arsenal that has topped the league table for long periods. His impact has been considerable.

By the time he made his home debut, in a 3-1 win over Stoke in September, Ozil's influence was already clear. He assisted a goal in his first appearance at Sunderland and followed that up with a solid display in Marseille. His first Emirates appearance against Stoke lifted the crowd (a not inconsiderable development considering Arsenal's much-maligned home support was growing increasingly impatient) as he played a hand in all three goals. He is a genuine superstar for a club that has, despite Wenger's focus on teamwork, often depended on genuinely world-class attacking players -- from Dennis Bergkamp to Thierry Henry to Cesc Fabregas to Robin van Persie.

Unquestionably, Ozil's form has dipped over the past month. Only his second half at Southampton, when he took hold of the game and drove Arsenal forward, is evidence of his raw star quality. But does this dip in form cancel out his bright opening? To put it another way, is it problematic if a player's best performances are clustered together, rather than spread out over the course of the campaign?

It's not a rare problem for a playmaker. David Silva, for example, was playing astonishingly effectively throughout the first half of Manchester City's title-winning campaign in 2011-12 but underperformed after Christmas. His average level of performance over the course of the season, though, was still very good. That's roughly what has happened with Ozil: Only Wayne Rooney has recorded more assists, and only Silva has created more chances.

There are mitigating circumstances too. Ozil has suffered more than anyone because of Theo Walcott's absence. The two are theoretically perfect together, with Ozil playing the through-balls and Walcott running in behind. Lukas Podolski, who provides something similar from the left, has also been absent and isn't at full sharpness, a setback considering the way he has combined with Ozil at international level over the years.

It's also worth wondering whether Ozil is suffering physically. At Real Madrid, it became a running joke how frequently he was substituted by Jose Mourinho, which was partly because Mourinho asked his playmaker to make continuous bursts into the channels and knew these dried up when the German became fatigued.

In English football, the pace is more intense. Ozil has started almost every game, and aside from a brief injury absence, he hasn't enjoyed the winter break he's been accustomed to. Again, a post-Christmas dip in a debut season has been a problem for Silva, Juan Mata, Rafael van der Vaart and Michu, other players who arrived from La Liga and performed superbly in their first few months before appearing tired by the spring.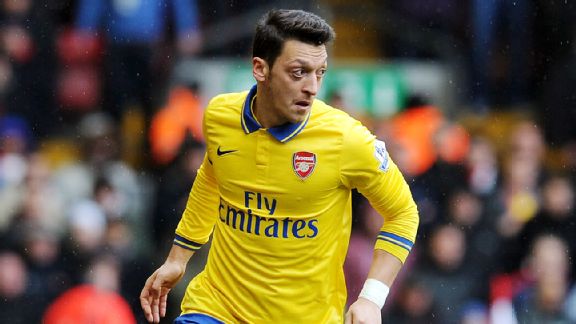 Stuart MacFarlane/Getty ImagesIf there's one area where Mesut Ozil can improve, it's in big matches. He has a chance to turn that around versus Manchester United on Wednesday.
It's worth underlining that Ozil is just 20 games into his Arsenal career. The expectations upon modern footballers making an instant, consistent impact are quite incredible, and you wonder how midseason reviews of previous Arsenal legends would have read. Bergkamp struggled to adapt to the pace, with manager Bruce Rioch openly wondering whether he could play two games in a week. Robert Pires criticised the physicality and seemed a downgrade on Marc Overmars while Henry struggled in front of goal and admitted midway through the campaign that he needed to "go back to school and be retaught everything about the art of striking."

Compared with those players' first 20 games, Ozil has been much better. This is a comparison, too, with players who came to the club either having previously been named in the top three in the Ballon d'Or, in Bergkamp's case, or having won the World Cup. Ozil's adaptation to the league remains impressive, his direct and indirect impact on Arsenal quite extraordinary.

Certainly, Ozil needs some big game performances. This is a criticism of him throughout his young career. He was magnificent in World Cup 2010 but had little impact in the semifinal against Spain, which was also the case at Euro 2012, where he was underwhelming against Italy. In Clasicos, his impact was sporadic against Barcelona's possession-based play.

This midweek match is Ozil's perfect opportunity to perform in a "big" game. A home contest with Manchester United remains one of the season's major fixtures for Arsenal fans, regardless of United's struggles, but realistically it's a contest against the seventh-best side in the country. Having been removed with a half hour remaining at Anfield and playing against a team that has had one fewer day of rest, Ozil should be fresh enough to have a major impact.