Bale steps into Ronaldo's spotlight
From Gareth Bale's off-field persona, you wouldn't expect him to be a superstar. He's shy, retiring, quiet and modest and, although his commercial activities have increased significantly to reflect his development into one of Europe's most exciting players, he's generally keen to evade the spotlight.

In pure footballing terms, however, Bale is highly egotistical. Not in a rude, arrogant, spoilt-brat manner but in terms of his playing style. Many expected Bale to become a rampaging left-back, including the manager who made him a regular at Tottenham, Harry Redknapp.

However, the player didn't suit a position that requires positional discipline, defensive quality and patience. He wanted to be higher up the pitch, taking on opponents and shooting.

Bale is an individualist. Attacking midfielders are generally expected to create as well as score themselves, but he has preferred to go for goal directly.

He won the PFA Footballer of the Year twice in English football, first in 2010-11, when he scored seven goals and made one assist, and again in 2012-13, when he scored 21 goals and recorded just four assists. 28-5 is an incredible goal-assist ratio for a player who isn't an out-and-out striker.

- Ancelotti: Bale ready to step in
- Hunter: Di Maria inspires derby win
- Train: Still the best team in town

Interestingly, in the season between those two, Bale recorded more assists (10) than goals (nine) and Tottenham finished in fourth place, their best position with him as a regular. But his quality was less celebrated despite his selflessness and the team's superior performance. Fans, as well as Bale himself, prefer it when he's dominating.

Bale requested a move away from his left-wing position, then played in various roles: from the right, in the centre and eventually in a free role, where he drifted around as he pleased, searching for shooting angles.

He justified this freedom with a succession of astonishing long-range goals, often from an inside-right position, and his shots-per-game ratio increased steadily in his final four campaigns at Spurs -- 1.7, 2.1, 3.8 and 5.0 -- until he was taking more shots than the majority of strikers.

At Real Madrid, of course, Cristiano Ronaldo is the main man. The Portuguese has served as Bale's inspiration the past few years, which is evident from his positional development, through his physical progression, to the Ronaldo-esque stance he takes when preparing to take free kicks.

"I don't model my game on his because I have my own way of playing and it's not exactly the same," Bale says. "But we do have similar attributes."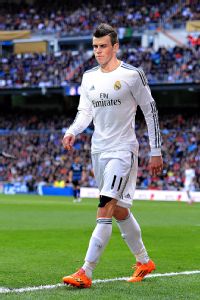 Denis Doyle/Getty ImagesIn 14 La Liga games this season, Bale has scored eight goals and has seven assists.
Understanding the pecking order at Real, Bale has been content to play second fiddle and plays a more disciplined role than the current Ballon d'Or holder, with Carlo Ancelotti understanding that allowing both a free role would be tactical suicide.

But Bale remains at his best when dominating the side, and this weekend could be his chance to prove that. Ronaldo is suspended for the home match against Villarreal after his red card against Athletic Bilbao in Sunday's 1-1 draw.

Although Real are appealing the three-match ban, which appears excessive and might be reduced, there's little chance of the entire ban being overturned.

The past couple of seasons, when Real have been without Ronaldo, they've have lacked that burst of inspiration, those moments of individual magic. Angel Di Maria, Karim Benzema, Luka Modric and Xabi Alonso are fine players, but they are facilitators rather than individualists.

The same was true, to a certain extent, of Mesut Ozil and his effective replacement this season, Isco. Real had no vice-Ronaldo, with the other players giving him a platform to shine.

"We found a nice tactical system to get him goals," Jose Mourinho has said, looking back at his period in Madrid. That meant, effectively, everyone else supplying Ronaldo, covering for him and doing his running. Bale can do that, but he also can be the Ronaldo figure when required.

It's difficult for a side to incorporate two goal-scoring wingers playing at their maximum; even if they start on different flanks, they want to make the same movements. A decent case study is Arsenal's 2001-02 title-winning campaign, in which Robert Pires was magnificent from the left flank, eventually winning the PFA Player of the Year award.

Freddie Ljungberg, on the other wing, played a more subtle role, scoring six goals in 19 games in the same team as Pires. But when the Frenchman's season ended prematurely because of a serious knee injury, the Swede stepped up, and he immediately hit six goals in his next six games to become Arsenal's main man throughout the title run-in.

Bale has been quietly impressive at Real Madrid, but he still has been overshadowed by Ronaldo. For example, when Bale hit two goals in a 7-3 win over Sevilla, Ronaldo trumped him with a hat trick. Bale managed two assists against Rayo, but Ronaldo scored twice.

There has been one exception: Bale has been Real's best player in just one match this season, a 4-0 victory over Real Valladolid in November when he scored a hat trick and assisted the other goal. And why else was that victory significant? Well, somewhat inevitably, it was the only La Liga game Ronaldo has missed this season.

Until this weekend, that is, when Villarreal visit the Bernabeu. Although the Yellow Submarine aren't quite as possession-based as in their previous spell in the top flight, they're still an adventurous side and will leave gaps at the back into which Real -- and Bale -- can counterattack.

"It was a massive blow not having Cristiano playing," insisted Bale after that Valladolid victory, before adding: "I didn't feel any pressure, to be honest." Of course he didn't; he thrived.

It should not be inferred, however, that Bale and Ronaldo cannot play in the same side together; Real's best starting XI clearly features both players. Neither is it the case that Bale should become the focal point of the side.

Ronaldo's recent world player of the year victory underlines the point that he remains Real Madrid's star individual. However, Bale's absolute peak might come in matches when Ronaldo is absent.

"Bale performs better without Ronaldo," Andre Villas-Boas agreed in an interview with Portuguese newspaper O Jogo in December. "He has a far greater role in Madrid's play when Cristiano isn't playing ... at Tottenham, Bale adapted to a playing style that allowed him to have the starring role, one which made him his team's most important player."

Bale wants to become the best individual possible. He supposedly had a long-standing desire to join Real Madrid since childhood, an interesting preference considering that his formative impression of the club was presumably throughout the Galactico years, when they favoured individualism over collective brilliance.

Bale was rested for Wednesday's 3-0 Copa del Rey win over Atletico Madrid because Ancelotti wants him at his sharpest. Opportunities like the one this weekend don't come along often, and, in the week Ronaldo turns 29, a star performance from the Welshman would go down nicely.

Ronaldo is hardly likely to decline rapidly soon, but his performances are difficult to replicate over extended periods, and he might become more susceptible to injury, causing him to miss more matches.

If Bale proves he can step up in his teammate's absence, however, there's no need for Real to worry.