Tactics Board: United pay the price for failing to invest in central midfield
STOKE 2-1 MANCHESTER UNITED

There are multiple ways of illustrating Manchester United's malaise at Stoke. United manager David Moyes played the majority of the match with five genuinely attack-minded players on the pitch -- Robin van Persie (who was then replaced by Javier Hernandez), Wayne Rooney, Juan Mata, Ashley Young and substitute Danny Welbeck -- but United had only four attempts on target.

It is possible to focus on Welbeck, whose 58-minute involvement (including added time) resulted in a mere 13 touches, as he completed just four passes. Then there is a pitch map showing that Mata had a clutch of touches around 5 yards from the touchline inside his own half; it is the area for a right-sided midfielder who is operating just in front of his full-back, rather than a player who was the best No. 10 in England last season.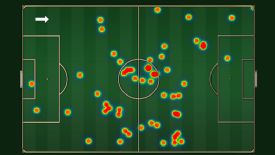 Other / ESPN Stats & InformationWayne Rooney's touch map for the second half, when he operated in midfield, shows he operated in too deep a position to create goals.
Most damning of all, perhaps, is Rooney's touch map after Welbeck came on. The England international dropped into the centre of midfield and, like Mata, was often too deep to create or score a goal.

Indeed, with United's best midfield passer, Michael Carrick, then in the back four, Rooney took over as the anchorman; the less creative, less prolific Tom Cleverley was often in more advanced positions and had more touches in the final third in that time. Rooney displayed his ambition in his attempts to find a breakthrough but misplaced 44 percent of his forward passes and the majority of his long balls. His presence in midfield was prompted by defensive injuries, but as the map shows, it took one of United's premier scorers too far from goal to exert a decisive influence.

Once again, it highlighted the problems that Moyes' failure to bring in specialist central midfielders, Marouane Fellaini apart, has caused.

ARSENAL 2-0 CRYSTAL PALACE

Alex Oxlade-Chamberlain's two-goal performance against Crystal Palace amounted to a convincing impression of the injured Aaron Ramsey. The Welshman flourished in the early part of the season by offering the energy to run from deeper positions beyond the No. 10, Mesut Ozil, and to get in the box. For a side that field a solitary striker and whose chief creator rarely scores, it is vital.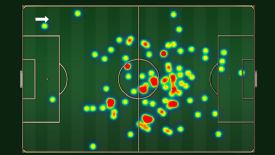 Other / ESPN Stats & InformationAlex Oxlade-Chamberlain attacked Palace via the inside left channel.
Oxlade-Chamberlain had the most shots of anyone on either side and prospered by twice getting into the penalty area. As his touch map shows, he went via the inside-left channel. It is also notable from the diagram both how advanced and how involved he was. With Crystal Palace concentrating on defence, Arsenal were able to play in their half. They enjoyed 73 percent of possession, the most they have had this season, and Oxlade-Chamberlain was one of four Arsenal midfielders to have at least 100 touches; indeed, Mikel Arteta had 140, attempting a remarkable 127 passes. That was partly because he was often the free man as Palace concentrated on their attempts to shackle the more forward-thinking Gunners, with Marouane Chamakh, nominally a striker, close to Oxlade-Chamberlain for much of the match, but losing him for the opening goal.

WEST BROMWICH ALBION 1-1 LIVERPOOL

Brendan Rodgers' attempts to cram Daniel Sturridge, Luis Suarez, Philippe Coutinho and Raheem Sterling into the same side have involved plenty of permutations. The latest is for Sturridge to start on the left in a 4-1-4-1 formation. As it has brought him three goals in two games, it is a resounding success in one respect. In another, and while scoring for the sixth successive game, Sturridge was less effective against Albion than he had been against Everton.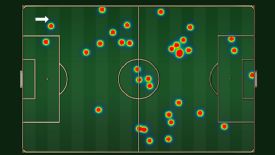 Other / ESPN Stats & InformationOther than when he opened the scoring, Daniel Sturridge struggled to threaten the West Brom goal.
As his touch map proves, he was on the ball only once within the width of goal posts inside 25 yards of the net: That was the moment when he opened the scoring. That was his only shot, whereas he averages 3.4 per league game this season. The pitch map shows there were moments when Sturridge dropped deep into his own half but he is yet to be tested defensively as a left-sided midfielder. The dots on the right show that he was not pinned to the touchline, and at times he alternated with Suarez, whose touch map was also weighted to the left, whereas Sterling's was that of a conventional right winger.

EVERTON 2-1 ASTON VILLA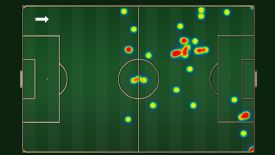 Other / ESPN Stats & InformationKevin Mirallas spent most of his time out wide despite being selected as a central striker.
Kevin Mirallas started a Premier League game as a centre-forward for the first time, and even though he has operated in the position earlier in his career, he is not a conventional striker.

His pitch map against Aston Villa is distinctly unconventional. He was often in the inside-left channel -- a favoured area for him when he starts as the left winger -- and tried to outflank the three Aston Villa centre-backs by going to the right wing, his normal position, several times. What there are not are touches in central areas in the penalty box, which is a sign of how well Villa defended, although Mirallas, with his winner from a free kick, showed he can score from set pieces and long range as well.

WEST HAM 2-0 SWANSEA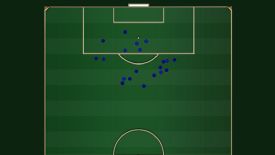 Other / ESPN Stats & InformationSwansea failed to register a shot on target despite their 20 efforts against West Ham.
Twenty shots, none on target. It is easy to understand why Swansea did not score at Upton Park. It is rare to see a shot map like this. Ten different players tried their luck, and 12 of their efforts were blocked, two went over and the rest wide. One was too wayward even to appear on this diagram. It suggests shooting practice might be an idea this week.