Tottenham's midfield still a work in progress
Manchester City's 5-1 thrashing of Tim Sherwood's Tottenham Hotspur on Wednesday night shouldn't be used as evidence of Spurs' lack of quality. Few clubs have the capability to cope with Manuel Pellegrini's side in top form, while Spurs had two extremely tight decisions go against them, denying them an equaliser and reducing them to 10 men.

However, if the final scoreline was a harsh reflection upon Spurs' second-half efforts, City's 1-0 halftime lead was an inadequate reflection upon their dominant opening. For the first half an hour, City were imperious, dominating possession inside the Spurs half, moving the ball quickly across the pitch into attacking positions and always finding space.

- Brewin: City top for good?
- Curtis: Counting coins, counting goals
- Fitch: Robbed by the referee
- FC TV: City back on top
- Highlights: Spurs 1-5 Man City (U.S. only)

There were two zones where City enjoyed too much room. The first was out wide, where City almost always boasted a "man over" -- someone outside the width of the opposition's defence, ready to receive the ball on the run.

The arrival of Jesus Navas has been crucial in this respect -- he stays out wide and attacks in behind the opposition full-back, an option City never had in the Roberto Mancini days. But others do it, too: For the fifth and final goal, Stevan Jovetic's strike, it was notable that the Montenegrin forward maintained a position out on the left, enabling City's attacks to continue flowing. Edin Dzeko had also taken up similar positions earlier in the game.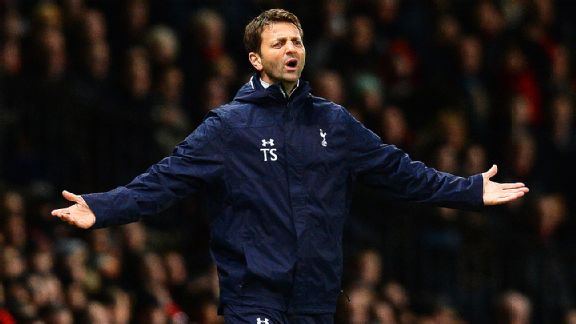 Andrew Yates/AFP/Getty ImagesTim Sherwood's been notably leery of defensive midfielders but he's slowly realizing their essential role in the modern game.

The second area was between the lines, illustrated perfectly by Manchester City's opening goal, scored by Sergio Aguero. Starting on the left of midfield, David Silva drifted inside to such an extent that he found himself with oceans of space in the right-centre channel behind Mousa Dembele. Vincent Kompany couldn't pass him the ball quickly enough and Silva took the ball in his stride, slipped in Sergio Aguero with a neat through-ball and watched as the Argentine produced a beautiful chip beyond the advancing Hugo Lloris.

First and foremost, this was a beautiful goal -- the positioning of Silva, the weight of his pass, the timing of Aguero's run and the deft finish. However, it's difficult to ignore quite how simple it was for City, primarily because they were afforded so much space.

One of the key tenets of Sherwood's approach is his insistence on playing without a standard holding midfielder. For his first match, a 3-2 victory over Southampton, he started with a midfield of Gylfi Sigurdsson, Christian Eriksen, Mousa Dembele and Erik Lamela -- a goal-scoring midfielder, a slender playmaker, a converted forward and a wide attacker. Emmanuel Adebayor won Spurs the game, but the side suffered from a gaping hole between the lines, exploited efficiently by Adam Lallana for Southampton's first goal.

In truth, Sherwood has adapted his approach significantly. His opening selection was 4-4-2 with two out-and-out strikers and no holding midfielder. It was back to basics, as if his entire methodology was to become the anti-Andre Villas-Boas.

Since then, Adebayor has dropped off more without the ball and Eriksen has drifted inside to make up the numbers in the centre. Then Nabil Bentaleb was introduced to provide a more reliable deep midfield presence, and finally, Spurs switched to one up-front, with Christian Eriksen just behind Adebayor. It's now not entirely different from a modern 4-2-3-1.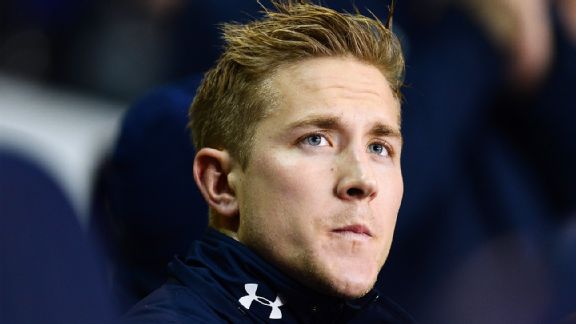 Jamie McDonald/Getty ImagesLewis Holtby's been unable to find a home in Spurs' crowded midfield.

Yet Sherwood continues to insist he doesn't require a standard defensive midfielder. "We don't have one," he told The Independent this week. "I never used to play with one -- I used to play with two who can do everything. One goes up, one stays back, just be clever and adapt around each other. That's what City have with Yaya Touré and Fernandinho."

However, City also have more understanding in their midfield. While not a pure defensive midfielder, Fernandinho is playing a more cautious role than he did at Shakhtar Donetsk, where he was more of a Ramires-style player, bursting forward regularly. Besides, against top sides, City have appeared vulnerable between the lines -- they were outgunned by Bayern Munich with the midfield looking overrun and very flat and have generally looked most troubled when sides attack quickly behind Fernandinho and Toure.

Spurs coach Les Ferdinand continued the assault on holding midfielders, describing Claude Makelele as the worst thing to have happened to the Premier League. "I don't like holding midfield players. I like players to understand that if one goes forward, the other one tucks in for them," he told the Tottenham Journal website. "I don't want someone who just sits in front of the back four and doesn't go anywhere."

However, the Aguero goal exposed the naivety of the Spurs' approach -- every time Silva drifted inside, he found too much space. It wasn't exclusively because Spurs weren't playing a holder, either -- it was also because they weren't compact enough -- but the comments hardly look great when the side is opened up so readily.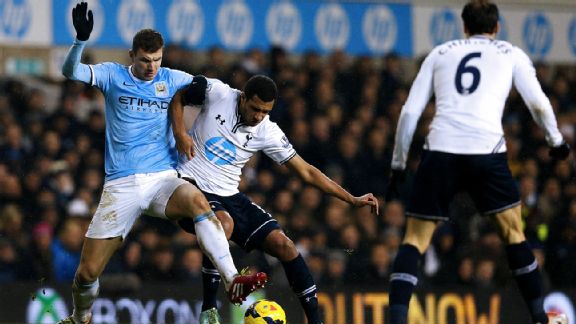 Adrian Dennis/AFP/Getty ImagesEtienne Capoue's introduction briefly restored order to midfield but he alone couldn't prevent Man City from running riot.

It was rather amusing, in light of Ferdinand and Sherwood's comments, to see Etienne Capoue introduced for the second half. Spurs have supposedly been attempting to sell the Frenchman throughout January, probably because he's the antithesis of their beliefs -- he's a standard holding midfielder. For the second half, Spurs ran a 4-3-3 with Capoue solidly behind Bentaleb and Eriksen.

Capoue's first contribution was to aggressively foul Silva as the Spaniard drifted inside, showing how Manchester City's playmaker now had a closer opponent. Sherwood and Ferdinand had turned to a holding midfielder.

To be fair, there's a difference between what Sherwood has said and what he has actually done. In interviews (which he's conducted keenly since his arrival, aware of how Villas-Boas' frosty relationship with the media contributed to his downfall), he's gone for the Harry Redknapp approach: tactics don't matter, 4-4-2 can still succeed, it's all about players.

But, like his role model, Sherwood is a keener tactician than he admits, changing his shape according to the qualities of the opposition and gradually becoming more pragmatic. Still, there remains a clear element of naivete against top clubs, and Spurs have been convincingly defeated by Arsenal and Manchester City because opposition midfielders have enjoyed too much space.

Nevertheless, Sherwood's overall impact has been positive -- five victories from seven league matches shouldn't be ignored, and the Tottenham squad is clearly happier and more motivated. As time goes on, though, Sherwood is learning why some of his beliefs now seem outdated.