Mata provides missing creativity for Man United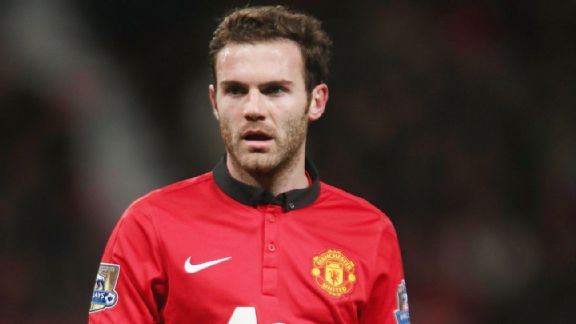 AllsportJuan Mata was just too good to miss out on for Man United.
There are only a few explanations for Juan Mata's surprise decision to select the number eight shirt at Manchester United rather than the iconic number seven jersey worn by the likes of George Best, Bryan Robson, Eric Cantona, David Beckham and Cristiano Ronaldo. It's likely that rather than simply preferring the number eight, or that he sees himself more as a 'traditional eight' rather than a 'seven', is the fact that the wholly grounded, humble Spaniard wanted to play down the furore surrounding his record breaking transfer. At Old Trafford on Tuesday night, however, it was clear that United fans were excited about having made a marquee signing and expectations were high, regardless of the digit on his back.

It's arguable that a player of Mata's ilk wasn't the priority for David Moyes this January, but the status of the player brought in meant fans getting ahead of themselves was inevitable. He can move the ball sharply and accurately in attacking areas, creating space and opportunities for United's deadly frontline to exploit and that will add to the team, in spite of what was needed and what wasn't.

- Payne: RVP and Mata
- Jolly: Mata makes his mark
- Okwonga: Right win for Utd

The sheer quality that Mata brings to United means that doubts over quite how he, Wayne Rooney and Robin van Persie will all be squeezed into a starting eleven are unnecessary. Mesut Ozil was not the most needed signing at Arsenal in the summer, but he has reinvigorated a stagnating squad to such an extent that they are now title-challengers. Moyes will be hoping Mata does the same at Old Trafford.

Mata's debut against Cardiff was fairly subdued, but there were signs that he could bring something that had been lacking into the United side. Flitting about in behind the striker, Mata was constantly on the move, searching for pockets of space around the area, but perhaps did not get on the ball as often as he would have liked, with 65 touches over his 85 minutes on the pitch.

With a central midfield behind him of Phil Jones and Ryan Giggs, the ball was not moved forwards to Mata regularly or quickly enough; the duo making just 23.3 percent of their passes forwards and 71.1 percent sideways. When Tom Cleverley came on, things only got worse in this regard, with the England midfielder making just one of his 12 passes (8.3 percent) towards the opponents' end of the pitch.

Phil Jones is not a natural midfielder by any means and it is not unfair to say that Ryan Giggs is lacking the vigour he used to possess when at the height of his career. A returning Michael Carrick, who has made more forward passes (1380) than any other Premier League player since the start of last season, will certainly aid Mata in this regard.

When Van Persie and Rooney are both back and available it will be interesting to see how Moyes adapts his tactics to incorporate all three, with wingers a regularity in his team selection. He is unlikely to be unable to retain the likes of Antonio Valencia and Ashley Young, but that shouldn't discourage him too much, with those players largely ineffective over the current campaign.

A fluid duo of Mata and Rooney behind point-man Van Persie could work, but defensive duties may restrict them both in such a lineup. The other problem would be that a lack of central midfielders is the biggest issue for United at present, so to opt for a formation which would require another one hardly solves the conundrum.

However, the prospect of a frontline of those three, free and left to their own devices in attack is a mouth-watering one for United fans, and it may evoke memories of Cristiano Ronaldo, Rooney and Carlos Tevez running riot in 2007-08. Mata-Rooney-Van Persie would hardly be as dynamic a front three, but could certainly be as effective in front of goal. Any alternative is likely to see Mata's input sacrificed and put on Rooney's right in a 4-2-3-1.

Mata made four key passes in this match, having made one, on average, every 26.8 minutes during his Premier League career. Only Manchester City's David Silva has done so more often (every 24.8 minutes) of players to have played regularly over that period. At United, Nani gets closest to Mata, creating a chance every 35.2 minutes, but his form has deteriorated vastly in the past two seasons and looks set to join Inter Milan on loan.

Wayne Rooney has been playing the No.10 role, but even he is only averaging a key pass every 45.3 minutes. Mata, playing centrally, would be a huge improvement for the Red Devils.

Rooney is also United's assist-leader over the past two and a half seasons, with 23. Mata, playing in a Chelsea side that largely underachieved in the Premier League during his time there -- and scored 28 fewer goals than United -- managed more assists (28) than any player at Old Trafford.

An assist in his first appearance -- on paper at least, given that it was far from his most creative -- bodes well for Mata's future at Old Trafford, and it looks like he will be given a whole lot more freedom in this team than was in Jose Mourinho's regimented one at Chelsea. That, along with the adoration of the home fans, who will give him the time he needs to settle, could well make for a happy ending for Juan Mata.

All statistics courtesy of WhoScored.com, where you can find yet more stats, including live in-game data and unique player and team ratings.