Gareth Barry, Steven Gerrard a study in contrasts
Following a pulsating 3-3 draw in November's Merseyside derby at Goodison Park, Liverpool captain Steven Gerrard immediately spoke to Everton's Gareth Barry and apologised for an earlier challenge between the two. In a 50-50 tackle, Gerrard raised his elbow toward Barry's head, for which he was criticised by Everton boss Roberto Martinez.

There was unlikely to be any hard feelings, however, between Gerrard and Barry, who are extremely good friends -- and completely contrasting footballers.

Gerrard and Barry made their England debuts together in a friendly against Ukraine nearly 14 years ago. They became roommates at Euro 2000, for purely logistical reasons. In the England side's hotel near Spa in Belgium, the majority of players were handed their own room. There was one slightly different suite, however -- two bedrooms complete with an attached, shared lounge. Kevin Keegan allocated this room to Gerrard and Barry, the two youngsters and newcomers to the squad, hoping they'd become friends.

Keegan's on-field tactics flopped, but the cohabitation plan worked perfectly. Gerrard recalls that he and Barry were both "shy and frightened by the big names in the England squad" but clicked immediately. They became regular snooker and table tennis opponents between group games, waited for one another before going down to meals and were, Gerrard joked in his autobiography, like a married couple. They exchanged numbers, and kept in touch.

- 50/50 Challenge: Liverpool vs. Everton

Eight years later, Barry nearly became Gerrard's partner in the Liverpool engine room. In summer 2008, Rafael Benitez was prepared to sell Xabi Alonso after a couple of underwhelming campaigns, pinpointing the Aston Villa midfielder as an ideal replacement. Gerrard, in his dual role as Liverpool's captain and Barry's friend, launched into an amazingly blatant tapping-up campaign.

"I want Gareth Barry to become a Liverpool player," he said at the time. "He's a good player. I want Liverpool to be as strong as possible and Barry will certainly make us stronger... I know all about Gareth, I am good friends with him off the pitch and I am desperate for us to sign him." However, Villa and Liverpool couldn't agree a price.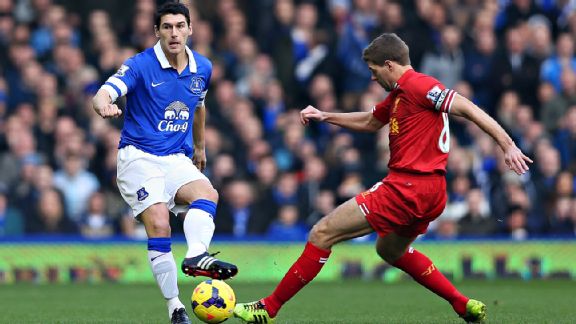 Clive Brunskill/Getty ImagesDespite their close friendship, Steven Gerrard and Gareth Barry couldn't be more different as players.

Barry's move to Merseyside came five years later than planned, though his loan from City to Everton was unquestionably a step down. Nevertheless, Barry has proved one of the surprise stars of the season, playing an understated, disciplined role in the centre of Everton's XI, dropping into defence to distribute from deep and providing physicality in Martinez's technically minded side.

"Gareth knows that he can stay at Everton as long as he wants to," Martinez said last week. "He is a unique footballer. When he came here, I wanted him to be very important for Everton, to enjoy his football. He is an incredible leader."

They should encounter each other on the pitch again -- Barry plays left-of-centre, Gerrard right-of-centre -- and while both played deep in 2013-14, this should be a frantic, fast-paced Merseyside derby with plenty of crunching tackles. There's something more intriguing about the battle between Gerrard and Barry, however, not simply because they are firm friends or because Barry nearly joined Liverpool. It's because Barry is, essentially, the anti-Gerrard.

Gerrard's act is well-established: he's the inspirational, talismanic, Roy of the Rovers-esque character that drives his side forward relentlessly, dominating matches with his sheer power and personality. At his peak, Gerrard could win individual matches like few others, even becoming a specialist at providing crucial contributions in big matches. He inspired Liverpool in the second half of the 2005 European Cup final and turned the game, more than Benitez's tactical changes. His FA Cup final goal the following season against West Ham, a 35-yard equaliser in the dying moments of stoppage time, also summed up his miraculous game-changing ability. Barry, quite obviously, doesn't provide those moments.

Yet Gerrard's weaknesses are just as clear. His positional discipline has always been questionable, which forced Benitez to move him forward into a free-roaming attacking midfield position, despite the fact that Gerrard emerged as a standard English central midfielder, a No. 8 rather than a No. 10.

Persistent questions have been asked about his distribution, too. While capable of stunning through-balls, particularly when played from right-of-centre positions and curled in behind the opposition defence, the odd Hollywood pass is still evident. Then, there is his footballing egoism -- as much Gerrard's strength as it can sometimes be his weakness. He insists on doing everything himself like a drummer launching into an unanticipated solo, throwing his bandmates out of rhythm.

It is these negatives that Barry specialises in, which explains why he's loved by managers rather than supporters. His tactical ability is unrivaled among his generation of English midfielders, perhaps because his understanding of the game developed through playing in four separate positions at Aston Villa -- centre-back, then left-back, left-midfield and finally central midfield.

His distribution, too, is more reliable than Gerrard's -- though he plays fewer long balls and fewer through-balls, Barry boasts a higher pass-completion rate and is more consistently involved in his side's build-up play.

Meanwhile, Barry's status as a reliable team player is assured. It's difficult to think of a single outstanding moment Barry contributed to Manchester City's title-winning campaign in 2011-12 but he was always there, always playing the right passes at the right moments. There was one simple but intelligent pass in the buildup to Yaya Toure's crucial goal at Newcastle on the penultimate weekend, probably forgotten by even the most ardent City fans, that summarises his football style. He provides a platform for stars like Toure -- Barry is the perfect deputy.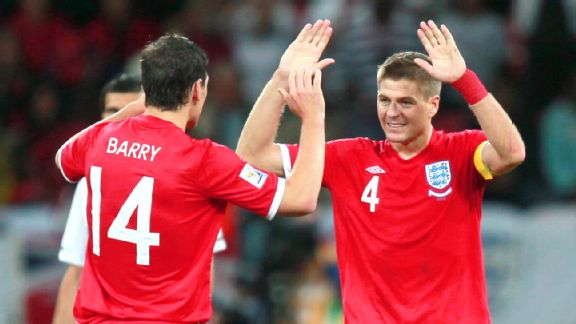 Karim Jaarar/Getty ImagesGerrard and Barry debuted together for England and could still lead the Three Lions given their complementing skill sets.

Gerrard and Barry represent the opposite ends of football's ideological spectrum -- the talented individualist and the understated water carrier. It somehow makes sense that Gerrard, the more talented of the duo, boasts a trophy cabinet full of cup winners' medals and individual awards but possesses one fewer league title than Barry. It's also easy to understand why Gerrard was so keen to be reunited with his pal -- together, they work perfectly on paper.

Yet it's not unthinkable that they could play together again -- for England. Roy Hodgson hasn't selected Barry since injury ruled him out of Euro 2012, but his form deserves recognition. In fact, along with Gerrard, Barry is the only survivor of England's Euro 2000 campaign -- none of the other 20 squad members is still playing Premier League football. The likes of Dennis Wise and Paul Ince might find that their managerial days are over, let alone their playing career, which sums up the longevity of Gerrard and Barry.

The meeting of these former roommates is a perfect clash for what is frequently termed the "friendly derby" -- full-blooded challenges on the pitch, reconciliation immediately afterward. For those who believe opposites attract, the friendship between Steven Gerrard and Gareth Barry is a great example.

Somewhere in between, you have the perfect footballer.