Possible targets for Lucas Leiva role at Liverpool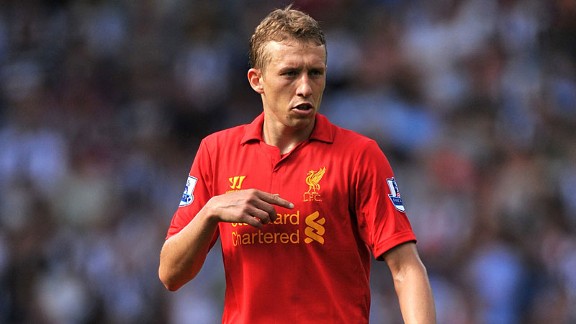 PA PhotosLiverpool midfielder Lucas Leiva has suffered a knee injury.
With Liverpool 2-0 down at home to Aston Villa at the weekend it was clear what the problem was. The side was too stretched in midfield and the burden was on an ageing Steven Gerrard to do the lion's share of defensive work in that area. He was exposed and widely criticised for his first half performance, with the home fans showing their appreciation and approval of Lucas Leiva's introduction at the break.

The Brazilian's withdrawal after just 20 minutes on the field was cause for concern then, and it's since been confirmed that a knee ligament injury is set to keep the 27-year-old out for a number of months, although Lucas has tweeted to say he hopes to be back sooner than predicted. Rumours have since emerged and subsequently been quashed that the club were interested in signing Nigel de Jong on loan; an eventually that never seemed likely given the Dutchman's importance to AC Milan.

- Usher: Lucas loss a blow to midfield

However, it would seem that Liverpool do require a replacement, or at least back-up, for Lucas. WhoScored.com have looked into the Brazilian's stats to suggest which players may be best suited to fill the void that he is set to leave in the side, discussing three young midfielders to emerge as potential replacements.

The like-for-like option
We start with the most unlikely option due to financial circumstances, but perhaps the most obvious like-for-like stand-in from a statistical viewpoint. Twenty-two-year-old defensive midfielder Christoph Kramer is currently on a two-season long loan to Borussia Monchengladbach from Bundesliga rivals Bayer Leverkusen. In that deal the former have first refusal on the player should Leverkusen be willing to let him leave, and though an agreement could potentially be made with both clubs it would be a tricky and expensive problem to resolve.

Nevertheless, Kramer's performances with the Foals have been superb since joining in the summer; quickly becoming a key player, to start 16 of Gladbach's 17 league matches thus far. The lanky anchor for the European hopefuls, Kramer leads the side in terms of tackles (3.4) and interceptions (2.2) per game with figures not dissimilar to Lucas' 3.9 and 2.5 respectively.

Meanwhile, he's made marginally more passes per game than the Liverpool man (62.9 to 60.8) with a near identical accuracy and has won slightly more aerial duels per game (2.6 to 2.5). It's clear that Kramer possesses many of the qualities that Lucas offers to the Reds, but the intricacy of any potential deal and the fact that Leverkusen are likely to be more than suitably impressed with their player's progression whilst out on loan mean any move may be optimistic at best.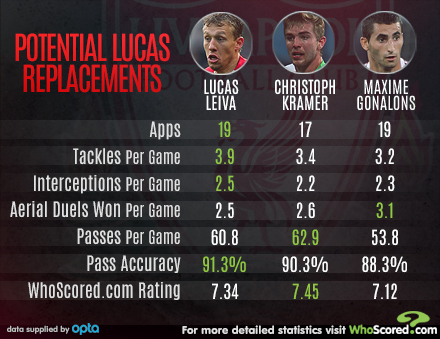 Other / WhoScored.com
The high-profile option
A name that will be familiar to most, France international Maxime Gonalons has been linked with the Merseysiders in the past and is probably a more viable option. After a poor start to a season dominated by big spenders PSG and Monaco, Lyon find themselves down in eighth in Ligue 1 and their prized assets, academy graduate and club captain Gonalons included, may be thinking of their next move.

A switch to the Premier League would likely appeal to a player that could be well-suited to English football. The 24-year old is another who can break up play in front of the back four, as well as keep it ticking over. The Frenchman's figures only just fall short of those of Lucas, across the board, with his tackling (3.2 per game) and interception (2.3 per game) statistics still highlighting the role that he plays.

Gonalons' 88.3% pass accuracy is the best at Lyon, while he does edge out Lucas in terms of aerial duels (winning a team high of 3.1 per game) courtesy of his tall physique. If Liverpool were looking to replace Lucas in the long run then Gonalons may well be a realistic option.

The up-and-coming option
Unlike the two mentioned previously, 20-year old Mainz midfielder Johannes Geis is not what you would consider to be a straightforward replacement for Lucas. He is, however, excelling in a side that are well positioned in the Bundesliga, having appeared in all of Mainz's league matches since signing in the summer.

A German Under-21 international, Geis is more of a box-to-box player than the others here, but he operates best from a deep position. With 3.5 tackles per game he is top for his side by a considerable distance, and also ranks first at Mainz in terms of passes per game of first team regulars (44.1) in a side that see less of the ball than the likes of Gladbach and Lyon.

A pass accuracy of 75.3 percent certainly needs improving, but he's more ambitious with the ball at his feet, creating 1.6 chances per game to pick up three assists thus far. Geis can clearly disrupt an opponent's play in midfield and could be one to look out for considering that Steven Gerrard will likely begin to play less of a role over the coming years. He's not of the same ilk as the Liverpool legend, but strikes a balance between the roles that Lucas and Gerrard fulfil and is certainly one for the future.

While it remains to be seen whether Brendan Rodgers decides to act upon Lucas' injury and bring in a replacement. He may well put his faith in Joe Allen to do a similar job. Nevertheless, come the summer, if he feels that defensive midfield is a department that needs strengthening, these three options could well prove to be promising additions.

All statistics courtesy of WhoScored.com where you can find yet more stats, including live in-game data and unique player and team ratings.