Can Cabaye replicate his Newcastle excellence elsewhere?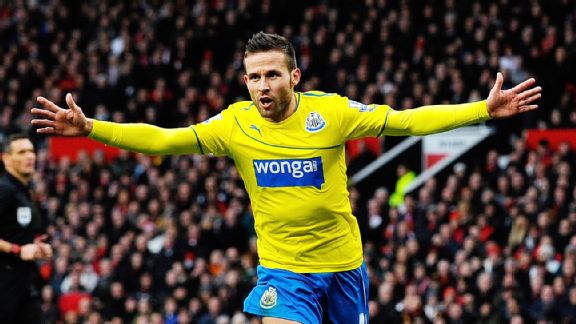 ANDREW YATES/AFP/Getty ImagesYohan Cabaye has been superb for Newcastle but how many other clubs could give him such freedom to excel?
For a midsized Premier League club -- one of those clubs good enough to have top-class international footballers, but not so good that they're cup-tied for European competition -- it's a bad month for your star performers to be hitting the headlines. The Premier League's big clubs are circling and in the midst of the most unpredictable title race for years, one key signing could be crucial.

For "midsized club" read Newcastle United, and for "star performer" read Yohan Cabaye. The Frenchman is the division's in-form midfielder, contributing five goals in his past seven games at the perfect time to place himself prominently in the shop window.

Ordinarily in these situations, there's a debate about whether the player is actually angling for a transfer, or if he's happy to stay put. Last year's equivalent was Everton left-back Leighton Baines, who probably fancied a move to Manchester United but nevertheless remained professional and committed throughout the transfer speculation, meaning we never had explicit proof he was interested in leaving.

With Cabaye, it's different. Following interest from Arsenal earlier in the campaign, he ruled himself out of contention for Newcastle's matches against Manchester City and West Ham, with Alan Pardew admitting that Cabaye "had his head turned by the bid."

The transfer didn't materialise and Cabaye slotted back into the Newcastle side with few problems. But things have changed since then: Newcastle are performing better than expected, Cabaye has a crucial role in the side and he might consider staying until the end of the season, considering this is a World Cup year. Nevertheless, it's difficult to believe Cabaye has no interest in a transfer. Now 28 years old -- but in a sense only now emerging as a genuinely top-class footballer -- he won't have many more chances to join a major club.

The destination? Manchester United have been linked, while PSG remain interested. There are few Premier League teams who categorically don't need another central midfielder, especially given Cabaye's ability to play as both a deep-lying passer and a more advanced No. 10. Given his natural aggression -- which can stray across the line into recklessness, it must be said -- he could also play a destructive role alongside a more cultured playmaker.

On a personal level, though, Cabaye's versatility might become a hindrance. He spent the majority of his first two campaigns at Newcastle alongside Cheick Tiote in the engine room. When he first met Pardew, Cabaye asked his prospective manager how he wanted Newcastle to play, aware that the Magpies had been playing relatively simple football. "With you, it will change," promised Pardew. He wanted Cabaye to boss the midfield and impose a passing game.

Only in the final eight matches of Cabaye's debut campaign was he used in a more advanced role: behind the main striker, a position he played a further four times last season. But when Cabaye first played that position, Newcastle's wide players were usually Demba Ba and Hatem Ben Arfa -- extremely skillful attacking talents, but hardly disciplined defensive workers. Cabaye was probably, on average, Newcastle's fourth most advanced player.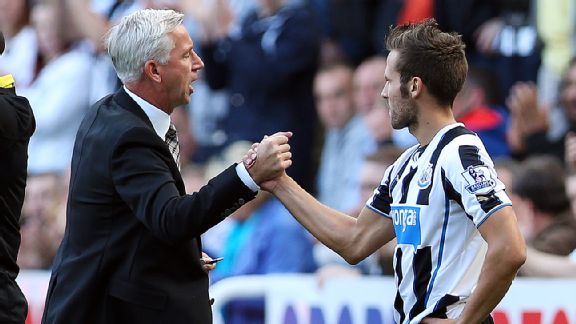 Ian MacNicol/AFP/Getty ImagesAlan Pardew has made the most of Cabaye but few clubs will be looking to build around the Frenchman in the same way.

This season, Pardew has formatted his side in a completely different fashion. The wide players are no longer a converted forward and an attack-minded dribbler, but instead a hardworking natural wide man in Yoann Gouffran and Moussa Sissoko, a box-to-box midfielder moved out to the right. Newcastle's defensive discipline is extremely impressive, particularly in the way the midfield protects the back four and squeezes the play in the middle.

"We just try to find a position for [Cabaye] where he is most effective," Pardew explained earlier this month. "Sometimes, it is a deeper position, depending on the opposition. Sometimes it is a higher position and against Arsenal, we went for the higher position. West Brom might be slightly different." In other words, he generally uses Cabaye higher up against good opposition, and deeper when Newcastle can afford to play an extra attacker.

But Cabaye's performances in the advanced position have encouraged Pardew to install him there as his default strategy. Further forward, Cabaye remains crucial in applying Newcastle's defensive pressure. Alongside the surprisingly disciplined Loic Remy, he presses the opposition centre-backs, then drops back into midfield to ensure Newcastle aren't overrun in that zone. His performance in this respect was crucial throughout Newcastle's 1-0 win at Old Trafford -- he helped Newcastle win possession and retain it, while also motoring forward to score the game's only goal.

Pardew is all too happy to acknowledge the reason for Cabaye's good form. "He has an almost free role in the team in the No. 10 [position]," Pardew said after Cabaye's two goals at West Ham on Saturday. "I thought he was a class act all day, he's added goals to his game. He has been a big player for us. He helped us get a nice rhythm in midfield, which worked well."

However, will any club of a higher standing than Newcastle play Cabaye as their No. 10? No. Would Manchester United pick him there, instead of Wayne Rooney or Shinji Kagawa? Would PSG play him there, and change their system? Would Arsenal sideline Mesut Ozil? The answer to these questions is obvious. Cabaye would be brought back into a deeper role.

In that position, Cabaye is a very different player. In his early days at Newcastle, he read an interview with Andres Iniesta, who explained how Xavi Hernandez was furious if he touched the ball fewer than 100 times in a match. Cabaye adopted that approach and therefore started to play a similar, reliable passing game to Xavi: offer, receive, pass. "For me, Xavi is the best player in the world," he once said.

As that type of player, a passing midfielder with a combative edge, Cabaye could still prove useful elsewhere. He could certainly contribute to title-winning sides, in a deeper role and with less creative freedom.

But this, the Newcastle 2013-14 era Cabaye with an advanced role helping to destroy, create and score goals, is probably the best we'll ever see of the Frenchman in an individual sense. "He's in an environment where he's got pole position," outlines Pardew. "You don't always get that. You can get lost at some clubs." His current manager is hardly impartial, but he's probably right. Cabaye must choose between individual prominence at Newcastle and success as a less flashy player elsewhere.

Jermaine Jenas, one of Cabaye's predecessors in Newcastle's midfield, memorably once said playing for the club was akin to "living in a goldfish bowl." If we're sticking with the fish theme, Cabaye now faces the classic dilemma about his favoured size of pond.