Time for Man United to replace Nemanja Vidic?
When judging a footballer's probable impact over the next couple of seasons, there are certain rules you must never break. The longer you follow English football, the more reluctant you are to break them. Here are three:

1. Never judge a player exclusively on his performance in a major international tournament. Individuals regularly impress in a couple of big games in a particular role within a certain system but fail to replicate that performance over the course of a whole, 50-game domestic season.

2. Never assume a player has severed ties with his club. Whether it's handing in a transfer request, publicly stating he doesn't believe the club is ambitious enough, getting a ban for racial abuse or repeatedly letting down his club because of petulance, it's no barrier. The player will return, and as soon as he scores, he'll be cheered.

3: Never, ever write off Manchester United or any of their players. Over the past two decades, every time you thought Sir Alex Ferguson's side was dead and buried, it came back to prove you wrong. Down 1-0 going into stoppage time in a European Cup final? No problem. Twelve points behind in a title race? Don't count your chickens.

- Mitten: A curious pessimism at Old Trafford
- Okwonga: Worrying lack of guile
- Darke: United lost their fighting spirit
- Burley: Year off good for United?
- Extra Time: Will Rooney leave this summer?

There were moments when health problems seemed to have ended Paul Scholes' career as a top-class footballer. He came back stronger. Ryan Giggs' declining pace meant he wasn't the winger of old. He adapted and became a central midfielder. Michael Carrick fell out of favour a couple of years ago but returned to the starting XI and is the club's reigning Players' Player of the Year.

Yet Rule 3 might need a rethink. It was always obvious that the famous, never-say-die spirit owed much to Ferguson, and David Moyes doesn't seem able to replicate that atmosphere. Is it now acceptable to break the third rule?

Can we now, safely, write off some of Manchester United's older players? Specifically, Nemanja Vidic?

United's generation gap
Moyes needs to refresh the United squad for two reasons: to improve the quality and to transform this into his side, not Ferguson's. However, his isn't a particularly old squad. Only six players are 30 years old or over: Giggs, Rio Ferdinand, Vidic, Patrice Evra, Carrick and Robin van Persie.

Giggs' retirement will hardly be a shock while Carrick is playing some of the best football of his career. Meanwhile, van Persie -- among his injury problems this season -- has been prolific at United. There's no major decision to make with this trio, and the need for evolution comes in defence, where the Ferdinand-Vidic-Evra axis, once the core of Europe's best defence, is expiring.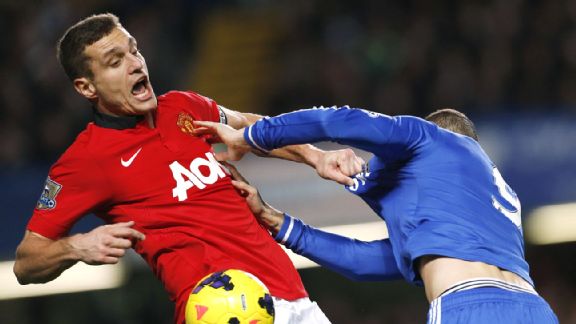 ADRIAN DENNIS/AFP/Getty ImagesNemanja Vidic's decline is now impossible for Man United to ignore.
The three can no longer play together regularly. With a combined age of 99, they lack the mobility of their youth and need more time to recover between matches. Moyes used Vidic-Ferdinand for his first five league games but not once since. Injuries have played a part, but Moyes understands their time is running out.

Moyes must choose whom to ditch carefully. Clearing out three of United's most experienced players together would be extremely dangerous, especially at such an uncertain time in the club's history. At least one must remain for his leadership skills as much as his on-pitch performance. Complicating matters is the fact that all three have worn the captain's armband regularly in recent years.

Of the three, it's increasingly difficult to make a case for Vidic remaining, especially as his contract expires this summer.

At his peak, the Serbian was the most dominant aerial centre-back in Europe, but pace has always been his major weakness. Fernando Torres famously exposed that a few years ago, but many defenders struggled to contain Liverpool-era Torres. These things happen.

Vidic has become less mobile, however. The two poor games he experienced in an otherwise magnificent 2010-11 title-winning campaign were when he struggled to turn and run quickly; since the serious knee injury he suffered in late 2011, his pace has been even more questionable. His performance on Sunday against Chelsea was particularly worrying. There was the way Eden Hazard blazed past the Serbian without a care -- but again, like the Torres incidents, that's forgivable.

However, if a defender lacks speed, his positioning and decision-making must be flawless. Chelsea's second goal was curious. After the initial corner was cleared, the other eight Manchester United outfielders who had been defending immediately cleared the box while Vidic dawdled behind, more concerned with fellow Serb Branislav Ivanovic.

Rafael is certainly culpable as well -- too keen to return to his right-back spot rather than defend the second cross -- but Vidic reacts too late to the danger. Samuel Eto'o is at the front post, ready to pounce. Vidic's initial movement toward him is delayed, and then he's not quick enough across the ground.

Later, there was his tackle on Hazard, which brought a straight red card in stoppage time. It wasn't remotely a harsh decision; his challenge was late, high and dangerous with no intent to play the ball, no tactical attempt to break up an attack and simply an attempt to hurt an opponent who had previously embarrassed him.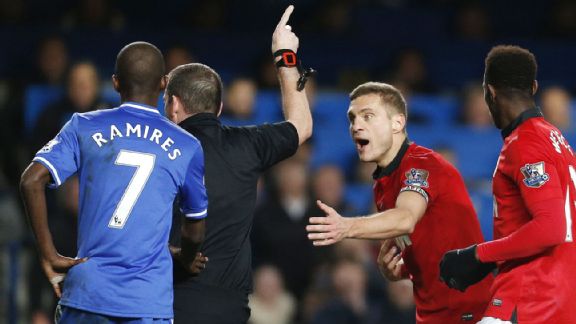 ADRIAN DENNIS/AFP/Getty ImagesVidic deserved his red card for fouling Eden Hazard, a tackle that proved his loss of pace and lack of mobility.
Between the second goal and the red card, Vidic's weaknesses were laid bare. Positioning himself yards behind the rest of the defence suggests he's not confident in his mobility while the Hazard challenge indicates someone aware of his limitations against tricky opponents. His centre-back colleague Ferdinand has similarly lost pace but has always been a superior reader of the game, not nearly as prone to lapses in concentration as the cliché about him suggests, rarely diving into tackles and being shown a red card just once in over a decade with United.

Meanwhile, Vidic's statistics from the past few seasons are interesting. Since his injury, he completes only around two-thirds as many tackles and interceptions as he did at his peak, though his number of clearances have increased. Defensive statistics must be treated with caution; a concern about Jaap Stam's tackling statistics was a reason why Ferguson sold the Dutchman prematurely, whereas Stam was still a fine defender and was simply reading the game better. Nevertheless, Vidic's stats underline a change in approach. He's become more reactive, which tallies with the suspicion he needs to play deeper. That, in turn, affects the position of the entire side.

Surplus to requirements?
There is also a case for saying that defenders in Vidic's mould -- at least, in his current guise -- are increasingly anachronistic. Centre-backs need to be physically strong and competent in the air but equally need to be mobile, quick and capable of making the right decisions against tricky opponents.

United have replacements. Jonny Evans has made a surprising number of mistakes this season while Phil Jones and Chris Smalling have both suffered from being played out of position. Nevertheless, all three have demonstrated their quality in the past, and considering that Moyes is insisting upon a long-term strategy with regard to signings, that approach should apply to existing players too.

These three centre-backs are not untested youngsters either, with 361 United appearances between them. By the end of this season, Evans will soon have played for United more than Eric Cantona, Smalling more than Henning Berg. These are players ready to take responsibility.

Yet for Vidic, the future is unclear. A move to Fiorentina has been rumoured -- following Anderson there -- although it seems a strange transfer from Fiorentina's perspective. Vincenzo Montella likes mobile defenders who can play out from the back, and perhaps the transfer is about making up for the fact that Fiorentina could have had Vidic before United pounced in 2005-06; they effectively had his signature but couldn't accommodate another non-EU player.

Regardless of his future, Vidic will be remembered as one of the most dominant centre-backs in Premier League history, and his partnership with Ferdinand is probably the best the division has seen. But their combined peak was six years ago. It's time for United to move on, and perhaps time for us to redefine the rules.