Tactics Board: Eto'o the master of efficiency
CHELSEA 3-1 MANCHESTER UNITED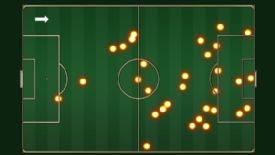 OtherSamuel Eto'o stuck to central areas throughout most of the victory over Man United.
Samuel Eto'o became only the fourth player to score a Premier League hat trick against Manchester United in a master class of efficiency. He took only four shots, three of which ended up in David de Gea's net. Eto'o had just two touches in a central position within 16 yards of the United goal; they brought two goals. Indeed, Eto'o had only 32 touches in total. By way of comparison, Emmanuel Adebayor had 68 this weekend, Luis Suarez 64 and Edin Dzeko 58. In part, it is a reflection of Chelsea's system. Eto'o plays alone up front and they had only 44 percent possession, operating on the counterattack.

What his touch map illustrates is that he really worked within the width of the penalty area. His second goal came from the second phase of play after a corner and his third directly followed a set piece, both showing the predatory instinct to find space in a crowded 18-yard box. Ignore those two touches, however, and the graphic shows that Eto'o no longer has the pace to run in behind defenders. Jose Mourinho referred to his movement in close quarters as a reason for his selection, and that was apparent in the Cameroonian's ability to get on the ball around the edge of the penalty area. It brought his opening goal.

SWANSEA 1-3 TOTTENHAM

Tim Sherwood had been a devotee of 4-4-2 in his brief reign (even if, despite starting with two strikers, he claimed he didn't play that formation in the FA Cup defeat to Arsenal). For the first time, he began with only one out-and-out attacker at Swansea: Adebayor.

The major beneficiary was Christian Eriksen. The Dane had found form under Sherwood, but it was as an ersatz left winger, albeit with a licence to come infield. At the Liberty Stadium, however, he was allowed to play in his preferred position, as a No. 10 behind one centre-forward.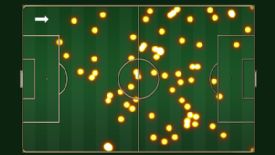 OtherChristian Eriksen was given licence to roam.
As his touch map shows, Eriksen made the most of the freedom he was afforded to roam across the park. While he had materialised on the left and in the centre in his former role, his two most telling contributions in Wales came when he linked up with right-sided players. He exchanged passes with Aaron Lennon before crossing for Adebayor's opener and then picked out Kyle Walker, whose centre was turned into his own net by Chico Flores, for the second goal.

Sherwood's attacking ethos was also apparent, as Eriksen put in six crosses (two corners) to the edge of the Swansea six-yard box. Only one found a colleague, but it was an assist. It is an indication that, even when choosing another midfielder, the new coach's focus was on penetration rather than possession.

LIVERPOOL 2-2 ASTON VILLA

Steven Gerrard's career has come full circle with the Liverpool captain, who went from being a defensive midfielder to support striker in his earlier years, making the reverse journey. However, the 33-year-old experienced a difficult start against Aston Villa, when his performance improved after he was allowed a more advanced role after first Lucas Leiva and then Joe Allen came on.

At the start, as Gerrard admitted, Villa hassled and harried him, with Andreas Weimann paying particular attention to the England skipper. Holding midfielders often set the tempo for their side or help them control the game; many end up with pass completion rates approaching 90 percent. Yet Gerrard's pass map for the opening 20 minutes is remarkable for the simple fact that none of his first seven passes found their intended target; in itself, it is proof how Villa's pressing forced errors.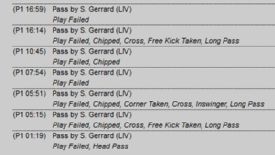 OtherSteven Gerrard's passes were wayward.
It is also notable that, for four of those seven passes, Gerrard was looking to find a teammate in the final third. That, in turn, is an indication of what an attacking team Brendan Rodgers selected. With no one really alongside him in the first half -- Jordan Henderson was employed a little further up the field -- Gerrard's only options were to go forward or back, not sideways.

After that first 20 minutes, Gerrard completed 31 of his next 39 passes (79 percent), including the long-range ball to Luis Suarez that resulted in Liverpool winning a penalty, but Villa set the tone for their impressive first-half display by targeting Gerrard from the first whistle.

ARSENAL 2-0 FULHAM

One of the tactical themes of Arsenal's season has been the number of right wingers Arsene Wenger has fielded, many of whom would rather operate elsewhere. Many have been central midfielders by trade, and this was Jack Wilshere's interpretation of the right-wing role against Norwich, whereas Theo Walcott played as more of a roving forward against Manchester City.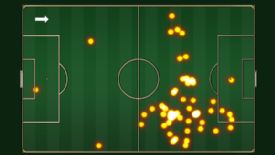 OtherSerge Gnabry with his interpretation of the right-winger role for Arsenal against Fulham.
Serge Gnabry has been the designated outside-right in the past three games and has been different again, although closer to Wilshere than Walcott. His touch map against Fulham is similar to his pitch map against Aston Villa, although he operated a little wider in Monday's game, with more touches nearer the touchline. There are a cluster of touches together in the inside-right position but very few in a traditional winger's crossing zone. It suggested the teenager fits in with Arsenal's ethos.

Where he differed from his teammates is simply in the level of his involvement. Gnabry, who was substituted after 73 minutes against Fulham, had 54 touches. The other four midfielders -- Wilshere, Mathieu Flamini, Mesut Ozil and Santi Cazorla -- all had at least 100 and attempted a minimum of 84 passes. They are more acclimated to Arsenal's one-touch passing game, which is understandable, as Gnabry has only just been introduced to the side. He is also more shot-happy than some of his colleagues, having five attempts at goal.