Mikel and Anderson: victims of a distrust of creativity
In Chelsea's match with Manchester United this Sunday afternoon, arguably the most fascinating battleground will be the central midfield zone.

That is entirely common in matches between two big clubs, but usually because of the vast quality on display. This weekend's match is different, as both teams are weakest in that very position: the central midfield, the heart of the side.

There are injury problems: Chelsea may be without Frank Lampard while David Moyes will probably still be unable to call upon Marouane Fellaini.

Beyond that pair, Chelsea have depended upon just four central midfielders and have recently been using centre-back David Luiz in the holding role, despite Jose Mourinho previously insisting he would not, and have now re-signed Nemanja Matic -- a player they sold as part of the Luiz deal in 2011 -- for 21 million pounds.

United, meanwhile, lack a reliable partner for Michael Carrick. They're forever linked with talented young midfielders from across Europe -- Arturo Vidal, Ander Herrera and Cesc Fabregas to name just three -- and have been supposedly considering a bid for Paul Pogba. Considering they allowed the Frenchman to leave for free two summers ago, it would be akin to Matic's return to Chelsea, and would cost them even more.

- Van Persie: Moyes will succeed
- Van Persie and Rooney doubts
- Matic wants silverware

As these two substandard midfields meet at Stamford Bridge, it's worth thinking about the players who have fallen out of favour at each club. Chelsea's John Obi Mikel remains a part of Mourinho's squad, but will see his position filled by Matic, while United's Anderson has one foot out of the exit door, seemingly on course for Fiorentina. It's a surprise transfer, considering the Italian side's midfield zone is superior to that of United.

Mikel and Anderson were once considered the future of their clubs. Mikel could have been a part of Manchester United's future, of course, having signed for the club in 2005 and worn the club's shirt at a press conference unveiling before a protracted transfer saga that meant he instead joined Chelsea (and United received 12 million pounds).

Had Mikel joined United, Sir Alex Ferguson probably would not have bought Anderson from Porto two years later. Where would the highly rated Brazilian have gone instead? Well, Chelsea have frequently dipped into the Portuguese market – see Paulo Ferreira, Ricardo Carvalho, Jose Bosingwa, Luiz, Ramires and Matic -- and Anderson's agent, Jorge Mendes, also represents Jose Mourinho.

The duo could easily have ended up at each other's club having had, strangely, extremely similar career paths.

In 2005, Mikel starred at FIFA's Under-20 World Cup, finishing as a runner-up with Nigeria and being awarded the Silver Ball (he was beaten into first place by Lionel Messi, scorer of both goals in the final).

Colin Udoh, a prominent Nigerian football journalist, remembers the teenage Mikel as "a young, strapping lad in the number 10 jersey, languid in style but absolutely majestic in his control of a football game ... his game was about economy of movement, finding the right pass at the right time to unlock a stubborn defence."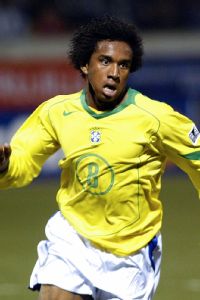 Daniel Silva/AFP/Getty ImagesAnderson in action at the 2005 FIFA U-17 World Championship.
Two months later, Anderson won the Golden Ball award at the U17 World Cup, ahead of Mexico's Giovani dos Santos and Turkey's Nuri Sahin. Brazil lost the final 3-0 to Mexico but only conceded the goals after losing the tournament's best player to injury early on.

FIFA's report from the tournament describes Anderson as "the playmaker with a seemingly inexhaustible box of tricks." The Technical Study Group identified him as "an outstanding individual player, fast, could take charge of game, skilfully linked up with teammates, very effective on counter attacks."

Almost a decade ago, along with Messi, Mikel and Anderson were among the most promising number 10s in world football. In the years since, Messi has become the world's greatest attacking player, while Mikel and Anderson have stalled. What happened? Well, for various reasons, both players were forced to adapt their skillset to English football, with negative consequences.

Mikel was cast as Chelsea's replacement for Claude Makelele, in the holding role of a 4-3-3 formation. "Mikel has lost the creativity that catapulted him onto the world stage," complained Samson Siasia, who managed him at U20 level, and later for the full Nigerian side, too. "Chelsea destroyed the player Mikel once was."

Similarly, Anderson was converted into a box-to-box midfielder and given licence to drive forward from central midfield, but always with strict defensive responsibilities. Although he showed flashes of brilliance, he has rarely possessed the stamina for such a demanding role.

"Manchester United were playing their expensive new signing Anderson in central midfield, a role that no coach in his native land would have considered for a nanosecond," wrote Tim Vickery in 2009. "Could it be that in this new role, Anderson is forced to sacrifice too much of what he is naturally good at?"

Peculiarly, Mikel and Anderson weren't the only ones who encountered this problem. Liverpool's Lucas Leiva was "an attacking midfielder with an eye for goal," and while Liverpool fans have grown to love the Brazilian, there was plenty of dissent towards him in the early days, when he was adjusting to the demands of being a defensive-minded scrapper.

Arsenal's Denilson, who captained the Brazilian U17 side in which Anderson played, had a similar experience: He arrived as an attacking midfielder, became a more cautious deep-lying passer, and when Mathieu Flamini departed in 2008, became Arsenal's primary defensive midfielder.

All four were signed at a time when their Man United, Chelsea, Liverpool and Arsenal dominated English football. Between 2003 and 2009, these four clubs finished in the top four almost routinely, with the exception of 2004-05, when Liverpool won the European Cup anyway.

The Premier League's biggest four clubs all picked up talented, young attacking midfielders and converted them into scrappers. The question is: why? There are individual factors in all four cases, of course, but there is also a pattern that is too similar to ignore.

It would be fantastic to think that managers were responding to the increased emphasis upon technical, possession football by asking these four players to occupy much deeper positions, similar to the way Andrea Pirlo was famously reinvented in the "regista" role by Carlo Mazzone at Brescia, having been a brilliant number 10 as a youngster.

The truth is probably less favourable, though: Their managers didn't have faith in the young, inconsistent playmakers and instead converted them into defensive midfielders because of their physique, which English football still looks for over creativity. This was particularly appropriate in the cases of Mikel and Anderson.

Mikel clearly wasn't ever intended to be a Pirlo clone; he's always been patient and cautious with his distribution for Chelsea, despite playing a more creative role for Nigeria.

Meanwhile, Anderson's malaise is more self-inflicted, because of concerns about his professionalism and fitness. He was sometimes given an attacking role as the most advanced player in a three-man midfield, but could never produce consistently.

Neither Mikel nor Anderson have completely flopped. Both have six domestic honours, both played a part in a European Cup final victory on penalties and, between them, they have nearly 500 appearances between them with English sides.

However, once upon a time, this duo were among the best young playmakers in the world. Today, comparisons to Messi are long gone, in terms of both quality and style.

English football isn't very good at creating home-grown creative midfielders and, evidently, it isn't any better at developing talented foreign equivalents. For the next generation of Mikels and Andersons, it might be best to develop elsewhere.