Chelsea's triple threat shows tremendous promise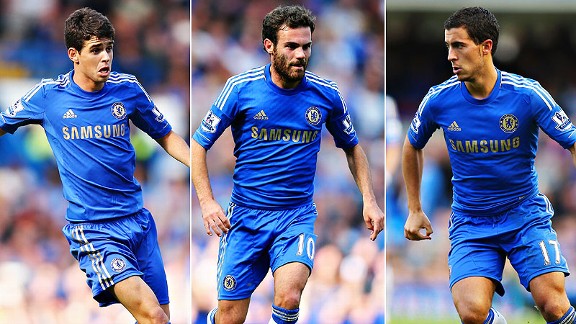 GettyImages / Getty ImagesWhen Oscar, Juan Mata and Eden Hazard really start to click together, we could be in for something special.
Stamford Bridge hasn't been a natural home for gifted playmakers in recent years.

Chelsea have had Frank Lampard -- a top-level attacking midfielder at his peak, but a powerful runner and an excellent goal scorer rather than a beautiful provider. There was Joe Cole, who briefly fulfilled his great promise, but critics said he was limited by defensive responsibilities under Jose Mourinho.

Chelsea blog
Watch: Champions League preview
Preview: Pressure on Man City

Michael Ballack played a much deeper role for Chelsea, while Deco provided sporadic moments of flair but was largely underwhelming. The Chelsea of the 2000s were an excellent side, frequently an excellent defensive unit and sometimes ruthlessly efficient going forward. But even when they thrashed opponents, it was rarely because of beautiful football.

Things are different now. The arrival of Juan Mata last summer marked a shift in Chelsea's style of play -- even before he'd kicked a ball for Chelsea, it was clear he was the club's most creative player since Gianfranco Zola -- or, alternatively, since Roman Abramovich bought the club. Mata was Andre Villas-Boas' most important player, but under Roberto Di Matteo attention turned to the Champions League and Mata became a more functional player; he performed defensive tasks admirably, but there was little chance to express himself.

This season Mata has been joined by Eden Hazard and Oscar. And, for that matter, Marko Marin and Victor Moses. That is five new attacking midfielders in the past 14 months, and Di Matteo's formation is 4-2-3-1, rather than the 4-3-3 hangover from the Mourinho days. This is a new Chelsea, an overwhelmingly creative side structured to maximise the imagination of three -- yes, three -- playmakers. Last year, we were marvelling that they simply had one.

With respect to Moses and Marin, who both offer more natural width, it is Mata, Hazard and Oscar that provide the most excitement. They are, in basic terms, similar players; they work in the same zones, dictating play from between the lines.

Yet they're distinct enough to make this experiment worthwhile. Mata is a ghostly playmaker, a cunning creator who drifts into clever positions, passing smoothly and effectively. He likes to play the final pass, but is equally happy to keep moves flowing, allowing others to be incisive.

Hazard is more direct. He has a great turn of pace, a more rapid dribbling style. His "rabona" against Arsenal last weekend showed his capacity for tricks, the type of thing Mata would only do in training. He's a more reliable goal scorer -- but as Ligue 1's top assistor last season, he's clearly a creative player too.

Then there's Oscar. He's generally been used as the central player, but isn't the typically languid, artistic South American number ten. Instead, he's efficient and unfussy with his use of the ball, his movements are quick and purposeful, and he has a quick burst of pace to evade opponents. He's also a responsible player without the ball -- his two goals against Juventus rightly grabbed the headlines, but his excellent defensive job on Andrea Pirlo was also worthy of praise. On Saturday against Mikel Arteta, the most prolific passer in the Premier League, he did the same.

So how do effectively do the three combine? Well, it's still a work in progress. Against Stoke last weekend, Di Matteo started all three for the first time, having previously preferred a more defensive option on one flank --- Ramires on the right or Ryan Bertrand on the left. It produced a poor Chelsea performance, as the play was too congested and predictable, with everything going through the centre. Moses provided more width later on, and Ashley Cole was the surprise late hero with the only goal.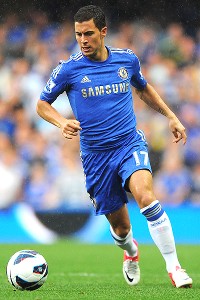 GettyImages / Michael Regan/Getty ImagesNot lacking in confidence, Eden Hazard has provided a burst of creative energy for the Blues.
Di Matteo doesn't like news conferences -- of all the league's managers, he speaks less enthusiastically than most. But when asked about the Hazard-Oscar-Mata connection, he got a little excited. "It's the first time we've tried that lineup," he said with a deep breath, as if acknowledging it was an important event. "It certainly needs more work and practice to tactically integrate them perfectly into our system, but it's just a question of time, and them getting to know each other better."

That answer -- unlike Di Matteo's other responses that day -- said something meaningful. It wasn't a coincidence that he'd selected all three together, and it wasn't an experiment that was to be abandoned after a single match. There was no false positivity, but there was the implication that freedom and flexibility were the long-term game plan. "We want them to have mobility and rotation," Di Matteo said.

Actions speak louder than words, and Di Matteo's selection for the match against Arsenal on Saturday was telling. In such a big game, Di Matteo didn't go defensive. It was Hazard. Oscar. Mata. Ramires was alongside Jon Obi Mikel, and Lampard was on the bench.

It worked better: Mata created from the right, Oscar did his job in the middle, Hazard had a couple of decent moments on the left. There was more structure, less constant rotation and more immediate width, although Chelsea were unable to score from open play.

There remains a problem defensively. Arsenal kept exploiting the space in behind Hazard in the first half, and it was no surprise that their equaliser came from that flank. Di Matteo should have introduced Ryan Bertrand a lot sooner to protect Ashley Cole.

But the signs from the players are promising. "I like to play with the ball, try and assist, with passing, with movement, with freedom," Mata said. "I think it's what Eden, Oscar and me are doing at the moment."

"When you have great players you have to use them … as many great players on the pitch, it gives you more chances to score and to win the games," Fernando Torres said. "We're training every day, to try to occupy the spaces and to settle in the system that we are using … all these players can play together."

As a tiki-taka icon, he also spoke positively about the effect so many attacking players have on Chelsea's defensive record. The best way to defend, said Torres, is to keep the ball -- and Chelsea's 49 percent possession at the Emirates was far more than most sides manage, especially as Arsenal were behind for more than an hour in total, needing the ball. "It's not just about possession, it's possession with progression -- we created some chances on the counterattack," he continued.

Di Matteo remained less enthusiastic, but is committed to the idea of Mata, Oscar and Hazard together. "We still have a lot of work to do" he admitted. "It's a matter of working on the training ground and trying to improve." Again, no actual praise for the players -- Di Matteo was simply saying he's waiting for them to click.

Then you realise that Di Matteo's side are top of the league with 16 points from six games, despite their new attacking unit having yet to function cohesively. When it all comes together, we could be in for something special.

Michael Cox is a freelance writer for ESPN.com. He runs zonalmarking.net.