Why don't defenders win the Ballon d'Or?
The second week of the calendar year is Ballon d'Or time, which means having some familiar arguments about the nature of the award and its recipients.

Why are some players regularly nominated irrespective of actual performance over the year? Is there actually a point to an individual award within a team sport? And why are defenders never nominated, with the award always won by attackers?

- Duarte: Ronaldo shows his human side
- Train: Ronaldo's win deserved
- Miller: Ballon d'Or nearly men
- Report: Platini questions voting process
- Story: Spain reacts to Ronaldo's win
- Leboeuf: Ribery should have won
- FC TV: Ego of Ballon d'Or nominees

In the past two decades, just one defender has won the Ballon d'Or (or, in its previous guise, the World Player of the Year award): Fabio Cannavaro in 2006. That was a popular choice -- Cannavaro was the World Cup-winning captain, having been imperious throughout the tournament. Second-placed Zinedine Zidane had only played half the calendar year while two-time winner Ronaldinho was in third, having failed to have an impact upon, amazingly, his final World Cup tournament.

Cannavaro's victory was, however, something of a default triumph. In a World Cup year, the award almost always goes to a World Champion -- had France prevailed on penalty kicks, it's unlikely that Cannavaro would have been victorious. Even then, his victory was partly because Italy lacked a standout attacker. Marcello Lippi's side had the strength of Luca Toni, Francesco Totti played a functional supporting role and their wide players were hard-working, energetic battlers like Simone Perrotta and Mauro Camoranesi. Had Toni won the Golden Boot, for example, Cannavaro wouldn't have prevailed.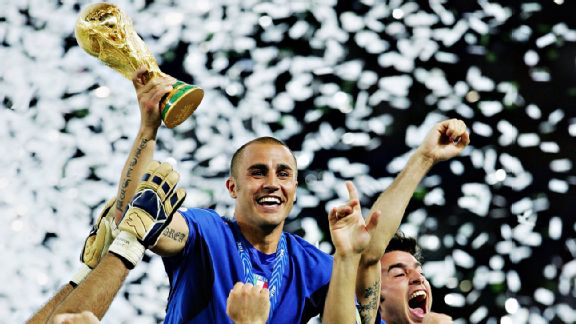 Alex Livesey/Getty ImagesFabio Cannavaro earned his Ballon d'Or albeit with some help.

Naturally, voters want to choose an attacking player. The best individuals are generally attackers, simply because of the nature of football -- attackers are the players who literally make the difference, providing the most decisive moments and the most eye-catching pieces of invention, trickery and skill.

That's not to say that defending isn't important or shouldn't be celebrated, however, though defending is fundamentally more of a collective task. Superb defending isn't about outstanding individual contributions; it's about teamwork, organisation and positional discipline.

You cannot solve the Premier League's worst defence by introducing the world's best defender -- there would still be positional problems and disorganisation elsewhere in the back four. However, transplant Cristiano Ronaldo into the league's worst attack and things would transform overnight. Ronaldo has the individual capacity to dominate games, create and score goals and to occupy multiple defenders thus creating space for others. His performance against Sweden, for example, was just remarkable -- he completely dominated the game.

Besides, we're not presently in a particularly outstanding era for defenders. There's only one truly outstanding centre-back around: Thiago Silva, a colossal mountain of a centre-back who is imperious in the air, quick across the ground and talented enough with the ball at his feet to deputise as a holding midfielder, too. He's actually a decent contender for next year's award given that he currently captains the World Cup hosts and favourites -- it would be a Cannavaro-style victory if he wins.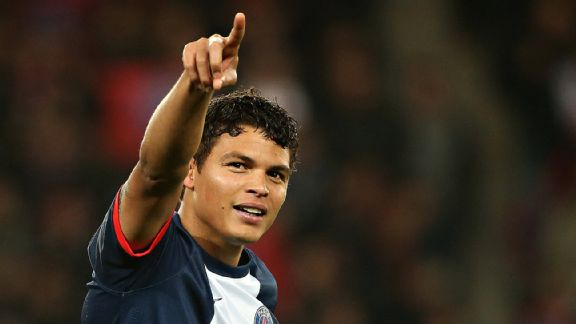 John Berry/Getty ImagesThiago Silva is arguably the world's best center-back. Might he break the attacking Ballon d'Or trend in 2014?

Aside from that, there's not much to choose. Juventus have a trio of fine centre-backs -- Giorgio Chiellini, Leonardo Bonucci and Andrea Barzagli -- but the fact there's three of them together arguably dilutes their individual contribution. There are a few defenders who have played well over the course of 18 months -- Dante, Mehdi Benatia and Miranda, to name just three -- but are any of them genuinely world-class? Not yet.

Simply put, the "next generation" of great centre-backs have stalled. Gerard Pique was briefly the best around but has faltered since the start of Pep Guardiola's final season at Barcelona. Vincent Kompany has dipped since Manchester City's title-winning season, by his own admission, and Dortmund's Mats Hummels has made too many mistakes over the past couple of years. 18 months ago they were challengers to Silva's crown; now no-one comes close. Previous world-class stars like Rio Ferdinand, Carles Puyol, John Terry, Lucio and Nemanja Vidic are on the way down. Sergio Ramos, Laurent Koscielny and David Luiz are too inconsistent for this type of praise.

Perhaps things were different at the start of the century when Paolo Maldini, Jaap Stam, Fabio Cannavaro, Alessandro Nesta, Lillian Thuram, Ivan Cordoba and Roberto Ayala were all top-class performers.

There's been a decline in the number of top-class defenders, for four reasons.

First, the individual factors outlined above -- the most promising young centre-backs haven't lived up to the billing.

Second, there's a greater emphasis upon technical possession football and increasingly strict refereeing laws that punish any kind of contact. Defending has simply become more difficult, and good defensive work has become subtler, more about positioning and intercepting.

Third, the decline of Serie A can't be ignored. All seven of the aforementioned defenders from a decade ago played, at one stage, in Italian football, which prides itself on fine defending. The popularity of the end-to-end, goaltastic Premier League, the highly technical La Liga and the transition-based Bundesliga mean that Serie A has taken a back seat -- and, arguably, the concept of defending has too.

Four, defending has increasingly involved a higher proportion of a side -- not simply the actual defenders. The majority of sides now play with two cautious midfielders protecting the defence, wingers are under strict instructions to form a second bank of four behind the ball and even forwards are now expected to work hard -- either by pressing relentlessly, or by dropping back to keep the side compact.

Atletico Madrid's defensive performance in their 0-0 draw with Barcelona on Saturday evening was highly impressive, for example, but arguably the work of David Villa, Diego Costa and Arda Turan was most noteworthy -- they formed the initial block, and the defenders simply headed balls clear.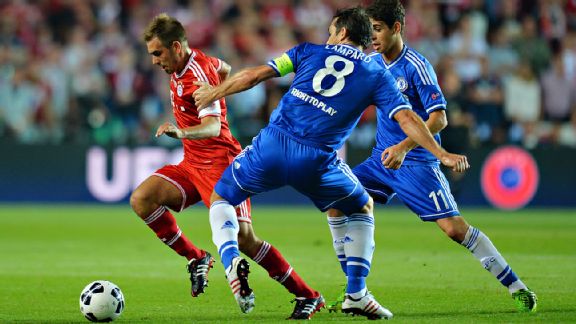 Shaun Botterill/Getty ImagesPhilipp Lahm is also worthy of Ballon recognition but his recent switch to midfield highlights the lack of pure, quality defenders in world football.

As ever, there are exceptions. Philipp Lahm had a superb calendar year, although the full-back impressed primarily with his attacking qualities -- amazingly, he finished as the Bundesliga's second-most prolific assistor last season, behind Franck Ribery.

Indeed, Lahm's technical quality is so impressive that Pep Guardiola has redeployed him as a central midfielder, perhaps further evidence that outstanding individuals are rarely pure defenders. Aside from Lahm, however, you'd be hard-pressed to name a defender who has enjoyed anything close to the calendar year of the main contenders.

Realistically, the best individual footballers are forwards. The Ballon d'Or has its flaws, but a perceived bias towards attackers isn't one of them.