Tactics Board: Kolarov epitomises Man City's intent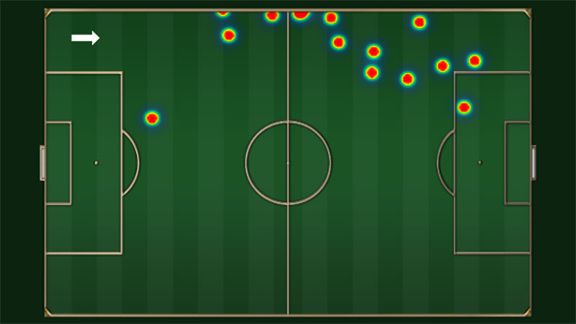 OtherManchester City's early attacking intent was epitomised by left-back Aleksandar Kolarov.
NEWCASTLE 0-2 MANCHESTER CITY

Many a team goes away from home and vow to keep the home side quiet for the first 15 or 20 minutes. If the majority are more cautious at the start, Manchester City were cavalier from the outset at St James' Park. Their attacking ethos was epitomised by left-back Aleksandar Kolarov. He set up Edin Dzeko's eighth-minute opener and his touch map for the first 17 minutes is instructive.

In that time, the Serb had more touches in the Newcastle half than his own and four in the final third of the pitch. It also hinted at a tactic of Manuel Pellegrini's. City attacked more on their left, looking to target United's makeshift right-back Mapou Yanga-Mbiwa.

Over the 90 minutes, only David Silva was more involved the Kolarov, who excelled defensively and was invariably an outlet in the area immediately either side of the half-way line. But he broke forward most at the start, signalling City's intent.

STOKE 3-5 LIVERPOOL

Steven Gerrard has kept moving further back in recent seasons. He has gone from a No.10 to a box-to-box midfielder to, at Stoke anyway, a midfield anchorman. An October Tactics Board highlighted his influential performance between the two penalty areas in Liverpool's 2-2 draw at Newcastle.

So it is interesting to compare his touch map at St James' Park with the diagram of where he was involved at the Britannia Stadium. It illustrates how much deeper he was and how rarely he was on the ball in open play within 40 yards of the Stoke goal. The number of touches in his own box is partly a reflection of the nature of the game at Stoke, an end-to-end affair where Mark Hughes' side were willing to subject their visitors to a bombardment. But it is also indicative of Gerrard's willingness to drop in to help his centre-backs, sometimes forming a back three. It also allowed the Liverpool captain to get on the ball more.

MANCHESTER UNITED 2-0 SWANSEA

It was a game of two halves for two Manchester United players. David Moyes swapped Shinji Kagawa and Adnan Januzaj at the interval, moving the Japanese into his preferred position as a No. 10. Before then, he had been tucked in, rather than operating near the touchline. It had two consequences: United were getting fewer crosses from the left flank and full-back Patrice Evra was afforded too little protection.

When Kagawa was granted a role immediately behind striker Danny Welbeck, he exerted an influence. His header led to Antonio Valencia scoring the opener, he provided the centre which Chris Smalling should have converted and he had a shot cleared off the line by Leon Britton. As his second-half touch map shows, Kagawa specialised in finding space either side of Swansea's holding midfielders; although the No.10 position seems central, he was at his most effective in the inside-left and inside-right channels.

HULL 0-2 CHELSEA

David Luiz is an idiosyncratic footballer and a very different type of holding midfielder. Where others tend to patrol the area in front of the back four, he adopts more of an all-action approach. Where some scarcely have three shots in half a season, he had a trio in 90 minutes at the KC Stadium. He also won 10 aerial duels, showing one of the advantages of fielding a centre-back in midfield.

Yet the most intriguing aspect of Luiz's performance came in his passing. Whereas some anchormen specialise in keeping the ball with short, safe pieces of distribution, the Brazilian's ambition is evident in the number of times he tries to find distant team-mates. A pitch map of where his passes went shows how often he would aim for the wide men (particularly with diagonal balls from right to left) and how his first instinct is to go forward. Luiz played 16 long balls, nine of them accurately, which is a reason why he will never top the pass completion statistics.

Some 77 percent of his passes at the KC Stadium found a team-mate, which is low for a defensive midfielder. The encouraging aspect is that 76 percent did in the Hull half, showing he can pick out colleagues in threatening positions. The worrying part, highlighting the familiar accusation that he can lose concentration, is that his mislaid 22 percent of passes in his own half.