Replacing Theo Walcott's goals and assists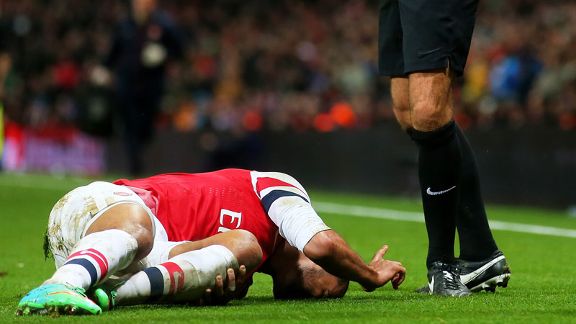 GettyImagesTheo Walcott holds his knee in agony.
The glee on Theo Walcott's face at the scoreline when he was stretchered off during the 2-0 win over Tottenham at the weekend was enough to convince Arsenal and England fans alike that a nasty-looking fall was not as bad as initially feared. The news on Monday night, though, confirmed those worries, as the winger was ruled out for the rest of the season and the summer World Cup in Brazil, having ruptured his anterior cruciate ligament.

Whether it is indeed his club or country who suffer more without him is yet to be seen, but he undoubtedly will be missed by both. The biggest glimmer of hope for Arsenal is that they managed for a large part of this season without him, retaining a title challenge and qualifying for the knockout stages of the Champions League. Given the vast ability within their squad, they should be sufficiently strong without him.

- Cox: Walcott blow shows need for fixture reform
- Palmer: Transfer targets after Walcott injury
- Mangan: Walcott injury a big blow

Just about any team would be improved with Walcott in their ranks, but given that Arsenal have won eight of the 11 Premier League games he missed this season (72.7 percent) compared with six of the nine he has started (66.7 percent), there is certainly reason to believe they will not stutter as a direct result of his absence.

Walcott does, though, add a different dimension to Arsenal. He is quite possibly the fastest player in the Premier League and provides an imbalance to the Gunners' attack that Arsene Wenger has embraced and made a hallmark of his team. With Walcott on one wing and Santi Cazorla or Jack Wilshere on the other, the right side has a player willing to race down the outside and run onto passes, while the left has a primarily central player there, inclined to come infield. That Arsenal have had 42 percent of their attacking touches down the right flank compared with just 30 percent on the left indicates the lopsided nature of their forays forward.

Perhaps as a result, for England, too, this is the case. Danny Welbeck has become first choice for the spot on the left side of an attacking midfield three behind either Wayne Rooney or Daniel Sturridge. Usually a centre-forward, Welbeck comes in off the flank to add another central body, while Walcott hugs the touchline -- to a greater extent at least -- and provides the width.

Without him for the remainder of the season and the summer tournament in Brazil, both sides will have to adapt.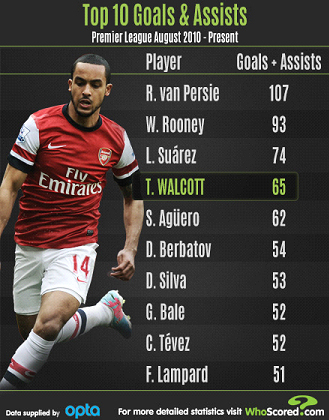 Other / WhoScored.com
Aaron Ramsey played wide-right three times in the Premier League for Arsenal this season, but he is now out and won't be an immediate replace -ment. Wilshere has appeared there three times, but while his exact best position is somewhat debatable, he certainly isn't as suited to a wide role as he is centrally. The opportunity is there, however, for the likes of Serge Gnabry and Alex Oxlade-Chamberlain to take.

Gnabry was on that right flank in the FA Cup win over Spurs, providing the assist for Cazorla's opener among six key passes he played on his way to a WhoScored man of the match award (rating 8.8). To put that chance creation into context, Walcott has laid on that many chances in a game only three times in his Arsenal career, and those came against Burnley and Wolves in 2010 and last week against Cardiff. For Gnabry to have done so certainly showed his credentials and highlights him as a real possibility for that spot in Walcott's absence.

Oxlade-Chamberlain, meanwhile, is only just returning from a lengthy injury layoff and faces a battle for fitness as well as form as he looks to cement his place in the team, and potentially even the England setup, too.

He has impressed whenever called upon on the international stage, which is almost as frequently as he has been for his club, and we have thus seen what he can deliver on the biggest stage. Capable of playing through the middle, too, Oxlade-Chamberlain is likely to see his chances in a central role restricted given Mesut Ozil's presence, and his best opportunity will certainly be out wide. Strong with both feet, he can cut in or go down the line, and uses his fantastic turn of pace to devastating effect, comfortable and confident enough on the ball to play with serious ambition for someone so young. In 42 Premier League appearances (24 of which have been from the bench), he has had 50 shots and attempted to dribble past an opponent 106 times. In doing so, he gives something different to the side, and if he can recover quickly, could certainly be a useful option for the Gunners.

For Roy Hodgson's England, fans were left drooling when Andros Townsend fired the Three Lions to victory in their all-important qualifiers back in September. However, this was in a large part given that Townsend did something that other England players didn't. While James Milner was solid and unspectacular, Townsend was expansive and exciting. With Walcott absent, Townsend has a huge chance to step up, and it may be he and Oxlade-Chamberlain are fighting it out for a starting spot.

At Arsenal, there will be a big Walcott-shaped hole on the right wing. In the last four Premier League seasons, only Robin van Persie (107), Wayne Rooney (93) and Luis Suarez (74) have directly contributed to (scored or assisted) more goals than Walcott (65). What is so impressive about this is not only that he has maintained such a record from the wing, but as we are currently witnessing, he has injury problems, too. His loss will be vast, but Arsenal fans can rest in the knowledge that they have ample back up, have survived without him before, and should be able to do so once again.

All statistics courtesy of WhoScored.com, where you can find yet more stats, including live in-game data and unique player and team ratings.