Walcott injury reinforces need for fixture reform
It is impossible to determine whether fatigue was a contributing factor in the serious knee injury suffered by Arsenal forward Theo Walcott, which will keep him out for the remainder of the Premier League season, as well as the World Cup.

However, the statistics are clear -- Walcott was playing his fifth game in the space of 13 days. It is a startlingly strenuous schedule, probably unmatched anywhere in top-flight European football at any point this season. Even at the upcoming World Cup, a tournament that notoriously features matches in quick succession and tests a player's fitness levels, there's only an outside chance that a player will compete in four matches in the space of 13 days -- let alone five.

Walcott's knee injury -- which didn't initially appear to be serious, considering the smile on his face as he departed on a stretcher -- was the third separate injury he suffered in the Tottenham game. His manager, Arsene Wenger, is one of the most intelligent managers around, hailed upon his arrival in English football as a revolutionary physiologist. Perhaps he would have liked to rest Walcott, but this was an important north London derby and he had a striker shortage because both Olivier Giroud and Nicklas Bendtner had also collected injuries over the Christmas period, while Lukas Podolski was only just recovering.

Again, it's difficult for someone with no medical background to reasonably blame fatigue with any level of certainty. Nevertheless, it's worth recalling the opening chapter to the autobiography of Robert Pires, one of Walcott's predecessors as an Arsenal wide man and a player who suffered a similar knee injury back in 2001-02, his best campaign for the Gunners.

"There's always some physical or psychological explanation as to why [injuries] happen," Pires wrote. "This one came about because I had been careless. Maybe I was mentally fatigued ... I just wasn't concentrating. I must have been worn out by the endless run of games, the constant competition ... for injury, read tiredness." He goes onto complain, in some detail, about the physical strain upon players in English football.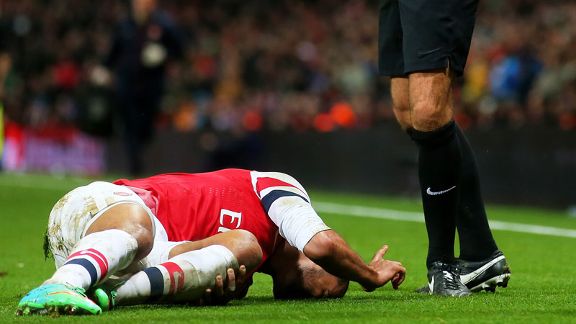 AllsportCould Theo Walcott's serious knee injury have been avoided if he wasn't playing so many competitive games over the holidays?

This is the worst time of year for the Premier League.

Statistics from the excellent analytics website StatsBomb prove that injuries have increased rapidly in recent weeks. Meanwhile, using data from the reliable injury source PhysioRoom, it appears around 25 percent of Premier League players are currently injured. Spurs, for example, have 11 players unavailable.

Ahead of a World Cup year, there are frequently calls for a winter break considering that England's chances are seemingly regularly harmed by fatigue. Successive England managers have complained about this issue, but isn't really the Premier League's problem; England are controlled by the Football Association, but the Premier League is an independent body.

It would indirectly help the Premier League as an organisation if England were world champions, but it's not their responsibility. Their concern, instead, should be that the absurd run of matches over Christmas is harming the footballers and the spectacle of the Premier League. Or, to use an expression they might sympathise with more, it's harming their "product."

The issue of a winter break won't go away, primarily because it won't happen any time soon, although Christmas football and a winter break aren't mutually exclusive. It seems logical, should England persist with Christmas football, to have a small break in early January. It would be a chance for players to rest, for managers to focus on the transfer window and for fans to take a breather at a time when money is tight.

If not, the Premier League needs to reduce the number of games over the Christmas period. Boxing Day matches are a great tradition, as are matches on New Year's Day. The matches in between, however, are superfluous. There is simply one too many matchday in this period -- games are extremely close together, and moving matches for television can mean one side having a crucial advantage in terms of preparation time. Injuries would surely be prevented if even one game was removed from this schedule.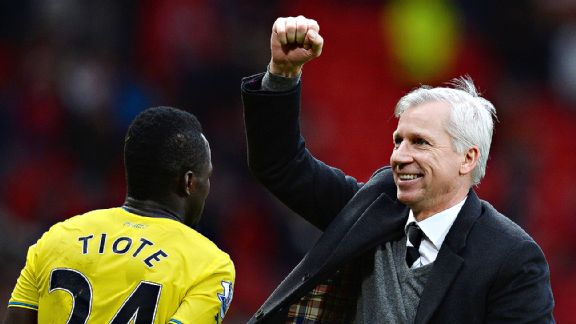 AllsportAlan Pardew has been vocal in his displeasure at the festive-fixture congestion given the physical toll it can take on players.

The packed fixture list is nothing new, but the increased pace of football means that such a succession of games has become increasingly dangerous. Watch a Premier League game from just 15 years ago and the contest is entirely different -- it feels like a walking pace compared to matches from the modern era. Today players are faster, passing moves are faster, transitions are faster and tackles are faster. Less contact is allowed, but players still dive in to challenges with incredible force.

English football's overall problem is the insistence on a 20-team league along with two cup competitions. Should England persist with both the League Cup and the FA Cup -- and despite their decline in importance, that format remains preferable -- a move to an 18-team league, replicating the Bundesliga, is preferable.

It's been over a decade since Sepp Blatter proposed that national leagues should be cut to 16 teams, in order to give players more rest. Those moves were fiercely rejected by the leagues and in fact, the opposite has happened. Since then, Italy has expanded from 18 teams to 20. Portugal grew from 16 to 18.

This is one of Blatter's rare good ideas. Cutting two teams from the Premier League wouldn't be a particular loss -- there seems to be a particularly high number of poor sides this season, for a start -- while a reduction of four games would allow more rest over Christmas and around the time of the European knockout stages. It also seems ridiculous that at the end of January and the start of February, there are two midweek rounds in the space of three weeks.

No wonder managers are treating the FA Cup with less regard -- it's the only chance for them to rest players.

"I am not convinced the timing of this historic weekend is conducive to Premier League teams being at their best, with the nature of the Christmas fixture schedule placing unrealistic demands on the players," wrote Alan Pardew in his weekend programme notes for Newcastle's FA Cup defeat to Cardiff.

"Injuries and fatigue are a natural by-product of a fixture list which does not consider the welfare and safety of the players," he continued. "I'm sure both sides in this game will be making changes, because it's unrealistic to expect top players to continue to perform every three days."

Ultimately, such a busy fixture list plays into the hands of the big clubs with the biggest wage bills, and increases the demands upon the smaller clubs -- therefore, the inequality in the division increases.

Some managers, like Jose Mourinho, relish the packed schedule. "It's a period I like," he said recently. "We go into the Christmas period and the accumulation of matches is so high ... I like that very, very much. I enjoyed it when I was in England and I missed it when I was in Spain and Italy." Not every coach, though, can rotate his starting XI and bring Juan Mata, Willian and Samuel Eto'o into the side.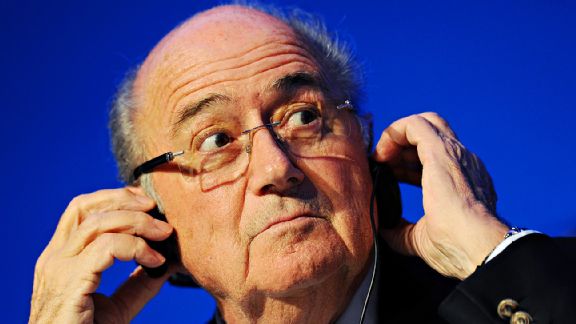 Shaun Botterill/Getty ImagesSepp Blatter's ideas about reducing fixture overload have been surprisingly sensible: trim league sizes to gently ease bloated schedules.

There persists a frustrating faction of English football supporters that insist footballers have no right to complain about their workload -- they're paid well enough, the reasoning goes, they should do their job. But the players are not complaining because they don't want to be playing football. They're complaining because they're unhappy at the elevated risk of injury.

Football is a sport that naturally embraces patience, one that doesn't follow the "more is better" approach. It's probably the lowest-scoring sport in the world; the point-scoring isn't frequent, but when it comes along, it's more meaningful. The same should apply to the number of matches.

It's not unreasonable to expect a fixture schedule that helps, rather than hinders, the standard of play. We should want the most talented footballers to be playing at their peak for the remainder of the season.

One of them, alas, won't be playing at all.