Unlike Moyes and AVB, simple approach has paid off for Sherwood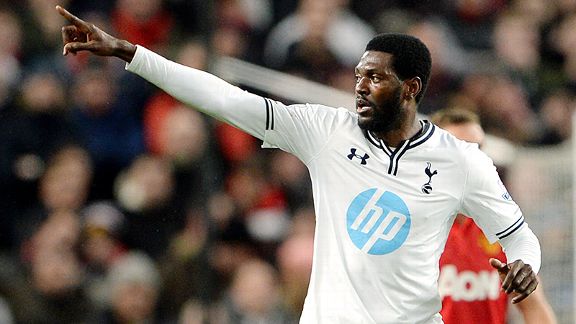 Michael Regan/Getty ImagesOnce a Spurs outcast, Emmanuel Adebayor has become a star under new manager Tim Sherwood.
Tottenham's dreadful record at Manchester United was once one of the Premier League's most famous pieces of trivia.

Like no Englishman ever winning the Premier League as manager, Robbie Fowler scoring the Premier League's fastest-ever hattrick, or Dennis Bergkamp coming first, second and third on Match of the Day's Goal of the Month competition in September 1997, Spurs' failure to win at Manchester United was legendary.

Now, they have won twice in a row at Old Trafford. It feels wrong, in the same way it feels wrong that Liverpool's 18 league titles is no longer the mark to beat, the same way it will feel wrong if Alan Shearer is ever overtaken as the Premier League's record goalscorer. The next time Spurs travel to Manchester United, they'll suddenly be tasked with 'continuing their good recent record at Old Trafford.'

United struggles

However, the truth is that Old Trafford is no longer a fortress.

Spurs' victory in the fixture last year was a genuine shock, this time around it felt significantly less surprising, even in the current state of relative uncertainty following Tim Sherwood's recent appointment. Manchester United's home record this season is dreadful: four defeats in ten matches, during which United have only registered twelve goals.

It's worth emphasising that United's problem under David Moyes is exclusively at home in the league. In the European Cup their progress to the second round was steady despite being drawn in a difficult group, and on their travels they've recorded 20 points, the third-best record in the league behind Arsenal and Tottenham. At home, they have only the 11th-best record in the division, behind the likes of Stoke and Hull.

When considering the reasons for a poor home record, the first port of call is usually questioning the home support.

That's the approach Andre Villas-Boas took when Spurs were on a poor home run, for example, and something Roy Hodgson mentioned during his struggles at Liverpool. As both managers found, it's rarely a useful strategy and besides, Moyes has no right to complain about the lack of support at Old Trafford. Chants featuring his name have been audible since the start of the campaign -- if United fans have doubts about the new regime, they've been expressed privately rather than at the ground.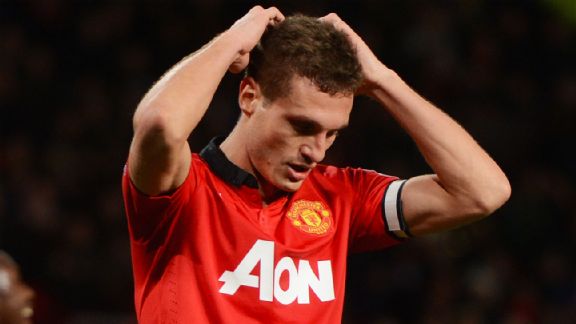 AllsportManchester United have failed to find an identity under David Moyes.
The problem for United is on the pitch, and the true cause of United's woes at home is Moyes' inability, thus far, to give his side a particular identity.

At Everton, he was known as a reactive manager who scouted opponents intelligently before devising a strategy that would nullify the opposition strengths, and exploit their weaknesses.

At Manchester United, such an approach isn't always workable at home. Sides come to Old Trafford and play cautiously, and therefore the onus is upon Moyes' side to dominate, to take the game to the opposition. They've generally recorded more than 50 percent of possession, although both Southampton and Newcastle have outpassed United at Old Trafford this season, but it's still not entirely clear what the purpose of Manchester United's possession is.

The central midfield zone, in particular, remains a worry. A half-fit Michael Carrick cannot be blamed for his poor performance yesterday, but United lack a true playmaker that can dominate a game. The pursuit of the likes of Cesc Fabregas, Luka Modric and Ander Herrera last summer suggested Moyes was aware of this problem, though the eventual recruitment of Marouane Fellaini provided a predominantly physical rather than a technical option alongside Carrick, and the Belgian has been used sparingly.

It's true, of course, that Ferguson got around this problem in his final years (although he could at least call upon Paul Scholes when needed) and if both Carrick and Rooney are at their best, United can dominate midfield clashes and work the ball across the pitch majestically. The issue, however, is one of identity -- this isn't yet Moyes' side.

Tottenham prosper

Almost everything Tim Sherwood has prescribed as Tottenham manager is precisely the opposite of what Andre Villas-Boas would have done.

He's recalled Emmanuel Adebayor from obscurity, has played an amazingly attack-minded 4-4-2 system, and instructed his players to sit much deeper without the ball. Considering the board of directors, many fans and seemingly the majority of players had become frustrated with Villas-Boas' ways, it was the logical approach if Sherwood wanted to be appointed permanently, and his wish was granted.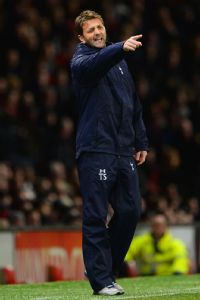 Michael Regan/Getty ImagesTim Sherwood's approach has been almost the complete opposite of Andre Villas-Boas's.
Sherwood hasn't proved as tactically naive as first appeared, however. Against Manchester United the side had great balance which ensured they weren't exposed in midfield -- not only did Adebayor repeatedly drop deep into midfield, meaning he and Roberto Soldado were offering two separate points of attack, Christian Eriksen also drifted into the middle from the left flank, to become a third central midfielder.

There's nothing particularly complex about this approach, of course, but it was crucial in Tottenham's performance. Although Sherwood clearly doesn't subscribe to the view that dominating possession is pivotal in the process of attempting to win a game of football, Spurs had moments of superiority because they didn't simply rely on counter-attacking down the flanks.

Instead, they had a balance. Eriksen drifted inside while Aaron Lennon played a straightforward, old-school right-sided role. The winger has frequently outfought Patrice Evra in recent years, and his directness was crucial in helping Spurs attack United quickly.

"I thought we could have played better," said Sherwood after the game. "We could have moved the ball a bit sharper because they were there for the taking." That suggests he wants repeated direct attacks, but Spurs' tempo actually suited the situation of the game -- rather than contributing to an end-to-end, back-and-forth, topsy-turvy basketball match, their patience in possession helped frustrate United.

We shouldn't read too much into a single game, of course. This was a narrow one-goal victory for Spurs, and even Sherwood admitted his side were fortunate not to concede a late penalty when Hugo Lloris fouled Ashley Young on the edge of the box.

Yet, it's three victories from four league games since Sherwood took charge. His style and demeanour suggests he's more of an impact manager than an intelligent coach with a long-term vision, but it's already easier to understand his intentions than that of Villas-Boas -- or, for that matter, Moyes.