Tactics Board: Hazard rises against Reds
CHELSEA 2-1 LIVERPOOL

Eden Hazard had been criticised for his record in major matches. He rectified that against Liverpool, scoring the equaliser and delivering a dominant performance. What his touch map highlights is that although he was often on the right, he and Willian both spent spells on each flank. Although his touches in central areas were fewer, Hazard came infield intelligently, as his goal showed.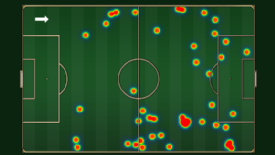 OtherEden Hazard covered a vast area against Liverpool.
The Belgian has usually been used on Chelsea's left this season. The presence of a makeshift left-back, in Daniel Agger, prompted a switch to the right for much of the match. It meant Willian was on the left, tracking back with Glen Johnson. Jose Mourinho wants his wingers to protect their full-backs, and it is telling that Hazard has a handful of touches deep in his own half. Willian had more, however, showing what a fine job he did defensively against Johnson and Raheem Sterling.

NEWCASTLE 0-1 ARSENAL

One of the reasons that Mesut Ozil's arrival at Arsenal was such a surprise was that Arsene Wenger already possessed plenty of players who can operate as a No. 10. In the absence of the injured Ozil, he selected three of them -- Santi Cazorla, Jack Wilshere and Tomas Rosicky -- at Newcastle. Yet, with the Spaniard on the left and the Englishman and the Czech forming part of a central trio, none really played as a No. 10.

Instead, Wenger altered the shape of his midfield triangle to counter Newcastle. Rather than playing two holding players, he used Mathieu Flamini as a lone anchorman, charged with operating in Yohan Cabaye's sphere of influence. Then, instead of playing Wilshere or Rosicky just behind striker Olivier Giroud, they flanked Flamini, playing in slightly more advanced roles than the Frenchman as they went up against Vurnon Anita and Cheick Tiote. Arsenal being Arsenal, there was scope for fluidity and swapping positions, but it was notable that, as they ground out a win, Rosicky and Wilshere were rarely found in the most attacking areas. The Czech's touch map shows where he did his work. While by inclination he may be a No. 10, he had to put in a shift for his side against a more obviously physical opponent in Tiote. Tellingly, Rosicky committed more fouls -- three -- than any other Arsenal player, a sign of how committed their flair players were.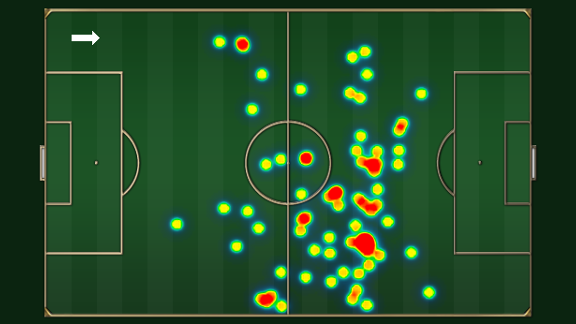 OtherTomas Rosicky was busy as Arsenal returned to the top of the Premier League.
NORWICH 0-1 MANCHESTER UNITED

Manchester United had a lot of defending to do at Carrow Road. With Patrice Evra being troubled by his immediate opponent, Norwich right winger Robert Snodgrass, the Manchester United left-back was busier than most. And despite his difficulties, Evra helped protect the clean sheet in one respect: He made 17 clearances. It is a huge number, almost three times his average for the season (6.5 per game). As the map of his defensive contributions shows, several of them were near his own 6-yard box. It was a sign of the pressure Norwich put United under.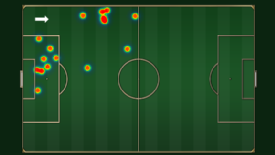 OtherManchester United's defence felt the heat against Norwich.
Indeed, the entire back four had to clear their lines with unusual regularity: Nemanja Vidic made 13 clearances, Jonny Evans 10 and Chris Smalling nine. A recurring theme among all four was the number of times they were required to intervene in their own box.

MANCHESTER CITY 1-0 CRYSTAL PALACE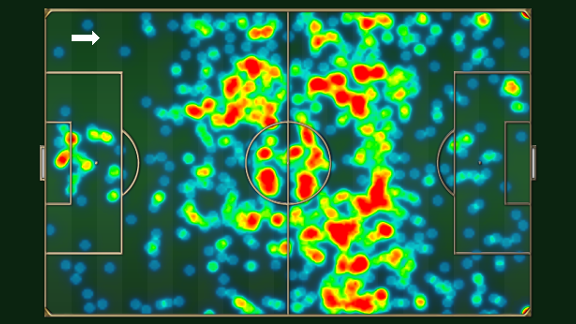 OtherManchester City were forced to work hard to break through Palace's defence.

Manuel Pellegrini accused Crystal Palace of wanting "to stay in their own goal." Actually, the touch map for the whole Manchester City side indicates, Palace were camped on the edge of their own penalty area. Tony Pulis' plan was to keep City out of his side's box, and broadly speaking, it worked. City had 23 shots and 77 percent of possession as Palace ceded both the ball and territory to the home side. They had comparatively little to do within 40 yards of their own goal; instead, they had plenty of play in what may be deemed the third quarter of the pitch: between the halfway line and the Palace 18-yard area. The concentration in the inside-left and inside-right channels are a sign of how well Palace defended in the centre, while those in the left-central defensive position are an indication how often Matija Nastasic was on the ball: He had 112 touches. Javi Garcia had 109, Jesus Navas had 95, David Silva had 94 and, most remarkably, Samir Nasri, who came on in the 55th minute, had 67, more than any Palace player managed in the entire match.

With them seeing so much of the ball, Palace had very little. Only one outfield player -- Jason Puncheon -- touched the ball more often than goalkeeper Julian Speroni. But he picked the ball out of his net only once, and every other visiting keeper has conceded at least twice. Perhaps it means more teams will park the bus at the Etihad Stadium this season.