Tactics Board: Adebayor seizes chance to shine
SOUTHAMPTON 2-3 TOTTENHAM

On his first start of the league season, Emmanuel Adebayor made up for lost time, scoring two goals and helping caretaker-manager Tim Sherwood record a first win. His touch map shows how involved he was. What it also indicates is how much time he was able to spend on the wings.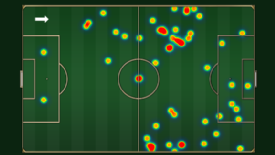 OtherEmmanuel Adebayor played an active role in Spurs' victory.
That was a consequence of Sherwood's tactical change. He abandoned Villas-Boas' 4-2-3-1 for 4-4-2, a retro shape that brought the return of the old-fashioned strike partnership. It meant that, rather than having one striker who had to stay in the centre, both attackers were tasked with working the channels. Roberto Soldado was able to play a part on the left wing for Spurs' first two goals, delivering the cross for Adebayor's equaliser. While the Spaniard was less prominent than the Togolese, he still had three shots, an increase on his average for the season that suggests he benefited from the different formation. Adebayor also gave Tottenham the option of bypassing the midfield: He won six aerial duels, showing that he, unlike Soldado, can function as a target man.

LIVERPOOL 3-1 CARDIFF

There are several reasons why Luis Suarez is outscoring other strikers. One, perhaps, is that he is on the ball more than most. Consider the players who were the furthest man forward for their respective sides at the weekend: Danny Welbeck had 17 touches (albeit in only the first 54 minutes before he was substituted), Loic Remy 27 and Alvaro Negredo 37. In contrast, Suarez had 71 as Liverpool beat Cardiff. That is entirely typical. His past three games at Anfield have brought an average of 71.3 touches, 8.3 shots and 2.7 goals. So, rather than being remarkable, Saturday's display has become the norm for Suarez.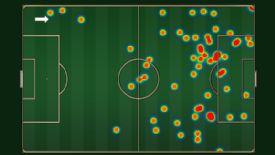 OtherLuis Suarez's ability to get on the ball sets him apart.
His touch map highlights his work rate and his range. In the style of predators, he has plenty of touches inside the opposition penalty box, but unlike most and in the style of a No. 10, he does much of his work in deeper and wider positions. As Suarez's pitch map indicates, stopping him is no one-man task, but a job for the entire team.

MANCHESTER UNITED 3-1 WEST HAM

Throughout his reign, David Moyes has selected Wayne Rooney in his preferred position as a No. 10. In the past couple of games, however, there has been a slight shift. At the start of the season, Rooney was deployed just off the sole striker, usually Robin van Persie. Against Aston Villa and West Ham, he has operated a little closer to the central midfielders. It is a reason why United's formation, which tended to be 4-4-1-1, is now more 4-2-3-1; it is a subtle switch but still a significant one.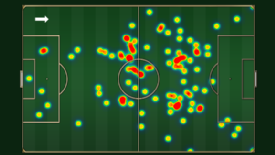 OtherWayne Rooney is finding a way to be effective in deeper areas.
And while Rooney set up two goals against the Hammers, it is notable he was more of a provider. He had more touches inside his own penalty area than the visitors' box. He attempted a mere two shots, but he recorded two assists. And he was on the ball more than anyone else, as his touch map suggests, and completed more passes than any of his teammates. To put it another way, he is doing more of a midfielder's job and less of a striker's. Given the problems United have had in the centre of midfield this season, it indicates Moyes has eased the burden on some underperforming pairs by moving Rooney a few yards back to help them.

FULHAM 2-4 MANCHESTER CITY

As Manchester City extended their extraordinary scoring run, it may seem perverse to focus on their only outfield player who did not threaten the Fulham goal. Gael Clichy was alone in not touching the ball in the Cottagers' penalty box. As his touch map proves he was nowhere near it.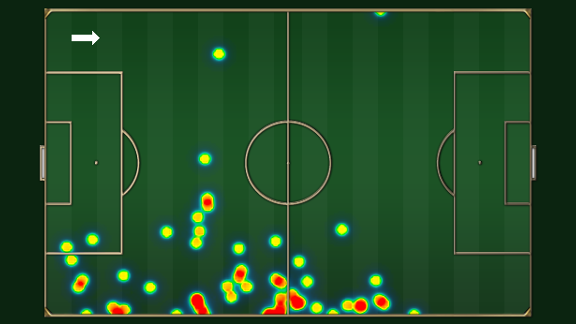 OtherErring on the side of caution, Gael Clichy rarely ventured too far forward.
There is one fundamental reason for this. A career left-back playing out of position on the other flank because the specialist right-backs Pablo Zabaleta and Micah Richards were both injured, Clichy cut an uncertain figure and was particularly cautious in his positioning. It also had a consequence for the men ahead of him: Because Clichy turned infield onto his left foot, he wasn't always at the appropriate angle to pass forward. Indeed, he didn't pick out a single colleague within 35 yards of the Fulham goal.

Two other displays provide a contrast with Clichy's inhibited display: the overlapping of Aleksandar Kolarov on the left - tellingly, he put in four crosses and Clichy none – and Zabaleta's marauding display against Arsenal seven days earlier. The Argentine was around 100 yards from his own goal when he crossed for Negredo to score City's second goal against the Gunners. Clichy, a stranger to the right-back role, was not willing to gamble and adopt a similar position against Fulham.