Club icons are becoming less desirable on the Prem management scene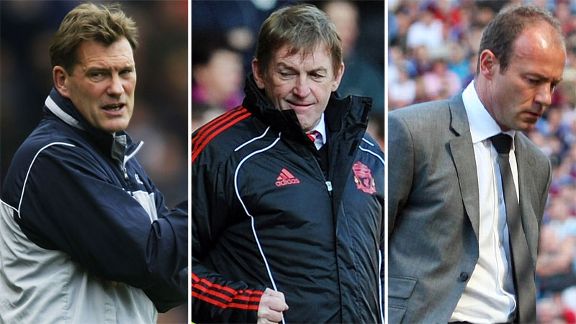 Getty ImagesGlenn Hoddle, Kenny Dalglish and Alan Shearer are all icons that had success as players but not as managers.
After the sudden departure of Andre Villas-Boas on Monday morning, it didn't take long for an old Tottenham legend to be linked with the managerial job.

Glenn Hoddle, who hasn't managed for over seven years since an ill-fated spell as Wolverhampton Wanderers boss, was the inevitable choice. A website co-founded by the former England manager, Zapsportz.com, "understands that Hoddle will certainly help if the club makes an approach."

Currently, Hoddle is third favourite for the job, behind Ajax coach Frank de Boer and the current caretaker boss, Tim Sherwood. Another former Spurs manager, Ossie Ardiles, backs Hoddle. "For me, the man for the job is Glenn Hoddle," Ardiles said to Talksport. "He is a wonderful manager and he is a lot more mature [than during his first spell in charge] so I think he will be a wonderful choice. He knows everything about the Premier League and Spurs especially."

Many supporters would agree.

The problem with Hoddle, however, is that the only reason he's being linked with the job is because of his Tottenham connections.

If a club in a broadly similar position -- Liverpool, perhaps -- were to find themselves without a manager, Hoddle wouldn't be anywhere close to being the favourite. He had promising spells with Swindon and Chelsea nearly two decades ago, fared reasonably well with England before being dismissed after making ill-advised remarks about his religious beliefs, then had a good spell at Southampton before flopping with both Spurs and Wolves. In comparison to the likes of de Boer, Luciano Spalletti or Fabio Capello, his CV isn't particularly impressive.

Hoddle has remained in the spotlight as a regular pundit on British television. He is an eloquent man with a good football brain, and is particularly interesting when analysing England's under-21 games -- he clearly recognises footballing intelligence and good technical ability, and genuinely has a passion for developing young talent. Throughout his managerial exile, he's been running the Glenn Hoddle Academy in Spain, helping to rejuvenate the career of English youngsters who have been released by Football League clubs, aiming to find them professional contracts. It's an original and positive way for a fine football thinker to spend his time.

His punditry is less impressive when discussing top-flight football, though -- he says his ideal Spurs XI would be a 3-4-1-2 with Andros Townsend as the No. 10, an idea that seems, like Hoddle, more suited to the 1990s.

This isn't a criticism of Hoddle, however -- more a criticism of the idea that a manager should be appointed simply because he played for the club with distinction. Here's the evidence from Hoddle's time at Spurs: marvellous footballer, underwhelming manager. When considering a managerial vacancy, ignoring the latter to concentrate on the former is lunacy.

Overall, Premier League clubs are increasingly moving away from appointing ex-players as managers. Throughout the first two decades of the Premier League, it was an entirely common situation: George Graham at Arsenal, Kenny Dalglish at Liverpool, Brian Little at Aston Villa, Sam Allardyce at Bolton and Alan Shearer at Newcastle were all appointed to the clubs they were most associated with as players. There are dozens more examples. Alan Curbishley's two jobs, at Charlton and West Ham, were both with clubs he played for -- no one else seems interested.

This season, 2013-14, is the first campaign since the formation of the division when no managers are at clubs they once played for -- even last year we had Roberto Di Matteo and Roberto Martinez. Brendan Rodgers has no association with Liverpool, Mauricio Pochettino clearly isn't from Southampton, Michael Laudrup probably hadn't heard of Swansea until a couple of years ago. Familiarity with the club has become a less valued concept.

And rightly so: management has changed significantly over the past 20 years, especially in England. Management was once viewed as a rather simple task -- it was about motivation and man-management plus signing and then picking the right players.

Things have evolved considerably. There's a significantly greater emphasis upon strategy and tactics, upon player conditioning and diet, upon statistical analysis of player performances, upon recruiting unknown players from far-flung leagues, upon creating a "philosophy" that can be observed throughout every youth level at the club right up to the first team.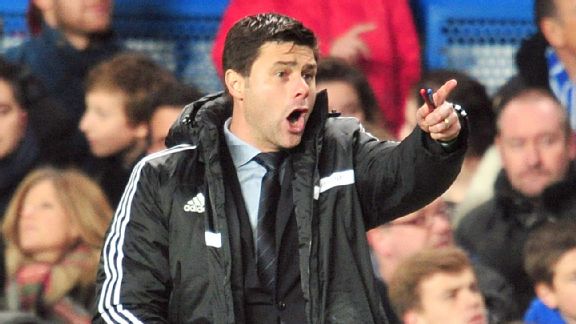 Glyn Kirk/Getty ImagesMauricio Pochettino has thrived at Southampton due to his insistence in focusing on a philosophy.
It's become a very different task, for intelligent, studious academic-style coaches rather than ex-players. It has become something of an office job, and managers are switching between clubs frequently. Pochettino's work at Southampton, for example, is completely transferrable to the job at Spurs -- to a greater extent than Hoddle's playing excellence, anyway.

During Dalglish's second spell at Liverpool, one club insider believed that one of his problems was his inability to grasp the sheer scale of managing a football club in the modern era.

He coached the side reasonably well but took surprisingly little interest in the overall running of the football club. Fans were delighted to see him return after the ill-fated reign of Roy Hodgson, and the fact that Liverpool reached two cup finals can't be ignored, but it was largely 18 months of stagnation under a manager appointed because he was a club legend rather than a bright manager equipped for today's world.

This isn't to say clubs shouldn't have a defined philosophy, and attempt to promote from within wherever possible.

At Barcelona, for example, a club with a genuine identity over the last 40 years both on and off the pitch, it makes perfect sense to turn to people like Pep Guardiola and Tito Vilanova, two men who rose through the youth academy at the club. That knowledge is of value, because identical concepts are preached today in the club's prolific youth system.

It makes less sense at Spurs -- a club whose supporters "want the game to be played in the right way" (which set of fans don't?) but who lack a genuine theme running through their teams over the last couple of decades, partly because of the incessant chopping and changing of managers.

Hoddle's reappointment, like that of Dalglish at Liverpool, would unquestionably get the fans onside, and the importance of home fans acting as the "12th man" shouldn't be underestimated. It's interesting that Hodgson, Dalglish's successor, complained about the lack of support from home supporters in a similar manner to Villas-Boas earlier this season. A club legend doesn't encounter that problem.

It's a short-term fix, though, based upon nostalgia rather than logic. Perhaps it's a depressing reality, but emotional ties are best forgotten in these circumstances.