What makes an offence dynamic? Here's a checklist...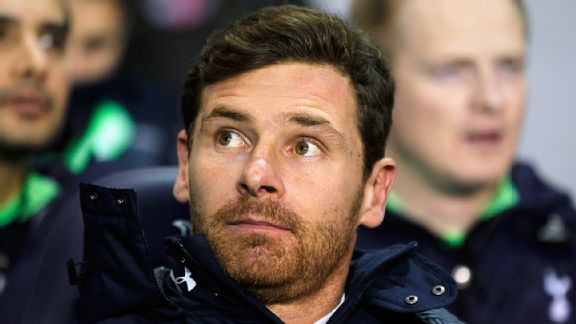 Ian Kington/AFP/Getty ImagesAndre Villas-Boas made some poor tactical decisions that allowed Liverpool to errupt for five goals this past weekend.
Tottenham's 5-0 defeat to Liverpool on Sunday proved to be the final nail in Andre Villas-Boas' coffin -- the Portuguese coach was sacked less than 24 hours later, to little surprise.

It was one of those astonishingly one-sided games, between two sides apparently well-matched on paper, that prompted a debate about what was more important to the result: Liverpool's brilliance or Spurs simply being woeful. Inevitably, it's a combination of both.

But it's difficult to ignore Tottenham's sheer tactical stupidity. Playing a high defensive line with an unfamiliar and slow centre-back partnership, against the Premier League's best goalscorer who loves running in behind opposition defences, is one of the most curious managerial decisions of the season.

Liverpool exploited Spurs' weakness calmly and efficiently, taking advantage of the space both in front of and behind the opposition defence. Luis Suarez must have been licking his lips at the prospect of racing through the defence, while the energetic, forward running of Jordan Henderson proved particularly crucial.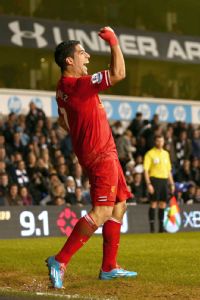 Paul Gilham/Getty ImagesLuis Suarez had a field day taking advantage of Tottenham's poorly set up high backline.
Henderson made clever runs in behind for Liverpool's first three goals, and encouraged teammates to play the ball directly into attack, rather than gradually moving up the pitch and allowing the Spurs backline to settle. That was Brendan Rodgers' only particularly clever strategic decision -- otherwise, Spurs simply played into Liverpool's hands. There's absolutely nothing to fault about the manner of Liverpool's performance, but can it really be considered a great attacking display when the opposition makes life so easy?

It throws up an interesting debate about what a truly great attacking performance is. Similarly, while Barcelona's 5-0 victory over Real Madrid in the first Clasico between Pep Guardiola and Jose Mourinho is arguably the most memorable club game of the decade so far, again it's slightly tough to ignore Real's alarmingly misguided strategy -- with a defensive line so aggressive that it wouldn't look out of place in a Villas-Boas side. Real played into Barca's hands.

Former England manager Steve McClaren once made an interesting point about attacking play. He agreed that there are essentially only three ways to break down an opposition back four: You can go around the defensive unit, go over the defensive unit or go through the defensive unit. It's a simple concept, and McClaren was mocked by less charitable members of the media for the comment, but sometimes breaking football down into its most simplistic concepts is the basis for great analysis.

Intelligent managers structure their defences to negate an opposition's major strength. If you're playing against Barcelona, for example, it makes sense to defend deep and narrow -- preventing Barca from knocking the ball in behind or through the defence. Force them to go wide, where they lack reliable crossers and impressive target men, and you're more likely to succeed.

Therefore, the most impressive -- if not necessarily the most spectacular -- attacking performances come when the opposition defence utilises the logical strategy but is still defeated.

There are two variations: Either the attacking side is so effective at their favoured style of play that the opposition tactics are rendered ineffective, or the attacking side shows significant variation and flexibility to surprise the opposition, attacking in a completely different manner.

Persevering with the initial plan

Villas-Boas plays a part in another interesting example -- this time, he was on the winning side. When his Porto side faced Benfica in November 2011, Jorge Jesus recognised Porto's main strength -- their right flank. Hulk was in sensational goal-scoring form, cutting inside from the onto his left foot and blasting toward goal. Falcao would prove the major hero of Porto's unbeaten campaign, but at that stage, Hulk was the main threat.

Therefore, Jesus adjusted his side completely, attempting to stop Porto's dominance down the right. David Luiz was moved across from centre-back to play in the unfamiliar position of left-back. He played narrow, attempting to deny Hulk space on the inside. Furthermore, usual left-back Fabio Coentrao was shifted forward to the left of midfield and was supposed to double up against Hulk.

But Hulk, and Porto, were so good at their favoured style of play, they played their natural game successfully anyway. The clever runs of right-sided central midfielder Fernando Belluschi, combined with Hulk's sheer power, meant Benfica were ripped apart. Porto won 5-0 -- all five goals came from the right flank, the zone Benfica were trying to shut down.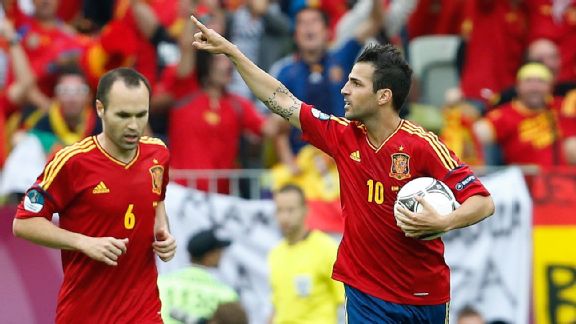 Reuters/Tony GentileSpain stuck to their guns vs. Italy and reaped the benefits in the 2012 Euro final.
Another example is Spain's 4-0 victory over Italy in the European Championships final in 2012. Cesare Prandelli's Azzurri had held Spain to a 1-1 draw in the opening round of the competition, and the team appeared well suited to playing against Spain's clever short passing. They played a diamond midfield, packing the centre of the pitch, and defended deep to prevent space in behind.

Spain, however, persisted with their tiki-taka -- and it was so precise that Italy were repeatedly opened up. The opening goal, a brilliant passing combination between the front three -- Andres Iniesta, Cesc Fabregas and David Silva -- was almost unstoppable. Italy were deep, they were narrow, they were compact -- and they were still opened up. Spain were irresistible.


Switch to Plan B

An alternative solution, however, is to react to the opposition's strategy by varying the approach. This can, in some situations, be even more impressive -- showing adaptability and flexibility.

Two of this season's best performances are good examples.

Arsenal's 2-0 victory over Napoli wasn't a spectacular scoreline, but the first half hour is as good as Arsene Wenger's side have played in years -- they utterly dominated the game and repeatedly created goalscoring chances.

Arsenal were playing without any natural wingers, and therefore Napoli defended extremely narrow, attempting to deny Arsenal space in the centre. But Arsenal didn't play into the hands of Napoli's tight defensive block -- they went wide. Both Aaron Ramsey and Mesut Ozil took advantage of the space on the flanks, with Ramsey teeing up Ozil for the opener, and Ozil assisting Olivier Giroud for the second. Arsenal controlled the game afterward, cooling the tempo calmly. It wasn't a historic result, but it was a tremendous attacking performance.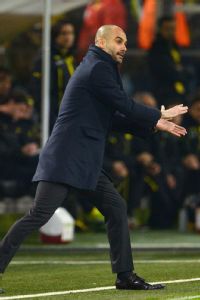 Patrik Stollarz/AFP/Getty ImagesPep Guardiola's ability to switch his tactical decisions on the fly makes him one of the best managers in football.
Another recent example of a side showing great flexibility is Bayern in their 3-0 victory at Borussia Dortmund last month.

Guardiola was aware that Dortmund would press Bayern heavily, so rather than asking his players to play their usual possession game, he ordered his centre-backs to hit long balls, bypassing the pressure and finding Mario Mandzukic quickly. Dortmund asked the question, Bayern provided the answer.

Later, once Dortmund's pressing dropped, Guardiola introduced both Thiago and Mario Gotze, who played a crucial role as Bayern introduced their short passing on the contest in the latter stages, eventually scoring three fine goals. Bayern showed great adaptability as the contest progressed -- although in this instance, they started with the variation, before moving back to their standard approach.


Wins don't come much more spectacular and convincing than Liverpool's 5-0 weekend win. In one sense, however, it was simply too easy -- the defence was breached so simply.

Over an extremely difficult Christmas period, Rodgers' side face both Manchester City and Chelsea: two sides which will showcase more intelligent strategies -- minimising space between the lines, and defending much deeper.

Whether Rodgers responds by emphasising Liverpool's default strategy or by varying the approach remains to be seen. A calm, controlled 2-0 win might be more meaningful than thrashing a shambolic Spurs side, however.

The greatest attacking performances come when the opposition defends intelligently but is still defeated -- not necessarily when a side scores a lot of goals.