Tactics Board: Henderson shows his adaptability
TOTTENHAM 0-5 LIVERPOOL

The No. 10 role tends to be a specialist position. At White Hart Lane, Brendan Rodgers put his most versatile player there.

Jordan Henderson has also been a right wing-back and a right-sided midfielder, a left-sided midfielder and an orthodox central midfielder this season and he ended a previous trip to Tottenham at right-back. The criticism of Henderson as a No. 10 -- or any kind of attacking midfielder -- was that he didn't score or create enough goals. He rectified that at White Hart Lane, setting up the first goal and scoring the second.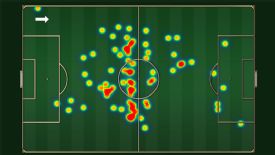 OtherJordan Henderson showed his adaptability against Tottenham.
What his touch map illustrates is that, in effect, an adaptable footballer had dual roles: most of his touches are those of a conventional central midfielder, linking up with Joe Allen and Lucas Leiva beside him and Philippe Coutinho and Raheem Sterling, who were on either side and after substitute Luis Alberto took over as the No. 10. Yet he also used his pace and stamina to get forward sporadically, but hugely effectively, and often on the counter attack to exploit Tottenham's high defensive line.

It was intelligent movement and tellingly, after playing a part in the build-up when Jon Flanagan scored Liverpool's third goal, he did not touch the ball within 40 yards of the Tottenham goal. He preferred to stay deeper and keep the ball. A 92 percent pass completion rate is a sign of how well he did that.

ASTON VILLA 0-3 MANCHESTER UNITED

Danny Welbeck's brace was described by David Moyes as "poacher-type goals". As the Manchester United manager said himself, these are the type of goals Welbeck needs to score more often. He tends to be a striker who does much of his work outside the penalty box.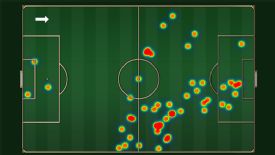 OtherDanny Welbeck showed his predatory instincts against Aston Villa.
At Villa Park, however, he showed more of a predatory instinct. He had only had 12 shots in the Premier League this season before having seven more in the space of 90 minutes. His touch map also includes a concentration of dots between six and 12 yards out. They are the sort of positions Javier Hernandez is expected to occupy, not Welbeck.

MANCHESTER CITY 6-3 ARSENAL

It isn't often a defensive midfielder scores twice, let alone in a match of two title contenders, but Fernandinho is far from a conventional defensive midfielder.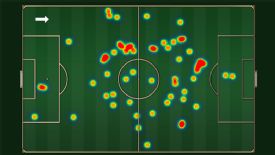 OtherFernandinho didn't act like a defensive midfielder with two goals against Arsenal.
Indeed, as his touch map shows, he isn't particularly defensive -- it is merely that Yaya Toure is often in a more advanced position, as are the wide midfielders and the strikers. The most obvious element of his contribution is that he scored twice. He had three shots and, whereas past Tactics Boards have featured central midfielders who have scarcely been on the ball in the final third, Fernandinho is often found within 35 yards of the opposition's goal. It is a sign of his pace and stamina.

The other way he differs from many a holding, or deep-lying, midfielder in rival teams is that whereas they tend to be on the ball the most, he touched it the least of any of the City quartet. Indeed, David Silva had nine more touches, even though he was substituted in the 71st minute.

Fernandinho's pass completion rate (80 percent) is also low for a player in his position. It is another indication that Manuel Pellegrini wants him to get both the ball and himself forward, rather than concentrating on retaining possession and shielding the back four.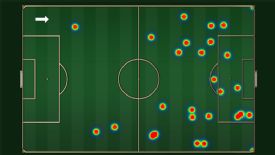 OtherTheo Walcott roamed around the ground to find the ball against Manchester City.
Theo Walcott
made his first start in the Premier League for three months and scored twice. His touch map shows that, rather than staying on the right, how far he roamed. It also indicates how infrequently he was on the ball.

He had just 30 touches; in contrast, when Tomas Rosicky began the Hull game on the right wing, he had 72. It indicates the difference between a midfielder -- who have been on the right flank for Arsenal for much of the season, and who will come deeper to look for the ball -- and a winger with aspirations to be a centre-forward, who is in possession less but in scoring positions more.

CHELSEA 2-1 CRYSTAL PALACE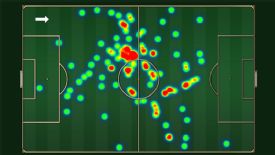 OtherMichael Essien was heavily involved in Chelsea's 2-1 win over Crystal Palace.
Michael Essien
made only his second start of the league season and, in one respect, made up for lost time. He was heavily involved against Crystal Palace, with 87 passes and 109 touches, both more than anyone else on the Stamford Bridge pitch.

His touch map provides a contrast with Fernandinho's. The concentration of dots just inside his half shows where he does much of his work but, lacking the physical power the Brazilian has, and he boasted in his younger days, he did not figure at all in the Palace box. Essien's is more of a conventional central midfielder's performance for a dominant team.