Are Clichy and Nasri better since leaving Arsenal?
In Arsene Wenger's early days in English football, one of his specialities was selling players at exactly the right time. Whether he was inheriting veterans and squeezing a couple of extra seasons out of them or signing and developing talented youngsters, Wenger's old charges always seemed to decline after leaving Arsenal.

Take the first trio of major stars to leave Wenger's Arsenal, for example. Nicolas Anelka left in 1999 after only one season as a regular, joining Real Madrid. But the French striker flopped, managing just two league goals before rejoining his first club, PSG, and then becoming something of a journeyman footballer. It took a decade before Anelka tasted true success again, winning the Golden Boot and the Premier League with Chelsea.

The following summer, Emmanuel Petit and Marc Overmars set sail for Barcelona but both had difficult experiences. Petit lasted just a season before returning to London with a three-year spell at Chelsea. In that pre-Roman Abramovich era, the Blues were a clear step down from Arsenal, and the closest Petit came to success was when he lost to his former club in the 2002 FA Cup final. He retired at 33. Overmars lasted longer at Barcelona -- four seasons. But he didn't win a single trophy, and retired following knee problems at just 31.

In recent years, things have changed. Due to both a lack of trophies and money, Arsenal have long been accustomed to losing their star players to clubs of a similar, or greater, stature. Patrice Evra famously mocked Arsenal for being a mere "football training centre." Even legendary former captain Tony Adams declared them a "feeder club" following the loss of Robin van Persie to Manchester United.

Previously, Arsenal players left and flopped. Now van Persie, Ashley Cole, Mathieu Flamini, Cesc Fabregas, Alex Song, Kolo Toure, Gael Clichy and Samir Nasri have won major league titles with new teams, while Arsenal have remained on the periphery of the title battle. But this weekend, Wenger's side will face the final two: Clichy and Nasri. Both have a league winners' medal having joined Manchester City in 2011. But has either become a better player?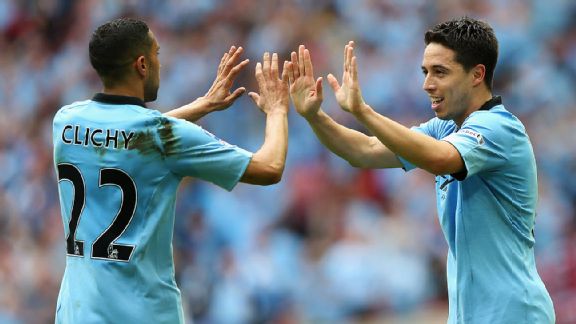 Alex Livesey/Getty ImagesGael Clichy and Samir Nasri have been more successful, but not better players, since leaving Arsenal.

First up, Clichy. The Frenchman has arguably never grown into the player many expected. In the first couple of seasons after Ashley Cole's defection to Chelsea, it seemed like Arsenal had upgraded -- Cole initially struggled under Jose Mourinho, while Clichy had spent three years as Cole's understudy and stepped up immediately.

Clichy is a peculiar player. Although he's spent his entire career at left-back, the Toulouse-born defender is naturally right-footed -- under strict instructions from his father, who coached Clichy's youth side and refused to allow his son to use his right foot during training drills, he gradually developed his left foot to the point that it became his preferred side.

Defensively, Clichy's strong suits are his reading of the game and his acceleration. As such, he constantly makes interceptions by stealing in ahead of the opposition right-winger, winning possession before needing to react to his opponent's decisions, and then launching a quick counterattack. Although playing in a different position, in many respects his defensive attitude is similar to that of his former Arsenal teammate and compatriot, Laurent Koscielny.

However, Clichy can be prone to mistakes. Arsenal fans remember his curious indecision away at Birmingham in 2007-08, when he unnecessarily hesitated in his own penalty box before bringing down an opponent. The penalty decision was actually incorrect -- Clichy played the ball -- but he'd got himself into trouble for no reason, and took the blame. Arsenal's title charge unravelled from there.

At Man City, he's mixed some decent, understated performances with too many glaring errors. Take his failed offside trap against Bayern Munich earlier in the season, when he allowed Thomas Mueller through on goal to finish, which summed up his tendency to lose concentration. Fernando Torres suddenly appeared rejuvenated when he blasted past Clichy to square for Andre Schuerrle's opener at Stamford Bridge. Even when Tottenham were thrashed 6-0 at the Etihad, Clichy seemed to be City's weak link, with Spurs' attacks continually flowing down that flank.

Maybe the left-back is best summed up by his performance in the 5-2 victory over CSKA, in which he was enjoying his best game of the campaign before bundling over Seydou Doumbia, conceding a penalty out of nothing. His quality is unquestionable -- not so his consistency, which is arguably the main quality you expect from a full-back.

In recent weeks, Samir Nasri has played in front of Clichy and has enjoyed his best run of form since leaving Arsenal in 2011. He seems to suit a Manuel Pellegrini side -- he's an intelligent player both with and without the ball, capable of intelligent passes and clever movement.

Again, though, Nasri hasn't truly progressed from his final season at Arsenal, when he was superb throughout the first half of 2010-11 and was eventually nominated for the PFA Player of the Year award while also earning his place in the PFA Team of the Year.

In part, his stagnation is because coaches have struggled to understand precisely what type of player Nasri is. He's a talented all-round attacking midfielder, but whereas Wenger wanted to convert him into a pure goal-scoring player who sprinted in behind defences -- and his former national team boss Laurent Blanc raved about his ability in one-against-one situations in wide positions -- Roberto Mancini encouraged him to retain possession reliably. Nasri seemed trapped between being a goal-scorer, a dribbler or a passer.

Due to the confusion, Nasri has never truly found a defined position for either City or France, playing on both the right and the left. For other creative midfielders in his mould, the precise positioning doesn't make a huge difference, but Nasri believes, for him, it's "the difference between playing as a forward and playing as a midfielder." He strongly favours his right foot, so naturally attacks directly from the right but drifts inside from the left.

He's even been used as the No. 10 for France -- he played that role for the away leg of the World Cup playoff against Ukraine, a 2-0 defeat, and was savaged by the French press for his underperformance, although it's tough to play in such an unfamiliar (and pivotal) position in such a crucial match.

Nevertheless, for City he's been performing extremely consistently. Remember his delicious through-ball for Aguero at Stamford Bridge? How about his two assists against CSKA, his star performance during the thrashing of Viktoria Plzen or his two goals against Swansea? There's no doubt he's become a key part of Pellegrini's fluid, attack-minded side.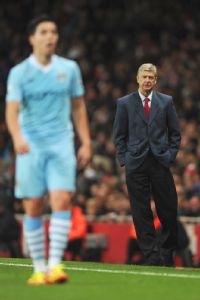 Michael Regan/Getty ImagesAfter joining Arsenal in 2008, Nasri moved to Man City three years later.

What is true is that Clichy and Nasri have become part of a superior unit -- they've won a Premier League title, something none of the current Arsenal squad can boast. City start Saturday's match against Arsenal as odds-on favourites and also remain favourites for the league title, despite Arsenal's position at the top of the table.

Neither player, however, has improved significantly as an individual. Many have questioned Wenger's transfer business and his tactical acumen -- doubts that seem less relevant this season -- but as a developer of raw talent, he remains difficult to beat.

It's become increasingly common for ex-Arsenal players to win medals but it remains rare for them to develop into superior footballers. Once Wenger proves he can guide Arsenal to trophies once again, there should be no reason for Arsenal to suffer from big-name departures.