Unconventional playmakers to decide Milan, Schalke's UCL fate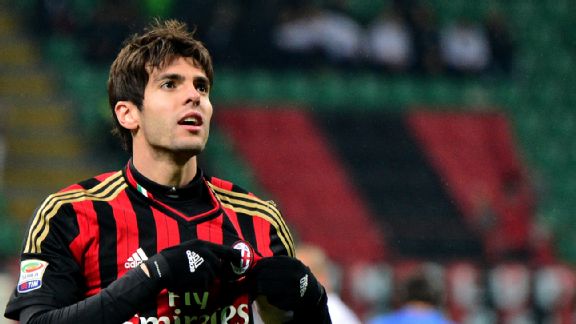 Giuseppe Cacace/Getty ImagesKaka's an unconventional playmaker but is playing well during his second spell at Milan.
For those who yearn for the days of simple, old-fashioned knockout football throughout the duration of the European Cup, there are two standout contests among the eight matches on Wednesday, the final day of the Champions League group stage.

Whereas the matches in Group F are interdependent -- as is also the case in Group G -- there are simple, winner-take-all contests in Groups E and H between second and third, with the first-place side already qualified and the last-place side out of the running. There will be no checking other scores, no working out goal difference, no looking up rules about head-to-head records. The knockout stage has effectively come early.

I'm referring to Ajax at Milan and Basel at Schalke. A win will guarantee continued participation in the Champions League; a defeat means consignment to the increasingly unpopular Europa League. In both cases, a draw would favour the home side, which means the away side has a responsibility to move forward and attempt to dominate. They should be two fascinating contests.

In both matches, the home side's playmaker should be key, which serves as an interesting comparison of Milan's attacking midfielders past and present. Kaka will be attempting to help Milan win the game against Ajax; in Germany, his predecessor, Kevin-Prince Boateng, is charged with leading Schalke's charge against Basel.

An unconventional playmaker
Kaka's return to Milan has been extremely good for the Brazilian following four underwhelming seasons at Real Madrid. Although he won only a single league title with Milan during his first spell, he was the figurehead for Milan's attacking brilliance in the European Cup under Carlo Ancelotti, when they were the most consistent force in the competition.

All in all, Kaka is a peculiar player. Although he's South American, enjoys playing in advanced midfield, and is a brilliant technical footballer, he's not a classic No. 10. There's something more immediate and direct about the Brazilian's style, and while at his best he could utterly dominate a game -- his performance at Old Trafford in 2007 springs to mind -- he rarely ran the game in the manner of an old-school playmaker.

Those older Milan sides depended upon a variety of deeper midfielders to ensure dominance. Sometimes, Kaka would effectively be Milan's fourth playmaker, considering that Andrea Pirlo, Clarence Seedorf and Rui Costa were sometimes used in the same side by Ancelotti -- the dirty work was trusted to Gennaro Gattuso. Even when Costa declined and then departed, Massimo Ambrosini gave the side extra security in the centre, meaning Kaka didn't have to help win the midfield numbers game and could instead concentrate on working his magic in the final third.

Rather than being an assist merchant, Kaka specialised in scoring goals. He depended upon a sudden burst of pace to evade opponents, and he was better attacking directly rather than attempting to play penetrative passes between defenders. To a certain extent, at his best, he was a striker who simply started in a deeper position. During his time at Milan, he recorded more than twice as many goals as assists -- 95 to 46.

Real Madrid misunderstood this, and while there were various factors that hampered his development -- injuries, the rise of Mesut Ozil, the side being based around Cristiano Ronaldo -- part of the problem was that Kaka was expected to dominate the side and be a proper No. 10. He was never that player.

Now that he's back at Milan, we're seeing the old Kaka. Again, he's on roughly the 2-1 rate of goals to assists (four and two, respectively). His goals have generally been very simple: a fine finish after running in behind the defence against Genoa, a similar strike against Catania, and a simple header from a corner against Celtic. His brilliant curler against Lazio is the only one of his four goals you wouldn't expect of a No. 9.

While Milan are struggling in Serie A (18 points from 15 games, good for ninth place), on paper they can afford to play Kaka in that position. They used a 4-3-3 last season, playing without a classic advanced playmaker. Besides, the last time they regularly had someone in Kaka's role in a 4-3-1-2, it was Boateng.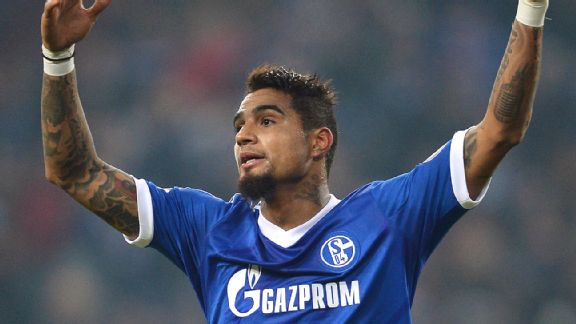 Lars Baron/Bongarts/Getty ImagesKevin-Prince Boateng has yet to find his ideal spot at Schalke but has served admirably as a source of goals.
Schalke's deep-lying threat
Even more than Kaka, Boateng is an unusual footballer. It was surprising enough that he became such a key player for Milan, but the fact that he excelled in a No. 10 position was even more remarkable. While technically talented and capable of some outrageously inventive goals, Boateng isn't remotely a creative player. His main qualities are his energy, his athleticism and his goal-scoring ability -- playing him as a No. 10 initially appeared to be one of Milan manager Massimiliano Allegri's more peculiar ideas.

However, Serie A has boasted a few box-to-box players who moved forward into a No. 10 position in recent years, and Boateng actually performed very well at Milan. He played a peculiar role, but his constant running allowed Milan to connect midfield and attack, preventing the side from becoming broken between those two zones.

Since moving to Schalke, Boateng's performances have been interesting. Although he is generally considered to have settled well and played most regularly as the No. 10 in a 4-2-3-1 formation, the Ghanaian international's statistics demonstrate exactly what he's about -- from 15 games, he has scored six goals and recorded no assists. He has attempted 42 shots this season, but created only 11 chances.

The most obvious example of his style was in the 3-1 victory over Werder Bremen last month. Boateng stormed forward to score twice -- both his goals were far-post headers -- but is this really the type of thing you expect from a No. 10?

In Schalke's two away fixtures since the Bremen win, manager Jens Keller has pushed Boateng forward to become a central striker. That allows Schalke to field Julian Draxler (a brilliantly talented direct playmaker), the prolific dribbler Max Meyer and the old-fashioned outside-right Jefferson Farfan together in the same side, though Boateng's goal-scoring potential hasn't been so obvious despite being closer to the goal. In the 2-1 defeat to Borussia Monchengladbach this past weekend, he attempted six shots but just one was on target -- his attacking potency depends upon his ability to time his runs from deep.

The situation is complicated further by Draxler, the most promising attacker Schalke have developed in years. He wants to be played more frequently in that No. 10 role. "I have now resigned myself to the fact that I am not welcome in the No. 10 position here at Schalke," he complained to Kicker magazine recently. "I am still determined to be as dangerous away from the centre."

Still, it's clear where his favoured position is, although Boateng believes the best idea is "to be able to switch positions and be flexible -- what's important is that all three of our positions are filled when we are on the back foot."

As for Milan, when the club sold Boateng and re-signed Kaka this summer, Allegri said, "Kaka's arrival will allow us to make a huge leap from the technical point of view. With the departure of Boateng, we were without a playmaker."

In truth, however, neither Boateng nor Kaka is a proper playmaker. As both attempt to make crucial contributions and fire their sides into the knockout stages, both are more likely to provide a decisive goal rather than a beautiful assist.