Tactics Board: van Persie lost in the deep
MANCHESTER UNITED 0-1 NEWCASTLE

There was a time, not many years ago, when many were not convinced that Robin van Persie was a sole, or main, striker. Now it feels a little strange when he is deployed in a deeper position.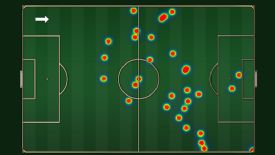 Other / ESPN Stats & InformationRobin van Persie had just two touches inside the Newcastle area.
With Wayne Rooney suspended and Javier Hernandez leading the line, van Persie operated as the No. 10 against Newcastle. The problem Manchester United had was that it took the Dutchman too far from the visitors' net -- indeed, although he had a goal disallowed, he didn't have another shot. He only had two touches in the penalty box, and few others within 10 yards of it. What the touch map for United's top scorer shows is that he was rarely on the ball in the final third.

In one respect, van Persie provided an accurate impression of the absent Rooney by dropping back into his own half, sometimes even behind the midfielders, in a bid to get the ball and make something happen. The time he spent on the wings, including taking corners from the right, meant he put in five crosses. The problem for United was that he was the man they would have wanted on the end of them.
LIVERPOOL 4-1 WEST HAM

While van Persie played as a No. 10 at Old Trafford, so did Philippe Coutinho at Anfield. The difference, perhaps, is that one is expected to be more of a scorer and the other more of a creator, and although Coutinho was not directly involved in any of Liverpool's four goals, his pass map indicates the influence he exerted.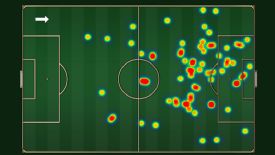 Other / ESPN Stats & InformationPhilippe Coutinho's pass map shows his influence against West Ham.
Coutinho's 95 touches were the most of anyone on the pitch, and his 64 passes were second only to Joe Allen. However, the key element is that the Brazilian was finding teammates in dangerous positions. He attempted 36 passes in the final third, completing 26 and, as the diagram shows, he often picked out Liverpool players in the penalty box. It is the kind of penetrative passing few players can rival.
ARSENAL 1-1 EVERTON

In three league starts this season, Bryan Oviedo has scored two goals and created two more. These would be impressive statistics for a forward in a run of favourable fixtures -- but the Costa Rican is Everton's second-choice left-back and they have had back-to-back away games against elite opposition.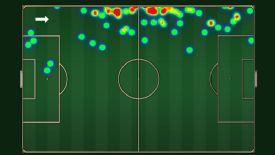 Other / ESPN Stats & InformationBryan Oviedo's touches at Arsenal show he adopted an adventurous approach.
Oviedo's 86th-minute winner against Manchester United at Old Trafford was a sign of how far forward he is willing to go. He was almost as adventurous at the Emirates Stadium, as his touch map shows, and the fact that his cross led to Gerard Deulofeu's 84th-minute equaliser is an indication that he has the stamina to carry on getting deep into enemy territory.

His attacking remit also highlights two other elements of Everton's tactics: the wide men, Steven Pienaar and Kevin Mirallas, are happy to come infield, leaving space for the attacking full-backs to run into, while the holding midfielders, Gareth Barry and James McCarthy, provide the insurance when Oviedo and Seamus Coleman advance. Tellingly, they only had one touch -- from Barry -- in the final 30 yards of the pitch, far fewer than men who are nominally defenders. So while Everton's formation is 4-2-3-1, when they go forward it is more like 2-2-5-1 at times.
STOKE CITY 3-2 CHELSEA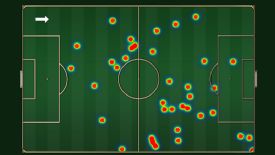 Other / ESPN Stats & InformationChelsea's wingers allowed Stephen Ireland to cause problems down the flanks.
Sometimes, the best way of illustrating the losers' failings is to show what the winners did right. Chelsea lost at Stoke in part because of the inability of their midfielders to track Stephen Ireland. A theme of their season has been Jose Mourinho's quest to get the wide men to track back and, because they didn't retreat enough, Ireland was able to do much of his work on the flanks, particularly Stoke's right, as his touch map indicates.

Unexpectedly, he was also allowed more room in the middle. Uncharacteristically, John Obi Mikel was caught upfield when Ireland scored Stoke's second goal from the position between the lines a holding midfielder ought to patrol. After the Nigerian had been replaced by Frank Lampard, Ireland got the assist for Oussama Assaidi's late winner, again from a central position.

Both managers played 4-2-3-1 at the Britannia Stadium. Mourinho positioned Ramires and Mikel in front of the back four. It helped City that Charlie Adam, who had started as their central attacking midfielder, went off injured and the more mobile Ireland came on. He had the energy to get either side of Chelsea's holding midfielders and, particularly in the second half, behind them. With the Stoke wide men Marko Arnautovic, Jonathan Walters and replacement Assaidi all enjoying influential games, it highlighted the importance of protecting the Chelsea full-backs.